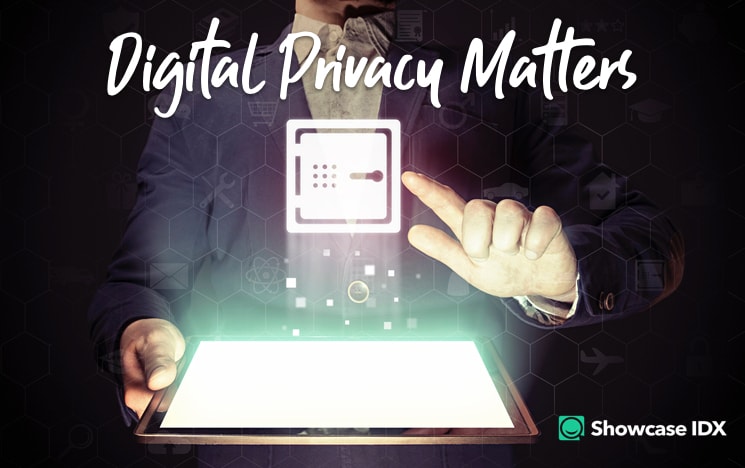 Showcase IDX recently had a blog post about the new California Consumer Privacy Act (CCPA) and its impact on the real estate industry in the United States. CCPA is the first domestic State regulation after the EU's General Data Protection Regulation (GDPR) and although CCPA isn't as far-reaching as GDPR, it will mean a change in the way real estate agents in the US handle and manage personal identifiable information for their clients and leads. Unlike the GDPR, CCPA is based in this country, and much like GDPR has inspired other new privacy regulations in other states that are reflective of CCPA and the GDPR.
Currently other State legislators have introduced similarly strong digital privacy bills based on the CCPA and GDPR models. These include:
New York – State Bill: S00224
Washington – State Bill: SB5376
New Mexico – State Bill: SB176
Massachusetts – State Bill: SD341
The New York bill which is still in committee and currently being referred to the NY State Consumer Protection Agency for review, restricts the disclosure of personal information by New York-based businesses to third parties. The Washington Privacy Act is currently in committee review stage at writing. At this time, this regulation is closer in reach and privacy responsibilities to GDPR than CCPA and is focused on providing clear consumer privacy to rights Washington residents.
The New Mexico Consumer Information Privacy Act is looking to be enacted this year, and is planned to go into effect if it passes, in July 2020. Its provisions appear to be very close to the CCPA's scope. The Massachusetts bill S120 relative to consumer data privacy was introduced January 22nd, 2019. It's currently in committee review as of writing and is meant to cement the state's already rigorous digital privacy and security laws.
Earlier this year, Massachusetts signed into law some key amendments to their data breach notification law which go into effect April 11, 2019. These changes are designed to bolster protection for consumers before and after a data breach. This includes companies providing credit monitoring for 18 months to those affected if a social security number is involved. It also involved more disclosures of which company had the breach if the company is owned by other companies.
12 states are currently considering similar privacy laws that will impact real estate agents and teams
This is just the beginning of a slew of new digital privacy laws coming to individual States across the country as a result of CCPA and GDPR. This being said, there is movement on the Federal level to enact a Federal Data Privacy Law that would supercede the State regulations. There is a real need for this to ensure that we don't have a system where there are 50 different flavors of regulation and compliance.
The Senate has been hearing testimony regarding the development of a comprehensive national digital privacy law as recently as February in Commerce, Science and Technology Committee hearings. The committee chairman, Roger Wicker (R) of Mississippi, said "In an age of rapid innovation in technology, consumers need transparency in how their data is collected and used," and that there's a "responsibility and obligation to develop a federal privacy standard to protect consumers without stifling innovation, investment, or competition,". Wicker continued, "As we continue to examine this critically important issue, I hope this first hearing will offer valuable insights that will help set the stage for meaningful bipartisan legislation,".
"In an age of rapid innovation in technology, consumers need transparency in how their data is collected and used"

Senator Roger Wicker (R) of Mississippi
– Chairman of the Senate Committee on Commerce, Science and Transportation.
It's important not only for agents across the country to understand what their local state regulation is, but also of what else is out there that may affect them and their real estate websites. For most individual agents and smaller teams, these laws will have some impact on how you'll have to handle lead and client data, but shouldn't have a dramatic day-to-day impact on your time or business if you keep in compliance.
Digital privacy is hot-button issue in State Houses and increasingly in Washington DC, there is a real competitive advantage for Realtors to get their privacy policies together and use it in their marketing, and ultimately do the right thing by their leads and clients.
It's important to keep up to date on how digital privacy is impacting the real estate industry and your individual real estate business. It can be confusing but there are a few things that you can do that will help you stay more-or-less in compliance and show that you care about the privacy of your leads and clients.
These include:
Use technology tools (like Showcase IDX) that give the security, services, and tools you need to comply with data privacy requests from GDPR or CCPA.
Understand the basic tenets of what digital privacy is and be able to use that as a tool to ensure your data is secure as possible, and that you can use digital privacy as a competitive advantage and as a way to differentiate yourself and your brand.
Showcase IDX takes digital privacy and security very seriously and has invested in proving our customers with compliance tools and a secure platform to take care of the personal private information and data for you, your leads and clients. We will continue to update the real estate industry on the state of digital privacy and its impacts on real estate agents and brokers. Disclaimer: We're not lawyers, and this is just our take on how digital privacy may impact the US real estate industry. If you need legal advice on this stuff, talk to an actual lawyer that specializes in this stuff.
Do you have any real estate digital privacy questions that we might be able answer?