DRIVE RESULTS FROM YOUR REAL ESTATE WEBSITE
State-of-the-Art Mapping IDX
Deliver a high-quality, personalized experience that keeps visitors on your website longer and captures more buyer and seller leads.
We are democratizing technology for agents and brokers, creating remarkable products that empower you to grow this year.
We've built a unique set of consumer tools designed to engage your site's visitors, quickly converting them to willing leads… because once they see the value of your website and its powerful tools they'll value you as their trusted local advisor.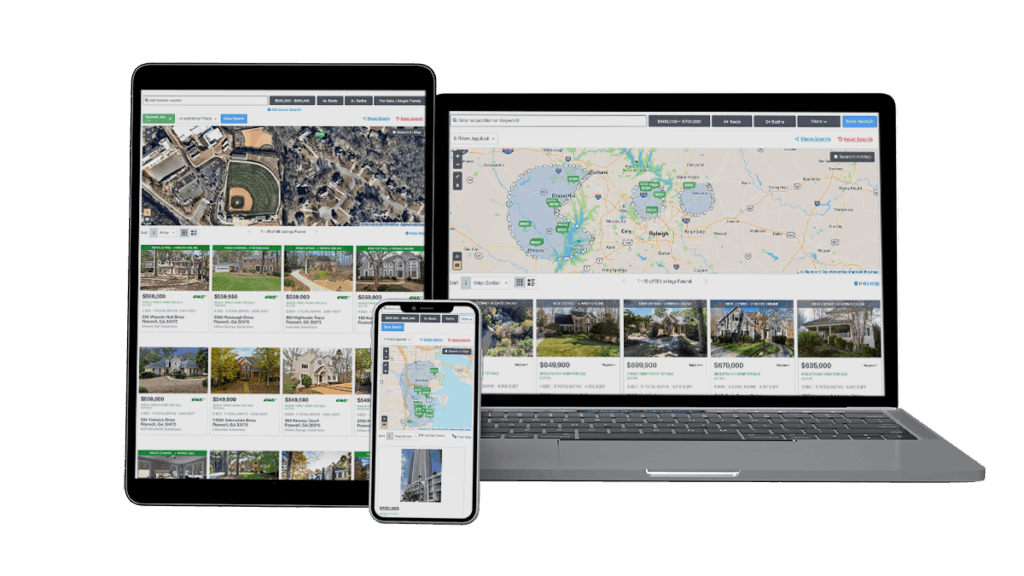 Powerful. Easy. Customizable.
We help you seamlessly add the IDX search & consumer engagement tools in your overall design like it was designed with it from the beginning.
Fast Page load times are a major priority for us to keep short and snappy. No need to use a CDN or caching plugin with our WordPress Plugin.
Learn actionable tips to grow your business in our exclusive community of real estate experts, top producing agents, and marketing leaders.
Maps That Feel Like You, Not Zillow
You know you're more valuable than Zillow, Trulia, or Redfin. Stand out with better maps and your own style. The same engine that powers Facebook, The Weather Company, Adobe, Snap, and Mastercard.
The Only Mobile Polygon Search
76% of ALL buyers found a home on a mobile device. Are you giving them the experience they require? Showcase IDX the only WordPress plugin that offers a mobile polygon search for your clients.
Be THE local market expert
Don't settle for generic hotsheets and searches. Easily create hyperlocal searches and edit polygons to target your niche.
Stand Out with the #1 Polygon Search
Why settle for an outdated polygon tool? We'll give you a search you'll be proud of. Multiple polygon searches. Mobile first design. Lightning fast search response times.
Encourage Clients to Invite Their Friends
In today's market, few search for a home alone. Our search allows clients to invite family and trusted friends to their search. Gauge moods and reactions, not just numbers. Easy-to-use and understand.
Use Your Local Expertise To Guide Them
Create custom searches and hotsheets that highlight your local knowledge and become their trusted local resource for life.
Grow Your Business with More Leads
Our customers receive 79% additional organic traffic from Google. Find out why we're incredible for SEO, and learn actionable tips in our exclusive user community.
Don't Just Take Our Word For It
Showcase IDX was created to help individual agents and teams level the playing field. Stop Competing and Start Winning.
"Showcase IDX brings the leads!
"I am very happy to say Showcase IDX delivers the leads! I am often told by prospects and clients that our website is their favorite in town. A large amount of business is generated through our website presence."
Would You Bet Your Business On A IDX Solution?
We effectively compete every day with Zillow, Trulia and Redfin. Showcase Idx is critical to our success...Our site stats are over 12K unique users per week. That is up significantly from a year ago when we were on Wolfnet Idx.
What I have been looking for all along.
"I have used both Diverse Solutions and IhomeFinder. Neither delivered what I wanted. Since switching to Showcase, my bounce rate is down 20%, time spent on my site has doubled, and most importantly I am getting 4x more registrations on my site."
WHAT ARE YOU WAITING FOR?
"Since switching to Showcase, registrations and customer interaction have increased tremendously. Showcase is so much cleaner than just using our own MLS systems...easy to use even for a beginner starting their own website."
Your retention rate will be much higher
"No subdomains or Iframes is probably my favorite feature, but at the end of the day it's about Results. I think the biggest thing is how "sticky" their site becomes. With Showcase IDX, the retention rate is much higher."
I switched from IDX Broker
"I get more voluntary sign ups than I did with old provider. I think that speaks for itself."
Showcase IDX all day everyday!
"by far the best IDX solution out there. Forward thinking, always improving, with a clear focus on the interface - one of the major areas other providers fail. It feels like everyone else is still playing catch-up all these years later."
Best IDX Solution out there
"No solution even compares with what Showcase IDX offer. There is no way I would steer clients towards any other solution."
Best WordPress IDX, period.
"Simple to use (i.e. low bounce rates and high user engagement), great mapping with polygon search, fantastic mobile responsive functionality, 'login with facebook', ultra-fast, and they are always adding or updating functionalities."
The Best All-Around IDX For Realtors Wanting Results
"We were previously using another IDX for our client sites. As a digital agency focused on measurable results, we were frustrated with the limitations we had. We started researching alternatives and thank god we found Showcase IDX."
Head and shoulders above the rest, and it's really not even close.
"Showcase IDX is head and shoulders above the rest, and it's really not even close. We fully expect more of the agents and brokers we work with to love the value and flexibility Showcase IDX provides, especially as results our current users are seeing continue to improve."
An IDX Feed That's Above The Rest!
"Showcase IDX is a better solution in regards to search rankings. I love the hot sheets and the simplicity to create "hot sheets" for different areas."
Converts website leads at a high level
"Showcase IDX is leading the way in the world of WordPress IDX solutions. Clients love utilizing the Showcase IDX product with original features not found in any other product."
Best IDX plugin by far!
"Showcase IDX is now the only IDX I recommend to my clients. Visually, it is stunning and so much better than the other IDX's. To top it off, customer service is top notch"
Showcase IDX Support Team Rocks
"Showcase IDX has a streamlined interface and easy to navigate features that don't clutter our website or lock us into particular themes. But where they really shine is in their customer service."
Incomparable Property Listing Page Features
Showcase IDX's maps use more than 130 multi-validated sources for a comprehensive, precise map of the United States.
The fastest maps available. Used by Facebook, The Weather Company, Adobe, Snap, and Mastercard.
Precise Search Boundaries
Show results for the most custom boundaries, such as condo complexes, beach communities, or areas not defined in your MLS system.
Let your clients know where all city parks, village greens, playgrounds, national parks, and nature reserves are in their search area.
Showcase IDX uses high resolution satellite and aerial imagery from commercial providers, NASA, and USGS. As cities grow and landscapes change, we add newer, clearer, and more attractive imagery.
Highly organized road data, designed to present a clearly legible hierarchy of all road types across a wide zoom range.
Rivers, lakes, streams, oceans, coastal boundaries, land cover, and beaches.
Coverage includes local, state, and international runways, helipads, etc.
Automatically display additional listings on the map within the listing page to encourage additional views.
4 flexible display options for live IDX content, including grid view, list view, scrollable galleries, and auto-rotating slideshow galleries.
Quickly add a map to hotsheet results. Make sure they never need to go to another site.
Add a map to any page. Apply a search to the map to show specific listings. Customize the elements on the map. Works great with Neighborhood Pages.
Enable your clients to search based on their current location. Your site will be their default property search when around town.
Why should your maps look generic? Choose from eight different map styles to personalize your site.
An important search requirement for many real estate searches. Full map coverage of primary, secondary, post-secondary school grounds throughout the U.S.
Have a client that's into the outdoors? Our maps show campgrounds and other recreation areas.
Some people consider cemeteries to be 'quiet neighbors'. Other buyers want to look elsewhere. Know where the cemeteries and graveyards are.
Did you know Google will rank your site lower if it doesn't provide a great mobile experience? Don't worry – we have you covered.
Feel confident knowing that we're built on the cloud platform that powers Google, Spotify, and Paypal, with 100k miles of fiber optic cable powering your IDX solution.
Don't require your visitors to learn a new interface or use an outdated design. Give them a search experience that just makes sense.
Support for multiple MLS profiles per agent with the ability for consumers to search across multiple MLSs.
One of the many reasons Showcase IDX is the #1 polygon search available for real estate websites: multiple polygon search.
Add Showcase IDX to your website
Add the leading IDX WordPress plugin to your website. Installation in less than five minutes after MLS approval.
Find Custom WordPress Website Developers
Showcase IDX doesn't build the best real estate websites, we power them… Here are the best developers in North America.
Need to connect leads your CRM? We've got you covered
Showcase IDX has put a lot of time and effort into building the best way that you can send leads and their activities to your CRM and other services. No other IDX comes remotely close to the flexibility, reliability, and timeliness. Setup takes less than 3 minutes.
Send Lead Data in Real-Time
Real-time Premium Integrations with CRM's like Follow Up Boss and LionDesk, and messaging platforms like Slack. 
Learn More
Share Lead Data with 1000+ Apps
Integrations through Zapier give you access to share lead data with over 750 of the top online services from Mailchimp to Google Sheets to Salesforce. 
Learn More
Choose The Data You Send Where
The data you send is fully customizable by account, website, or individual user; and by what data points you want to send.
Get started with Showcase IDX
Join the ranks of thousands of leading agents and brokers and see what Showcase IDX can do for your business.