DRIVE RESULTS FROM YOUR REAL ESTATE WEBSITE
Find Custom WordPress Real Estate Website Developers
Drive more traffic with great content that's optimized for search and social. If you're not there to attract and capture them, someone else will.
We're here to unleash the value of local real estate experts.
We give you the tools to not only fight back but win against the big guys like Zillow, Redfin, and Trulia. Our team has spent late nights and early mornings making marketing technologies that are typically only available to large enterprises – making them simple and affordable for everyone.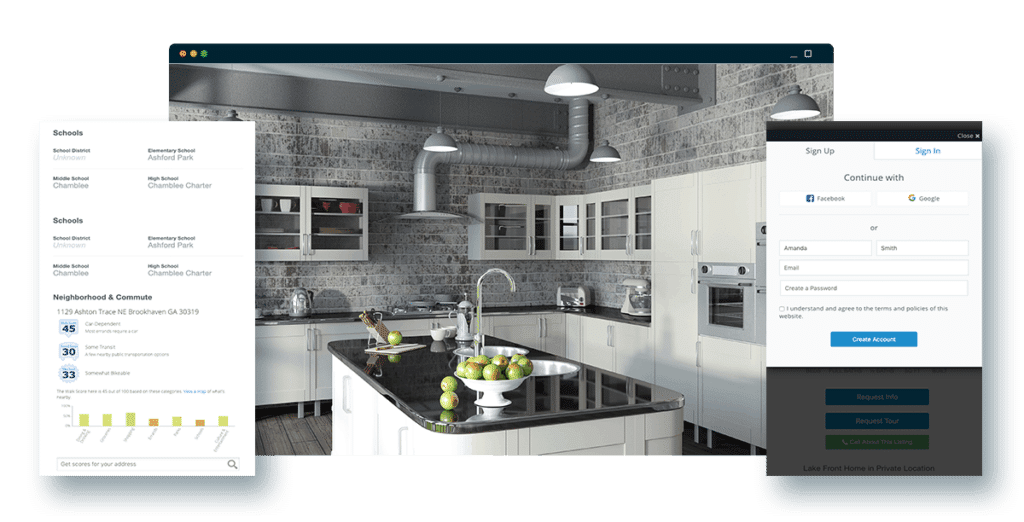 95% of home buyers visit real estate agents' websites during their home search, yet only 32% of real estate agents have their own website separate from the brokerage site.
Automate Content Creation
Our IDX WordPress plugin turns your website and marketing into a living platform, with drip emails to clients with new listings, continually updated hotsheets and detailed listing pages.
Future Proof Your Website
You shouldn't have to spend costly hours keeping up with MLS changes, updating code, and reading the latest Google changes. Learn how we help you beat the giants.
Keep Visitors on Your Site Longer
Increase time on site and reduce your bounce rate by giving your clients every piece of MLS information, the ability to collaborate with friends, and premium property data to fuel their search.
Capture More High-Quality Leads
We've built a unique set of consumer tools that are designed to engage visitors to your site quickly and turn them into willing leads… because they see the value of your website enough to sign up.
SEO That Works
Showcase IDX is the only WordPress IDX plugin that uses server prerendering. Google sees listings and hotsheet content as yours. Our customers see 79% additional traffic from Google.
Drive More Visits
Your visitors will come back more often thanks to our comprehensive approach to consumer engagement. Fresh, accurate data. Automated follow-ups.
Increase Referrals From Clients
Useful tools for consumers to search, organize, and collaborate with each other…and you. Our unique set of consumer engagement tools encourage your leads to invite other people to help and comment on their home search.
Shine on Mobile Devices
Some providers simply squish everything into a phone-sized screen. With Showcase IDX, your clients receive a powerful, mobile app-like experience for phones and tablets.
Don't Just Take Our Word For It
Showcase IDX was created to help individual agents and teams level the playing field. Stop Competing and Start Winning.
"Showcase IDX brings the leads!
"I am very happy to say Showcase IDX delivers the leads! I am often told by prospects and clients that our website is their favorite in town. A large amount of business is generated through our website presence."
Would You Bet Your Business On A IDX Solution?
We effectively compete every day with Zillow, Trulia and Redfin. Showcase Idx is critical to our success...Our site stats are over 12K unique users per week. That is up significantly from a year ago when we were on Wolfnet Idx.
What I have been looking for all along.
"I have used both Diverse Solutions and IhomeFinder. Neither delivered what I wanted. Since switching to Showcase, my bounce rate is down 20%, time spent on my site has doubled, and most importantly I am getting 4x more registrations on my site."
WHAT ARE YOU WAITING FOR?
"Since switching to Showcase, registrations and customer interaction have increased tremendously. Showcase is so much cleaner than just using our own MLS systems...easy to use even for a beginner starting their own website."
Your retention rate will be much higher
"No subdomains or Iframes is probably my favorite feature, but at the end of the day it's about Results. I think the biggest thing is how "sticky" their site becomes. With Showcase IDX, the retention rate is much higher."
I switched from IDX Broker
"I get more voluntary sign ups than I did with old provider. I think that speaks for itself."
Showcase IDX all day everyday!
"by far the best IDX solution out there. Forward thinking, always improving, with a clear focus on the interface - one of the major areas other providers fail. It feels like everyone else is still playing catch-up all these years later."
Best IDX Solution out there
"No solution even compares with what Showcase IDX offer. There is no way I would steer clients towards any other solution."
Best WordPress IDX, period.
"Simple to use (i.e. low bounce rates and high user engagement), great mapping with polygon search, fantastic mobile responsive functionality, 'login with facebook', ultra-fast, and they are always adding or updating functionalities."
The Best All-Around IDX For Realtors Wanting Results
"We were previously using another IDX for our client sites. As a digital agency focused on measurable results, we were frustrated with the limitations we had. We started researching alternatives and thank god we found Showcase IDX."
Head and shoulders above the rest, and it's really not even close.
"Showcase IDX is head and shoulders above the rest, and it's really not even close. We fully expect more of the agents and brokers we work with to love the value and flexibility Showcase IDX provides, especially as results our current users are seeing continue to improve."
An IDX Feed That's Above The Rest!
"Showcase IDX is a better solution in regards to search rankings. I love the hot sheets and the simplicity to create "hot sheets" for different areas."
Converts website leads at a high level
"Showcase IDX is leading the way in the world of WordPress IDX solutions. Clients love utilizing the Showcase IDX product with original features not found in any other product."
Best IDX plugin by far!
"Showcase IDX is now the only IDX I recommend to my clients. Visually, it is stunning and so much better than the other IDX's. To top it off, customer service is top notch"
Showcase IDX Support Team Rocks
"Showcase IDX has a streamlined interface and easy to navigate features that don't clutter our website or lock us into particular themes. But where they really shine is in their customer service."
Incomparable Property Listing Page Features
Useful property listings are the foundation of a good real estate website. We offer agents and brokers the most accurate property data and photos, direct from the source.
Prompt or require the user to register to see details on listings. You have full control of the amount of content they see.
Set the maximum number of search results a lead can see before they have to register.
Premium Listing Content Lock
We give you additional premium content for many listings. Require leads to register to see premium listing content.
Require Sign Ups & Gated Content
Multiple options to prompt or require visitors to sign up to see listing details pages and premium content.
It's easy to get us excited…all you need is breathtaking photos. Display them full screen.
Social Media Sharing Options
Improve your social media marketing with social sharing buttons for listing pages. Make it easy for you and your visitors to share your content.
Showcase IDX gives you direct access to search for the most popular interior features! When there's a new one, we can add it.
Advanced search lets you choose any combination of search fields to create the most specific and detailed search available on any IDX.
Showcase amenities, access to laundry, parking, allowance for pets, security features, and more regional/MLS specific fields where available.
Many buyers are set on particular school districts or schools. Make sure they have the information they require.
Let your clients easily know if the property is car-dependent, bikeable, and has access to public transportation.
Valuable proprietary data such as Population Market Data, Household Data Market Data, and Employment / Commute Market Data.
Display additional listings on the map within the listing page to encourage additional views.
Give your clients an incredible experience that guarantees a perfect search no matter the device being used.
Capture Clients' Real Thoughts
Our Friends and Family search enables your clients to search together through listings and searches, share comments, reactions, and emojis.
Feel confident knowing that we're built on the cloud platform that powers Google, Spotify, and Paypal. We add milliseconds to load times.
100% Search Engine Indexable Content
Give Google what it loves. Prerendered, native content. No iFrames. No subdomains. No JS bootstrap on canonical pages.
Friends and Family Features
Visitors can invite friends and family to search with them and comment/interact in their private friends and family feed. Each new person is a lead for you.
Automated Google XML sitemaps
Reflect all search restriction settings to only share relevant pages. Updated in real time.
Generate up to 47% more leads with powerful calls-to-actions such as request info, request tour, schedule call, sign up for listing alerts, and more.
Responsive out-of-the-box so you don't have to fiddle with formatting to make them look awesome.
The Showcase IDX engine automatically checks for MLS updates every 15 minutes for most MLSs.
Did you know Google will rank your site lower if it doesn't provide a great mobile experience? Don't worry – we have you covered.
Consumer tools and sign up/sign in links can be placed in the top bar of your website with a shortcode, giving an incredibly polished and high-end, portal-like feel to your website.
Add Showcase IDX to your website
Add the leading IDX WordPress plugin to your website. Installation in less than five minutes after MLS approval.
Find Custom WordPress Website Developers
Showcase IDX doesn't build the best real estate websites, we power them… Here are the best developers in North America.
Need to connect leads your CRM? We've got you covered
Showcase IDX has put a lot of time and effort into building the best way that you can send leads and their activities to your CRM and other services. No other IDX comes remotely close to the flexibility, reliability, and timeliness. Setup takes less than 3 minutes.
Send Lead Data in Real-Time
Real-time Premium Integrations with CRM's like Follow Up Boss and LionDesk, and messaging platforms like Slack. 
Learn More
Share Lead Data with 1000+ Apps
Integrations through Zapier give you access to share lead data with over 750 of the top online services from Mailchimp to Google Sheets to Salesforce. Learn More
Choose The Data You Send Where
The data you send is fully customizable by account, website, or individual user; and by what data points you want to send.
Get started with Showcase IDX
Join the ranks of thousands of leading agents and brokers and see what Showcase IDX can do for your business.