We're happy to announce a couple of new widgets that you can use on your websites to extend the integration of WordPress with Showcase IDX onto any page. We're looking forward to seeing how creatively our customers will use these on their real estate websites. Each of these new widgets can be created in the Agent Admin: Admin>Select a website>Settings>Shortcodes.
A Showcase IDX WordPress plugin update to Version 3.0.41 is required in order for these new widgets to work.
Search Button
Showcase IDX's new search button widget gives you the ability to create a button that can be linked to any saved search. Additionally, you can change the text on the button to whatever you like. Clicking the button sends the website user to the results for the assigned saved search. We see agents using this for adding links to search results from neighborhood pages and even their homepage.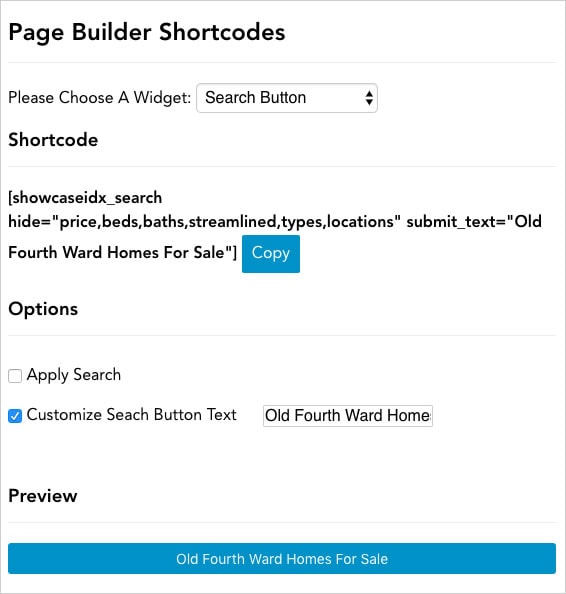 Search Results Count
The Search Results Count is a simple widget that will display the number of results for any saved search. If you want to add some summary numbers to your site that reflect the number of single-family homes in a location, or condos, or for rent listings, you can do this. The widget generates default text that you can use CSS or your theme to change its size and style. You can have it as just a number or you can easily create a link to the saved search results. You can also choose if you want the results to display in the current tab/window or a new tab/window. It's a pretty simple widget but can be really powerful when used on a community page or on your homepage. Get creative with it and show your visitors how many listings you have on your website, or show many niche listings are available.