Looking for some fun real estate memes and GIFs to share with your coworkers and clients? Here are 19 animated real estate memes for you to share with your clients.
Memes and GIFs travel through social media and are great to break up the listing, closing, and open house posts on Instagram and Facebook. Plus, many of these show the all too common experiences we all share being an agent. You have to have a sense of humor to stay motivated in real estate.
You are free to share any GIFs on this page. To download a photo, simply right click on your mouse and select 'Save Image As'. Upload the GIF to Facebook as you would a regular image. Once it's uploaded and published on your page, the GIF will move automatically.
Want to share on Instagram? Instagram doesn't offer native GIF support, unfortunately, so posting one is not as straightforward as we'd like it to be. Scroll to the bottom for a hidden trick to share these real estate GIFs on Instagram.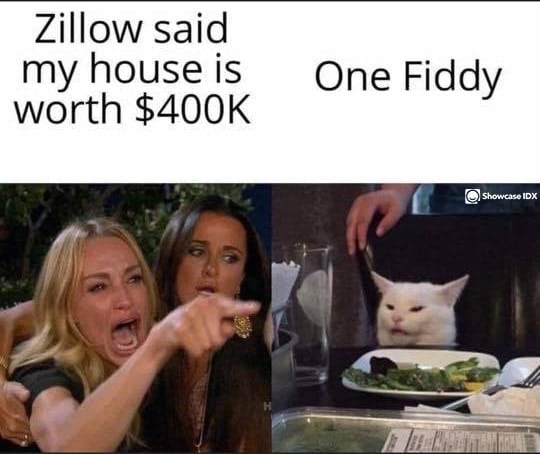 [ff_template id='11397′]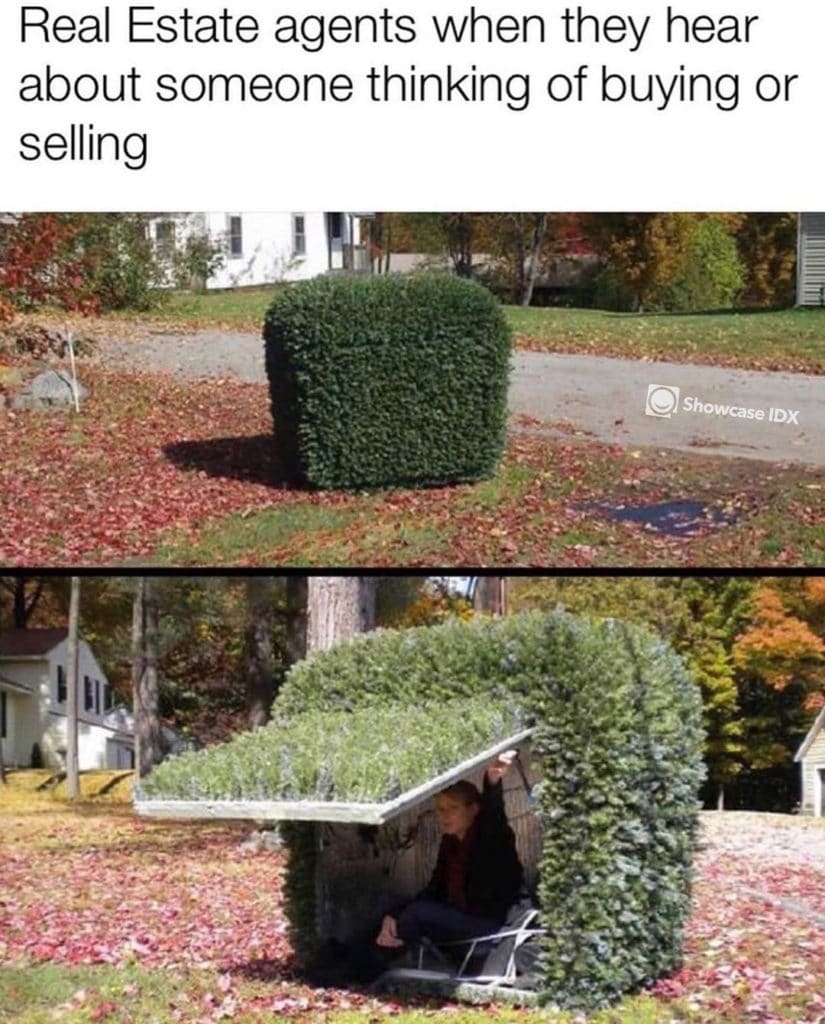 What is a Real Estate Meme?
You've seen memes shared by friends. You've probably shared them yourself on Facebook or elsewhere. But do you know what the actual definition is?
"an amusing or interesting item (such as a captioned picture or video) or genre of items that is spread widely online especially through social media"
"A meme is an idea, behavior, or style that becomes a fad and spreads by means of imitation from person to person within a culture and often carries symbolic meaning representing a particular phenomenon or theme. A meme acts as a unit for carrying cultural ideas, symbols, or practices, that can be transmitted from one mind to another through writing, speech, gestures, rituals, or other imitable phenomena with a mimicked theme."

Wikipedia's definition of a meme
What is a Real Estate GIF?
GIFs started as a simple file format for static images and has grown to include animated GIFs and most today consider GIF to default to the animated kind.
Animated GIFs are technically multiple images or "frames" encoded in graphics interchange format (GIF) as a single file.
"A moving picture in GIF format, which comprises a series of frames. When displayed, they provide an animated sequence that cycles over and over without stopping."
The Graphics Interchange Format is a bitmap image format that was developed by a team at the online services provider CompuServe led by American computer scientist Steve Wilhite on June 15, 1987. It has since come into widespread usage on the World Wide Web due to its wide support and portability between applications and operating systems…

Although GIF was not designed as an animation medium, its ability to store multiple images in one file naturally suggested using the format to store the frames of an animation sequence. To facilitate displaying animations, the GIF89a spec added the Graphics Control Extension (GCE), which allows the images (frames) in the file to be painted with time delays, forming a video clip. Each frame in an animation GIF is introduced by its own GCE specifying the time delay to wait after the frame is drawn. 

Wikipedia's history of the GIF format
Why did we create a post on real estate memes and GIFs? And why you should share memes.
I've been in social media for years and was part of the small team at Vitrue (acquired by Oracle for $300M) that helped create social media management before that term and tools like Hootsuite and Buffer were known. I spent a few days every 2-3 weeks at Facebook, Pinterest, and Google's headquarters.
Later, I helped found one of the first influencer marketing platforms – Sideqik. We helped brands identify millions of potential influencers in their communities and analyze the content they shared to see if consumers were actually interested in the content.
Those roles, plus working with dozens of brands and now tens of thousands of real estate agents has let me see a lot of content and analyze the data about what works and what does not.
As an agent, your clients are only buying/selling every 5 – 10 years on average. You have to have content that keeps their interest when they are not actively buying/selling. This content will help with that.
When you share content that your clients like, not only do you stay top of mind but each social network will also give you insights into who your clients are. As an example, here are some of the results we see of who interacts with us on Pinterest.
Plus, you as an agent need a break. Looking at our own Pinterest account, those Realtors and agents in our tribe clearly enjoy a good meme and GIF…and so do I.
Want to see more real estate humor, memes, and GIFs? Check out our real estate humor board on Pinterest.
How to share real estate GIFs on Instagram
Instagram doesn't offer native GIF support, unfortunately, so posting one is not as straightforward as we'd like it to be. Instagram does NOT make this easy.
Here is a hidden trick to share these real estate GIFs on Instagram.
Visit our channel on Giphy at https://giphy.com/channel/ShowcaseIDX or scroll up and click "Open in Giphy" below each animated meme.
Choose the GIF you would like to share
Click the "share" icon
Click the Instagram icon and follow instructions. It may take a minute to show "Open in Instagram".
[ff_template id='11400′]