According to the NAR (National Association of Realtors), 97% of homebuyers searched for their home online in 2020. This number increased from 93% the previous year, and it will only increase. With so many potential homeowners relying on the internet to find their next home, the standards for real estate websites are becoming higher and higher. Not only should you have a good selection of listings, you should also be able to see high-quality photos of the listings, have access to a local real estate agent with the click of a button, and it should be easy to navigate.
Where are you going to find a website that has all of that? Look no further! We have compiled a list of the 5 Best Real Estate Websites of 2023 so that you know where to start.
1. Zillow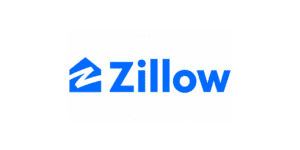 As the most popular real estate website in the United States, Zillow allows you to search for homes based on location, price range, and what type of home best fits your needs. Zillow is one of the best real estate websites because it has a lot of great features, such as being able to map where all the new listings are coming up over time, so you can be one of the first to know when a new home hits the market. However, what truly sets it apart from other websites is the sheer amount of listings they have.
Whether you are looking to buy, rent, sell, finance, remodel, or build, Zillow will have the listings that you need to see. While many real estate websites focus on one property type (homes vs. apartments vs. condos etc.), Zillow is a one-stop-shop for all of them.
In addition to the vast number of listings, Zillow offers an excellent mobile app for homebuyers so they can have easy access to the homes they love. The app allows users to save their favorite homes to look back at later, and buyers can even get push notifications when changes are made to the homes they saved.
2. Trulia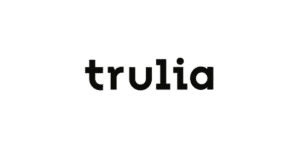 Trulia is pretty similar to Zillow, but it has a few highlights of its own. This real estate website gives home buyers the ability to find homes effortlessly through a number of advanced filters. With over 35 different filtering options to choose from, you'll be able to search by home style, number of bedrooms, price range, and countless other preferences.
With Trulia's interactive map, homebuyers can get area statistics, neighborhood restaurants and stores, commute times, demographics, and more! Not only does Trulia provide up-to-date information, but they also have an excellent mobile app. In fact, their app is one of the things that make Trulia stand out from the rest. It's both easy to use and has a great look to it. Trulia's app has an interface that home buyers are excited to come back to again and again, making the entire process very efficient.
3. eXp Realty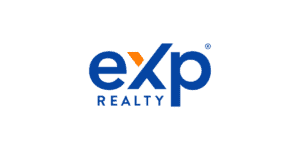 Finding a home on eXp Realty is a breeze thanks to the abundance of information the listings provide. Data about the neighborhood, area demographics, commute times, and more are available for each listing you see, making it simple to make an informed decision when buying a home.
One of the most impressive features of eXp Realty is its IDX-integrated home search. Powered by Showcase IDX, eXp Realty's home search platform is more accurate and up-to-date than that of Zillow or Trulia. This is because real estate websites that don't have IDX integration receive their listing information from other sources. Still,  IDX-integrated sites receive that information directly from multiple MLSs like REcolorado or Bright MLS themselves. This ensures that eXp Realty's listings are updated every few hours, so there is no need to worry about getting excited for a house and then it not actually being available.
Another highlight of eXp Realty's website is that their home search functionality allows you to connect with friends, family, and your real estate agent right there on the site! Their friends and family option provides a way to publicly or privately talk with others about certain homes, so there's no need for copying and pasting various links to a bunch of people. Home searching and buying is easy with eXp Realty, and you are sure to see a difference when using that versus other real estate websites.
4. Realtor.com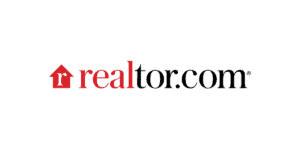 Linked to the National Association of Realtors, Realtor.com is made up of 800 regional MLSs, which means you'll be able to find listings for just about anywhere. With several pieces of information on listings, area data, and other statistics, Realtor.com makes it possible to make an easy decision about your home.
One of Realtor.com's highlights lies directly in its name – this website puts an emphasis on providing an easy way to find a Realtor to help you in your home buying journey. Realtor.com has a registry of over one million agents for you to reach out to about buying your next home. With the help of a Realtor, you will be able to skip the jargon, documents, and paperwork, and simply focus on finding the right house for you.
Another competitive feature that Realtor.com provides is a mortgage calculator that allows you to see how much home you can afford and get pre-approved for a mortgage! Realtor.com ensures that, no matter where you are in the buying process, you are never on the home-buying journey alone.
5. Homes.com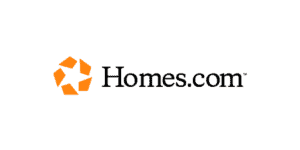 Homes.com has a few different features that stand out from other real estate websites and create a uniquely beneficial home-searching experience. Their signature feature is the "Snap & Search" tool, which provides you with the ability to snap a photo of a home that you love, and Homes.com will match you with similar homes in the area. This provides you with a home-search process that is specifically modified to you and your needs.
Another interesting feature of Homes.com is how easy they make it to compare homes with one another. You can view the value history of each home and compare it to others in the area, view school district comparisons, and see how your desired home matches up with other similar homes. Homes.com provides home buyers with the chance to know all the ins and outs of the home they are looking for so that they can choose the best option possible.
Best Real Estate Websites
There are a vast amount of real estate websites out there to choose from when buying a home, but we encourage you to keep these five websites top of mind. Buying a home can be a stressful event, but with the help of the best real estate websites in the industry, you'll be on your way in no time. Let us know what your favorite real estate websites are in the comments below, or tell us which feature you've read about that interests you the most!