As a real estate agent, your goal is to engage clients and keep them coming back for more until they're ready for their next real estate transaction. More sales, that's the goal, isn't it?
Instagram stories are a great way to keep your brand front of mind and keep your customers engaged with you.
What if you don't know where to start when creating your next story? Or what if you just need some inspiration?
This article will show you some incredibly simple, yet effective, real estate Instagram story ideas to build your brand, keep your audience involved, and attract new clients.
Why Is Social Media Essential for Real Estate Agents?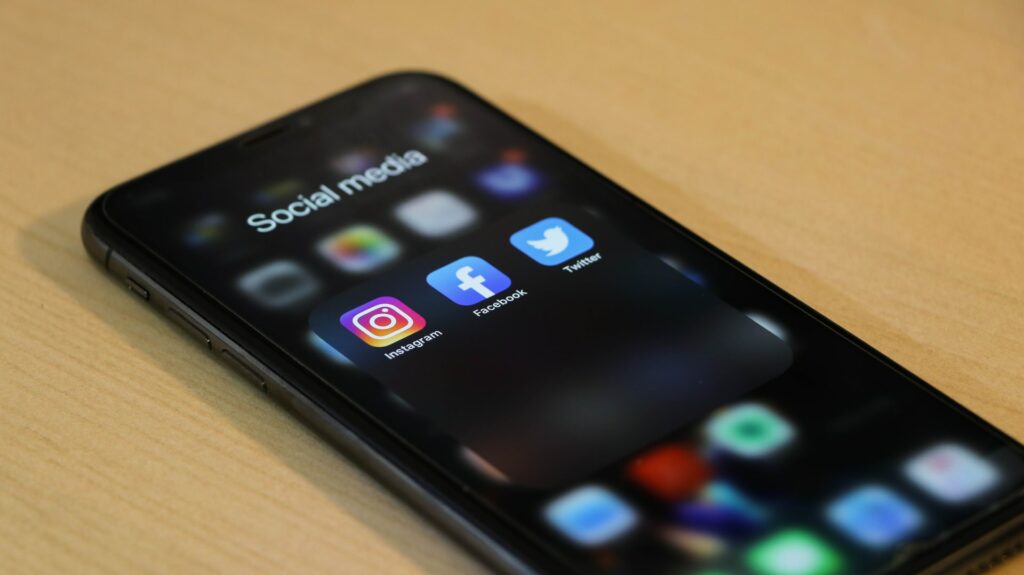 Social media is an absolute necessity for anyone in the real estate business. In this day and age, it's downright inefficient to go without it.
Although social media might seem like it's only for fun and interpersonal connection, businesses need to widen their sphere of influence, solidify their profile, and generate leads to boost their business. And yes, as an agent and 1099 contractor of your brokerage, you need to consider yourself a business.
If you're unsure about social media's benefits to your real estate business, think about the home-buying process from the client's side. While you occupy all of your time as a real estate agent managing sales and purchases, this isn't the case for clients—in fact, most of their time isn't occupied by buying and selling real estate. While they may only be an active buyer/seller 5%-10% of their time over any 10-year period, most people desire content on real estate during the remaining 90%-95% of that period, although it is a different type of content.
However, when you get on social media, you can extend your reach into your clients' free time. They're no longer bound to only think of real estate when they happen to be interested; instead, they can think about you any time. You can share some knowledge they didn't know they needed and contact them much more quickly and personally. This also leads to a 3x – 10x increase in referrals from your sphere of influence.
For that reason, some of the best social media marketing channels for real estate agents aren't necessarily real estate-specific. Instead, you'll want to use platforms that cast a wide net, like Facebook, Instagram, TikTok, and Twitter. While I'm covering Instagram stories in this article, you can find success by implementing the same type of content for other channels for a multiplied impact on your marketing efforts. A guide to real estate digital marketing can help you keep up with new trends and capitalize on them to gain new customers.
Why Are Instagram Stories an Effective Channel for Real Estate Agents?
Instagram is one of the most effective social media platforms for agents because of the engagement levels, the possibility of staying on brand, and repeated opportunities to be memorable with potential local clients. I also find it useful because it combines highly refined aesthetic content with a variety of options for user interaction.
With that in mind, Instagram stories will be an indispensable item in your tool kit. While it's important to share quality posts on a consistent schedule, users can miss out on your content for many reasons–and Instagram stories fill in those gaps, ensuring that your content is at the top of your clients' feed.
In addition, Instagram stories give the chance to mix up the kind of content your audience experiences. Standard Instagram posts only give options of liking, sending, and bookmarking the post. But stories offer the chance for a variety of other engagement opportunities, such as polls, quizzes, and more.
The benefit of more appealing content is pretty simple. When clients find your content interesting, they find you interesting and are more likely to be enthusiastic about working with you. When they find your content boring, they won't give you a second thought. And in a business like real estate, that can spell disaster.
Want to see a great example that anyone can do? Check out Matt Dallas Brading on Instagram, a home inspector in Texas. He takes the time to intentionally film what he finds while doing regular for-sale inspections, new construction inspections, and 11th-month warranty inspections. In some, he educates on best practices and what to look for; In others, he creates collages of problems while saying, "it's not supposed to do that". These are gold.
For simple real estate Instagram story ideas, continue reading!
9 Incredibly Simple Real Estate Instagram Story Ideas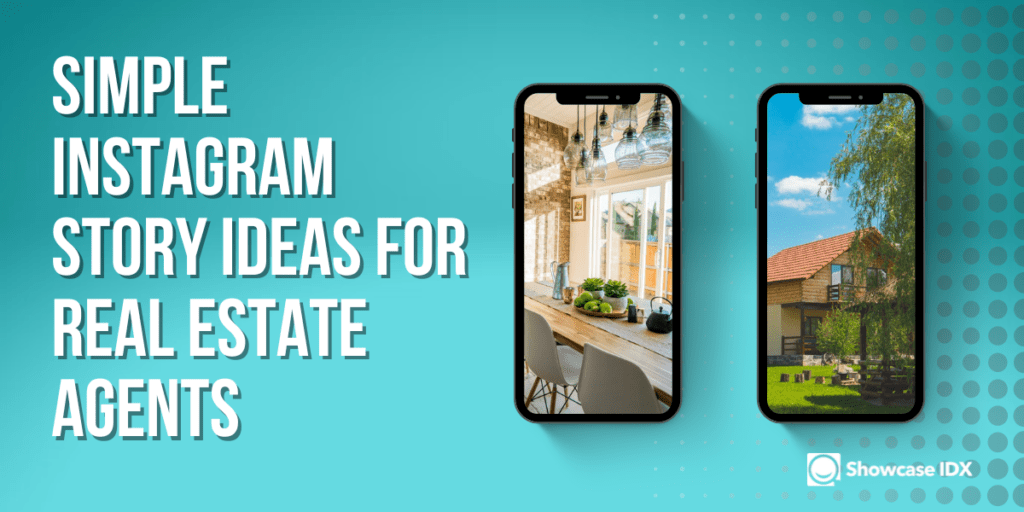 Do a Virtual Tour
Virtual tours are a fairly simple way to optimize your engagement with current and potential clients. The concept is straightforward:  take a video touring through the property, along with your own commentary.
Stories like this have two benefits. First, they give you the chance to build up your brand as one that's technologically savvy and aesthetically refined. Second, they allow you to pique clients' interest in properties and local trends, creating the possibility of sales at a minimal cost.
To make your virtual tour story a success, shoot the video a few times to make sure it's visually interesting, has clear audio, and is generally of professional quality. Doing so will give the impression that you are serious about your work and set you apart from less tech-savvy competitors.
Additionally, turn on the auto-caption feature when you are creating the story. This feature adds visually interesting captions to your video, making the story accessible to those with hearing disabilities or users who do not have their audio turned on.
Create a Poll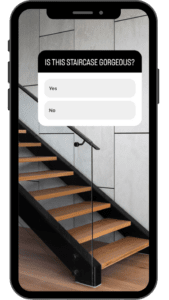 The next in our real estate Instagram story ideas list is to create a poll. Instagram stories offer the easy chance to create polls with up to four options.
There are a few key ways to maximize the success of your real estate social media Instagram polls. Make your poll questions fun, rhetorical ones rather than serious  —that way, you keep the content light and draw attention to the qualities of the house. For instance, you might say, "Is this staircase gorgeous?" with the potential answers being "Yes" and "So much yes!"
A second tip: don't overdo it on polls. They are good to work into your content schedule on a rotational basis, but if you have too many in a row, the content will become stale. The frequency with which you use polls will depend on your specific social media strategy, but it is important to mix things up to keep your social media fresh.
Polls offer a fun way for users to get involved with your content and stimulate them as they are swiping through. An indirect benefit is that they help you estimate your stories' engagement rate. Since you can see how many people respond, you can get a good sense of how much your followers are meaningfully interacting with your stories instead of just swiping past them.
Explore the Neighborhood
When looking for a home, potential buyers always want to know about the world beyond the house's four walls, which includes the surrounding neighborhood.  Cater to that desire in your Instagram stories by exploring the community where the property is located. Also, you get to get clients excited about homes by rooting them in the area.
With this story idea, you take photos or videos of a neighborhood, fun facts, interesting information, lesser-known details, famous places, and community events.
When you plan to do a story like this, make sure to be economical with your information. Do not overload a one-story slide with a seven-paragraph essay about the history of a single house. Instead, keep the text short and sweet, and spread it across multiple slides.
In addition, feel free to change up the form that your neighborhood exploration story takes. It could be a video of you walking around the area (which has the added benefit of showing off its walkability), or it could be a series of images. Both work very well, and mixing them can be a great way to vary the content and keep users interested.
Conduct a Weekly Quiz
Another real estate Instagram story idea to take advantage of is quizzes. Like polls, quizzes are accessible as a "sticker" in the panel at the bottom of the Instagram story creation page. Quizzes let you pose a short question to your viewers; they immediately see the correct answer when they click.
Quizzes have two benefits. First, they help you keep your clients engaged by inviting them to stop and think. The more they are mindful about real estate, the more they will be interested in working with you. Second, it allows you to tout special features about a property that clients might otherwise miss.
Conducting a successful quiz is a similar process to running a successful poll. Keep the question light and fun so that clients feel excited, not irritated or confused if they guess the wrong answer. Also, as with polls and virtual tours, run quizzes only once a week, as too many quizzes make the feature seem stale.
Share Customer-generated Content
Why not take advantage of free social media posts? You are not limited to sharing the content you create; you can also share content that your customers have produced! If you want to do so, find a post that a customer has shared, click the message button, and select "Post to Story." You'll be able to share it with your followers, along with your commentary.
The main benefits of this Instagram story idea are convenience and brand-building. When you share customers' content, you can engage with your clients without needing to spend a ton of time on your content. It's low-cost, high-efficiency marketing.
Second, sharing customer content allows you to magnify your success. If a customer shares a post about how much they love their new home, you can use that to demonstrate to other clients (and potential clients) that you have proven results.
To maximize the benefit of this idea, build an online relationship with your clients and invite them to tag you in relevant posts. Doing so will allow you to find relevant content more easily. Keep in mind that you can only share content from public Instagram accounts, so optimize your work by eyeing public customer accounts.
Show Before/After Looks
Before/after story series are what they sound like: two images, posted one after the other, show what a home looked like before and after a certain point.
These stories can be good for two reasons. As the mammoth success of HGTV reflects, customers love watching how derelict houses can be transformed into beautiful homes, and before/after stories harness this feeling. When you show a before/after photo, you give viewers the feeling that they are a part of the beautification of the home, making them feel invested in you.
Second, from a more pragmatic perspective, before/after stories cement your reputation by demonstrating that you work with high-quality homes and what's possible with different properties.
When you do a before/after series, photo quality is key. You can't show off the beauty of a renovated home if you can't get a good photo of it, so take the time to snap a good-quality photo. Also, be sure to capture the property from similar enough angles that viewers can notice the differences; if you don't highlight that it's the same property, the story won't land quite the same.
Create a Countdown for Events
Another Instagram sticker is the countdown feature. This allows you to select a date and time to count down towards, then place the timer alongside a photo.
This kind of story is great for promoting local events, which can help clients feel like you're involved with the local community (and that their future home is located somewhere nice). In addition, it gives a sense of urgency, making viewers feel as if they should contact you right away.
Schedule a countdown a day or two in advance to make a countdown successful. A one-week countdown runs for so long that it feels less urgent. In addition, use a countdown to showcase your enthusiasm for a home; you might schedule a countdown for an open house, which can inform clients about the event and give the impression that you're eager for them to meet you.
Answer FAQs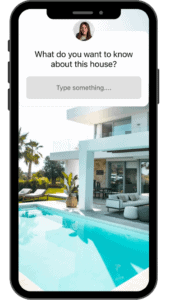 An incredibly popular feature with influencer marketing and politicians is the "ask box," which allows viewers to send in questions. You can then share back to your story along with answers.
The ask box is a real two-for-one. First of all, it allows you to give your clients specific information about a home or your policies that they wouldn't otherwise have. Second, it makes them feel like you're communicating with them directly, in a convenient way, instead of through barriers and bureaucracy.
To make an ask box successful, try to ask questions that can inspire ideas without being too narrow. Try something like "What do you want to know about this house?" or "Ask me anything about a day in the life of a real estate agent!" These prompts will stimulate viewers' thoughts rather than leave them with a structureless feeling of curiosity.
Additionally, make sure to practice discretion. While it's great to communicate with clients, you're under no obligation to share their answers if they're too complicated or inappropriate for a public-facing Instagram story. Don't worry, though–since the ask box feature is not anonymous, you can send the question asker a direct message.
Share "Happy Customer" Stories and Testimonials
Last but not least, on our list of real estate Instagram story ideas are testimonials and stories. There's no specific mechanic or requirement for sharing this story beyond showing off how much customers have appreciated your work with them.
These stories are beneficial because, like before/after images and customer-generated content, they let customers do the heavy lifting in your marketing strategy. You save time crafting content, which lets you serve more clients. Second, it helps build your ethos as a real estate agent, projecting to clients that you have a long and storied record of success in the business.
If you want to share a testimonial, you might ask customers to tag you in any posts or stories about their new home; if they share a post about closing on a new home, they can tag you, and you can share their post to your story.
Alternatively, you could contact past customers directly. For quotes about their experience working with you to buy or sell their home, you could share those quotations in an Instagram story with an aesthetically pleasing font and background. This allows you to exercise more control over your branding and give the best possible impression to clients.
FAQs
Here are some of the most frequently asked questions about real estate Instagram story ideas.
Can you sell real estate on Instagram?
Instagram is a fantastic platform that you can leverage to promote new listings and connect with sellers and buyers. You can use Instagram as a venue for posting about new properties on the market, engaging potential customers with helpful real estate tips, and tracking trends in the housing market.
What works best on Instagram stories?
Instagram stories work best when the content is fast-paced, engaging, and variable. Share interesting anecdotes or experiences as well as alert followers to new posts. Mix it up with engagement-friendly content like polls, open question and answer sessions, and real estate fun fact quizzes. Doing so will entertain viewers and create a positive association with your brand, which will increase your exposure.
Do stories increase followers?
Stories are a great way to increase Instagram followers. The fast-paced nature of stories makes them appealing to social media users, and the temporary nature of story posts will give consumers a sense of urgency. Regularly utilizing your Instagram story will increase account engagement and follower numbers.
How do you make Instagram stories permanent, rather than temporary?
Instagram stories are temporary, but they can become permanent by adding them as highlights to your Instagram profile. The highlights can be organized by category, which can be helpful for the agents to have all their content accessible in one place. Maybe put all the stories about houses together, or all the testimonials, all the neighborhoods, etc.
Conclusion
With 500+ million daily users worldwide, Instagram stories are a powerful tool for real estate agents to keep their clients engaged and generate new leads.
And with our list of quick and easy-to-implement real estate Instagram story ideas, your followers will be begging for more.
Click here to download 300+ free social media graphics for real estate.