We're happy to announce that we have just released a new version of the lead contact detail page in our agent admin dashboard. This page gives Showcase IDX customers all the details about their IDX activity your website and where your leads are searching.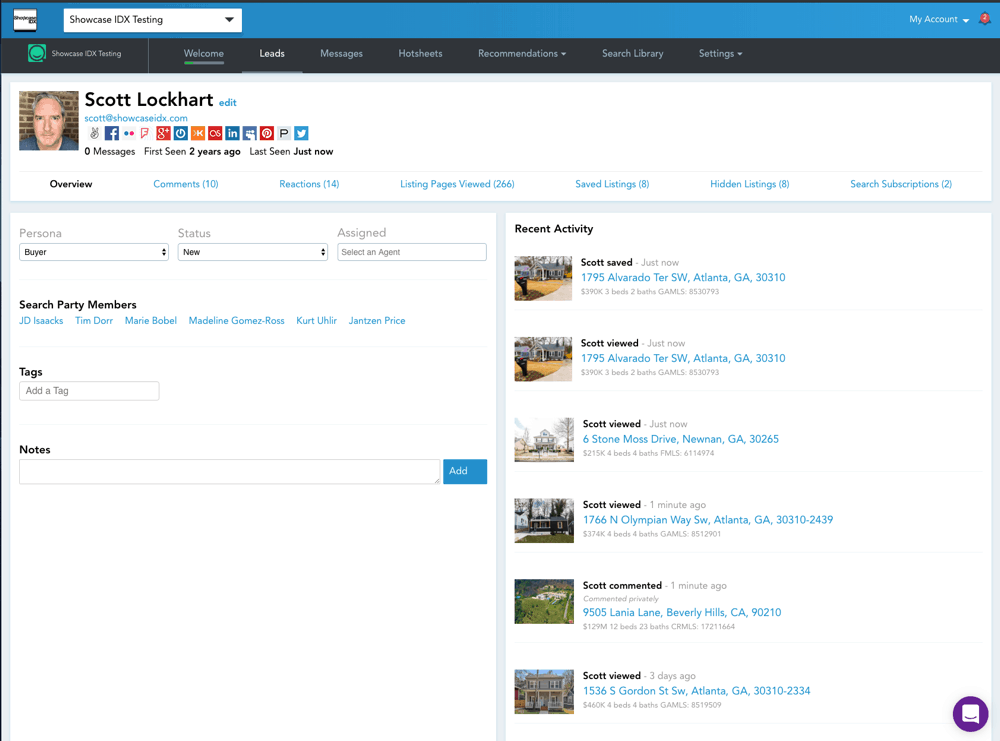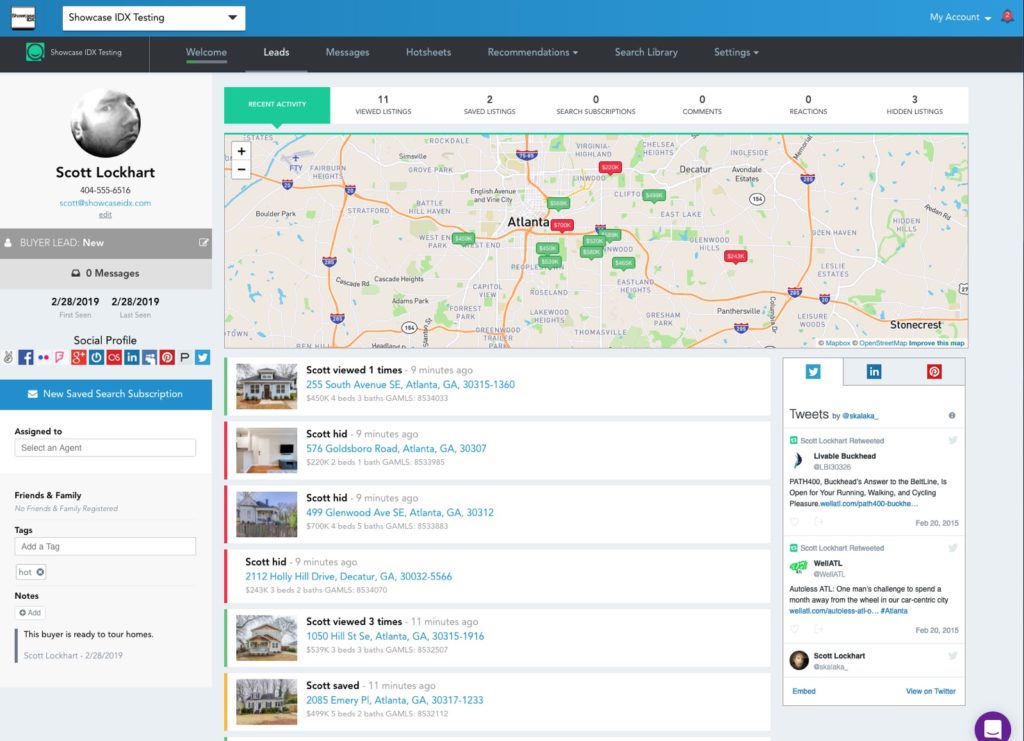 Completely New Contact Page Design
Our design and development team has come up with an entirely new design that makes it easier than ever to quickly understand the lead or client activity on your website, as well as anyone else in their Friends and Family group.
Map-Based Listing Activity

It's good to know what listings a contact is looking for, but it really powerful when you can see those listings on map. In a glance, you can see exactly where the lead is searching for homes and the price point. The map will let you see listings that have been viewed, saved, reacted to, commented on, and hidden. All the listings on the map, when clicked will open the listing detail of that property in a new tab.
Incredible Social Media Insight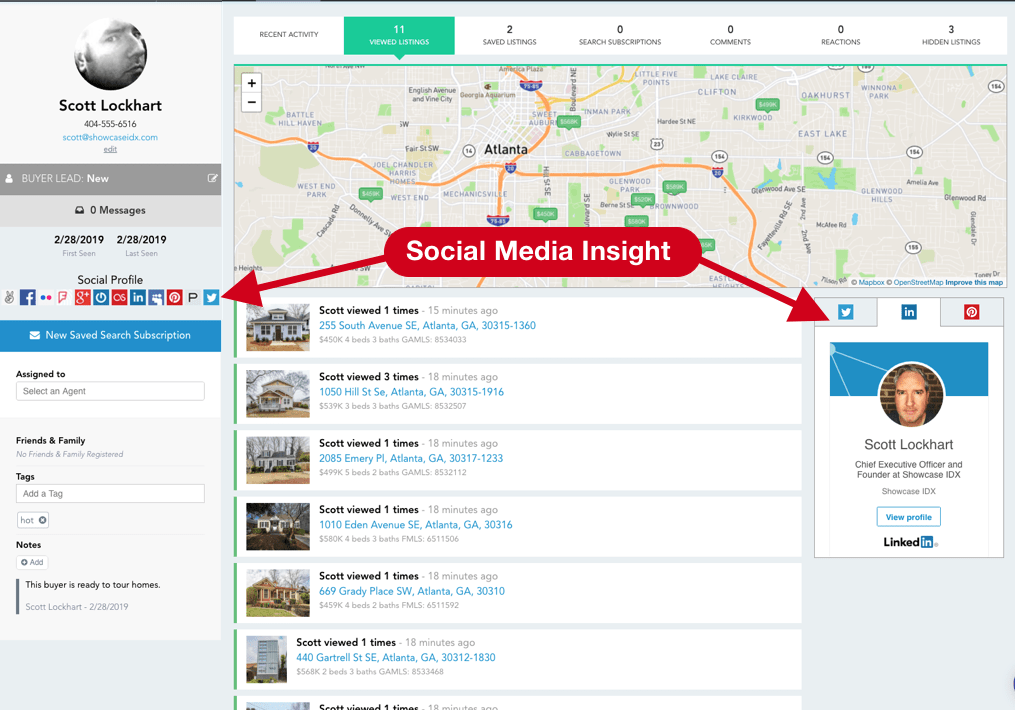 When you're trying to learn more about a new contact, social accounts can tell you a lot about that person.
We use insights and data elements from a patented identity graph to provide you with enhanced customer profiles across more dimensions of consumer information than ever before. We use this data to enrich the profile for any of your contacts. Showcase IDX will find as many social accounts for the lead's email address as we can, and links to those accounts can be found on the left-hand side of the page.
To make life even easier, if we find a Twitter, LinkedIn or Pinterest account for them, we give you a live preview of their account. So you can see their latest Tweets from Twitter, see their job and where they work from LinkedIn, and get an idea of their interests, through Pinterest. Powerful stuff.
Statuses, Personas, and CRM Tools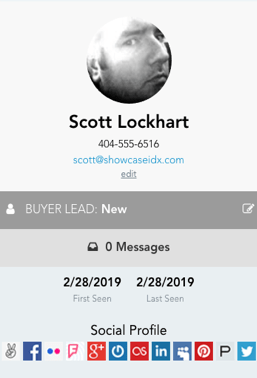 Our approach to CRM Tools is to give agents useful tools that they can use to manage their leads, and if they want to add more functionality, we have integrations that will send lead contact and activity data to CRMs with more advanced features. That being said, our basic CRM tools can give the average agent the tools they need to organize and manage their leads within Showcase IDX.
Tagging and Commenting on Leads
Showcase IDX's new lead contact page lets you tag your leads. You'll be able to add new tags or use one of the existing tags you've used before from the tag suggestion dropdown.
We also let you and your team comment on leads right within Showcase IDX. Leave notes, reminders, and information right within the Showcase IDX Lead Contact Page. Easy.
Friends and Family Groups
Friends and Family groups are a unique IDX feature to Showcase IDX. We let your website user invite their friends and family to your website to search together. Our new Lead Contact Page makes it really easy to keep track of who is in the group and access each of their details and activity.
Easily Assign or Reassign Leads
We make it really easy for you to see who the lead is assigned to and if you want to, reassign the lead to another agent or user assigned to the website.
Create New Saved Search Subscriptions Easily
The new Lead Contact Page makes it easy to create a new saved search subscription for any lead, with a new prominent button that kicks off the process to create a new saved search email subscription for the lead. Any search subscription you create also shows up in their admin dashboard under their Search Subscriptions.