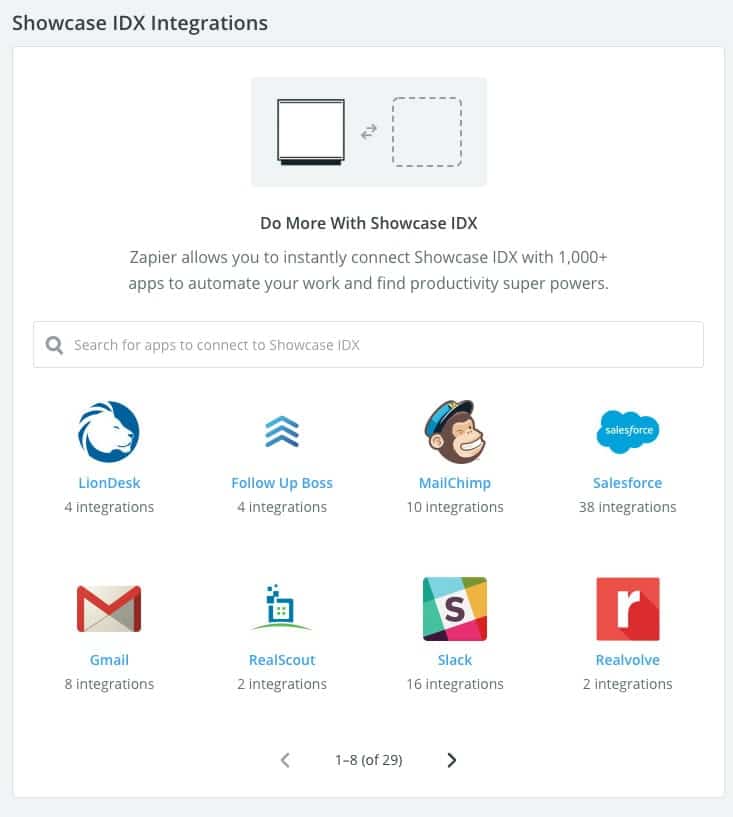 Your Real Estate CRM Tools Now Talk with 1,000 Apps
We've been a beta integration with Zapier for years, but we're happy to announce that we are now full integration partners. This will allow you to do more with Zapier and Showcase IDX to instantly connect Showcase IDX lead data with over 1,000 apps to automate lead and message distribution and be more productive with your lead data. You'll be able to have a simple IDX integration with LionDesk, Follow Up Boss, Realvolve, Bomb Bomb, Contactually, Wise Agent, Salesforce, Hubspot, Mailchimp and Gmail. These integrations are available to all Showcase IDX customers on all plans.
You can find get all the details on our Zapier Integration page. Zapier integrations are also now accessible for active admin-level users from the Integrations Page in the agent admin.
Our Zapier integrations differ from our Premium Plan integrations. The Zapier integrations are not sent in real time and are limited to the initial lead contact information and all lead messages. Premium Integrations are sent in real-time, include more metadata and include all the lead's ongoing website activity.
Click here to read more about our Zapier Integrations.