As a real estate agent, a good portion of your job entails marketing properties in the right light and building your personal brand.
It's all about getting your properties in front of the right target audience.
Selling a house is no small task, and there are many marketing mistakes that can set the process back even further. So much so, that you might find yourself going back to the drawing board a time or two.
Knowing these real estate marketing mistakes ahead of time can help you avoid making them. See below for different errors you'll want to dodge when marketing your client's property to the world.
1. Not Focusing on Timing
Believe it or not, there are certain times of the week where content you post will be seen more often than at others. In fact, there are periods where you might as well not post content at all because so few people will see it.
The trick is knowing what times of the week and periods of the day that most people are viewing their social media.
So, where can you find the answers to this problem? How do you know when people are viewing social media or visiting your website? With insights and data.
When are your clients on Facebook?
Yet another one of the reasons you want to have a Facebook page, and not merely your personal account is because of the free data that Facebook gives you.
Go to your page > click "Insights" in the top menu > click "Posts" in the left menu. This will bring up the average times that your clients are active on Facebook…and yes, many will be online while at work.
Here's a screenshot from one of the pages that I manage to show you what kind of data you will receive.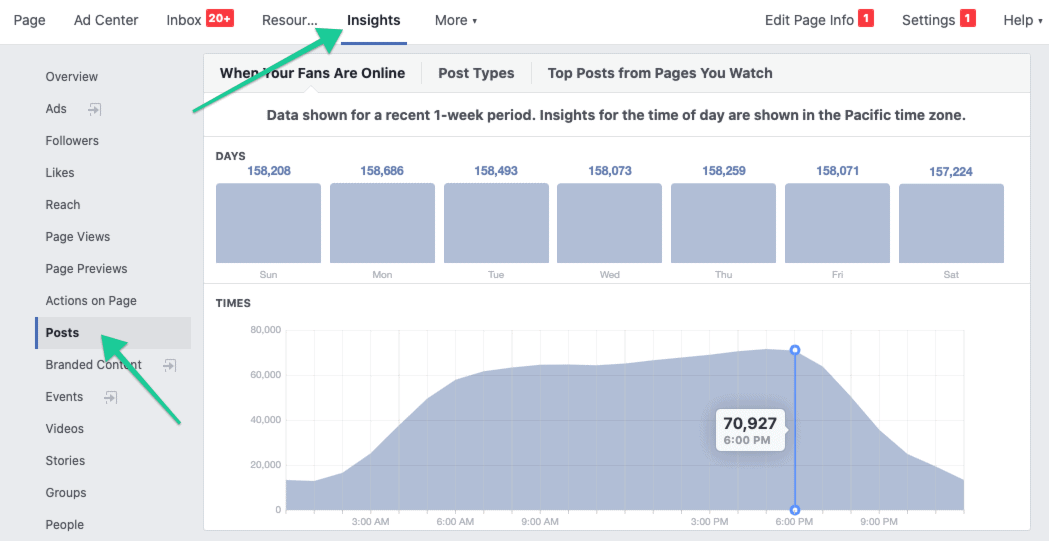 When are your clients on Instagram?
Instagram gives you this data on "business accounts" which are free to set up, and you can easily click one setting to convert your personal account to a business account. The only real change will be what you have access to, and your friends likely will never notice.
Instagram continues to change the layout of how to find "Insights" but it's there. As of today, you find the time your followers on active on Instagram by visiting your profile, clicking "Insights", and then clicking "Audience".
This will not only show you when your current followers online but also the growth (and loss) of followers, the top cities they live in, and a breakdown of their age ranges.
Here are a few examples from one of the Instagram accounts that I help coach.
Optimize when you post social content based on when your audience is active
Take the data on your account's activity as literally as possible. If you start to see a trend of upticks in engagement with your posts, then wait to post information on your listings until those times come around again.
Pro Tip: Test, test, test. Facebook/Instagram insights are great but do not tell you the whole story. On the FB page I showed above, we discovered (by testing) that we have a large number of people that follow it that work the 3rd shift. Posting at 1am when they're on lunch and 5am when they're getting off, gives us great engagement – both because part of our audience is active and because there is little competition for fresh content at those times.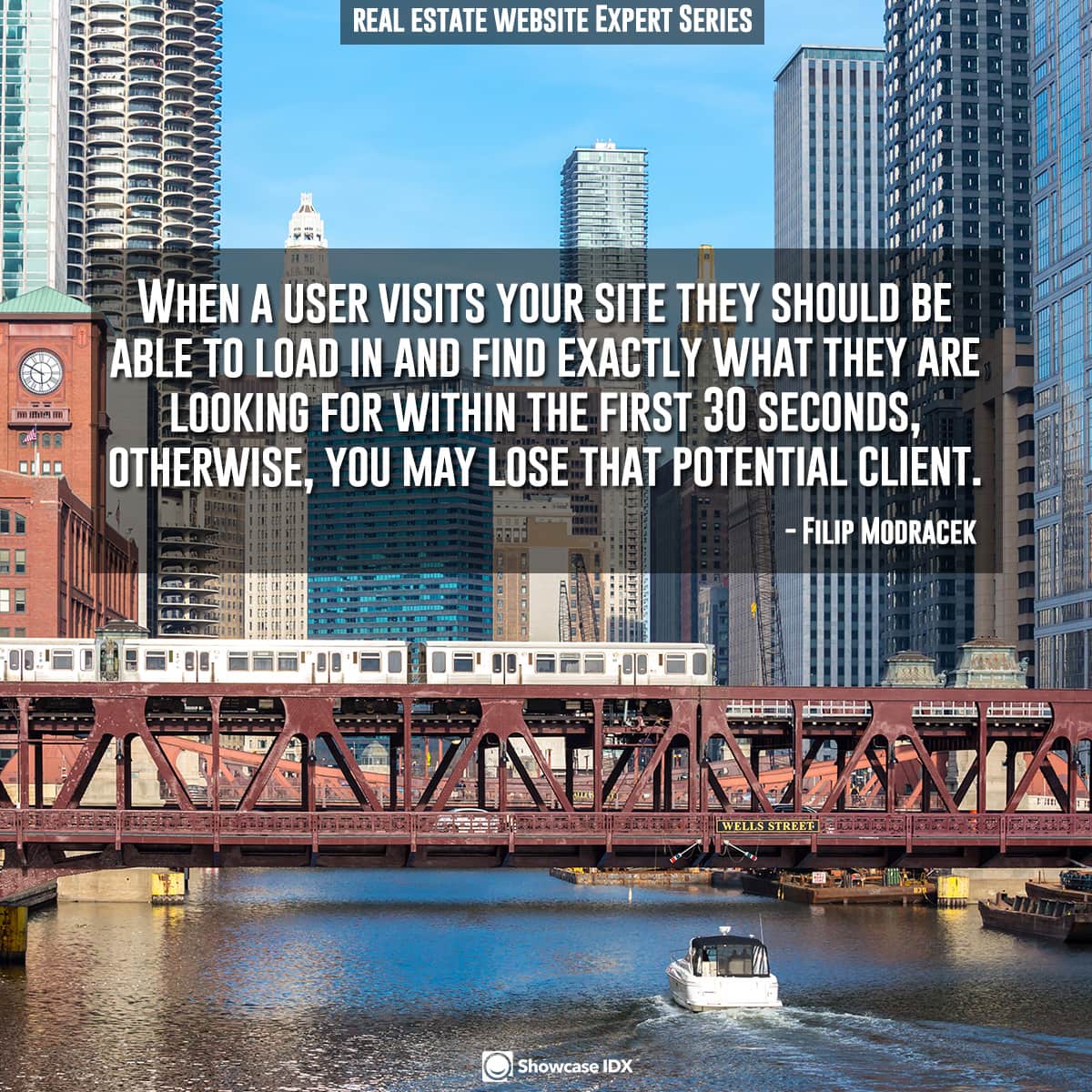 2. Not Establishing Landing Pages
Perhaps you're struggling with how to direct people to your website. How can you get your prospects from places such as Instagram and direct them to your website to browse through your local listings? By using landing pages!
Landing pages, as the name might imply, are pages on your website that tailored to give your site user as much information as possible. These can created as blog articles, listing pages, and so on.
Building blog articles on your site is one of the most successful ways to do this. It allows you to address your customer's biggest pain points, then directs them to things like your listings, your real estate service, etc.
For example, if you're an agent in Miami, FL, then you could write a blog article about "5 Things to Look for in Your Next Miami Home". You could use that piece to list the benefits of your service and direct them to your listings.
Pro Tip: Get our guide to building real estate hot sheets that will outrank Zillow on Google. See the exact process other Showcasers are following to get 2,000, 5,000, 12,000, and even more organic visitors to their website each WEEK.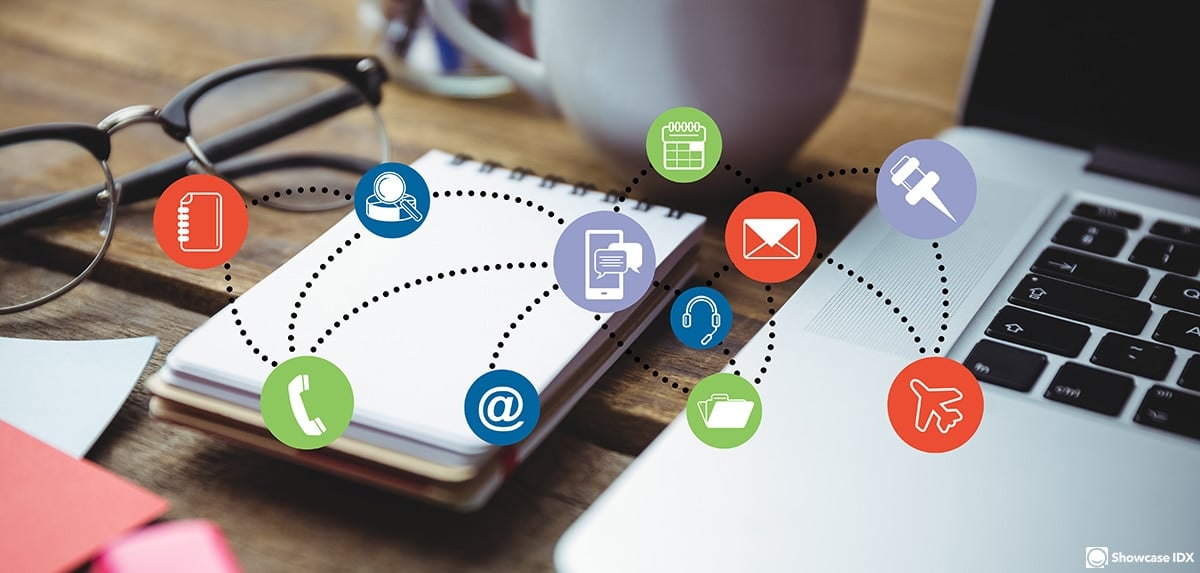 3. Not Embracing Digital Marketing
It doesn't matter what your stance is on old-school vs new-school real estate, there's no denying the way that the industry is trending.
While there's certainly a place for offline marketing in your marketing strategy, you have to build your online presence. The more established that you become, the more leads you'll generate to your website and, thus, your listings.
You may not need to be on Tik Tok, but to be successful, you do have to embrace digital marketing as a modern agent.
More importantly, you have to commit to the craft. It's not something where you simply create a website and the leads come pouring in.
You have to build a website and use search engine optimization techniques to reach your target market.
You should also look into services such as Showcase IDX for an internet data exchange (IDX) that your site visitors can use to search MLS properties in your area.
Pro Tip: Need help getting started or with a particular portion of your marketing? Talk to one of our Certified Partners or interview a few of them to find the best fit. Here's a list of some of our best ones.
4. Not Creating Buyer Personas
This common marketing mistake is two-fold. First, you might make the mistake of not bothering to create buyer personas for your services. Second, you might create the wrong buyer personas, and sabotage your marketing plan as a result.
For those of you that don't know, a buyer persona is a self-created avatar of your target audience. By creating several, you will start to better understand how to market your business and get your listings in front of interested buyers.
For example, say you're looking to build a buyer persona for your real estate agency in North Port, Florida.
One buyer persona you come up with is named "Greg". Greg is 68 years old and is finally looking to accomplish his dream of retiring down to Florida with his wife.
He loves the beach and being around social settings. He and his wife don't have any family members that live in Florida, but their kids and grandkids plan to visit often.
He loves using Facebook after his grandkids turned him on to it, and now relies on Facebook for any online recommendations to businesses such as your real estate service.
From that one buyer persona, you now understand one method of how to appeal to all the "Gregs" of your target audience and what will entice them to your website.
Pro Tip: An ideal buyer persona includes information such as: 1) Age 2) Gender 3) Location 4) Income 5) Education 6) Marital status 7) Goals 8) Challenges or Pain Points 9) Online sources they use to look for solutions (e.g. Google, Bing, Facebook, newsletters from a financial planner, etc.) 10) Online platforms they are active on 11) and more
5. Not Studying Your Competition
You know the old saying "keep your friends close but your enemies closer". That saying certainly applies to online real estate marketing.
If you find yourself envying the success that one of your competitors is having with their website, then study it! Use tools such as SEMrush or Ahrefs to study the keywords they're using and how they're backlinking their content.
You can also study things like their site's layout, content, article topics, and have a few things to implement on your site. Study things like their social media marketing plan as well to learn more about what they're doing right.
Pro Tip: I find it most effective when coaching agents that have great results to ask them to create their own content first and outline the future content they want to create BEFORE looking at their competition.

Depending on the individual client, this may not always be the case as some benefit from looking at their competition first because they have a trained "critical eye" and can see obvious content gaps that need filling in, which benefits when outlining and creating their own real estate marketing materials. Others find it hard to break out with original ideas that really utilize their hyperlocal knowledge when looking at their competition first. Test when to look at your competition to see what is most effective for you.
Use These Real Estate Marketing Tips to Your Benefit
Now that you've seen several real estate marketing errors to avoid, it's time to use them to your advantage.
Start by reading this page for more information on how Showcase IDX can help heighten your real estate listing pages.
For more inquiries on this, please be sure to visit our get started page for a free trial and we'll be happy to assist you further!