the modern search tools they expect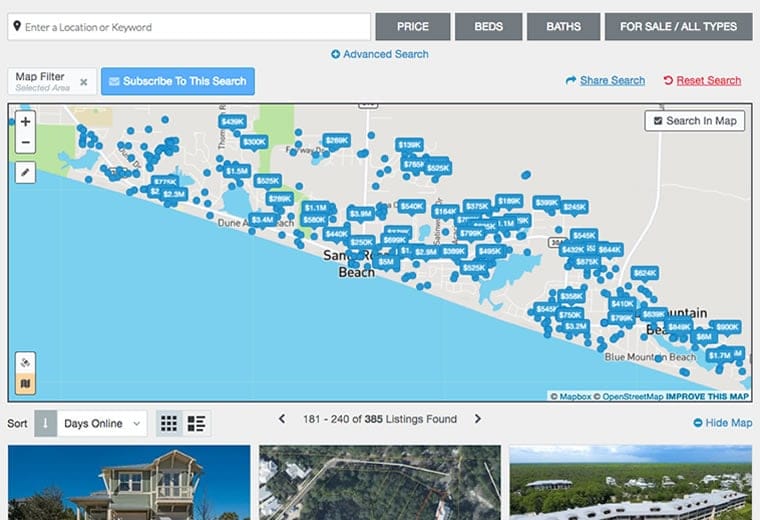 Showcase IDX's search seamlessly combines advanced map-based searching with the ability to drill down to search detailed MLS features without feeling overwhelmed.
Fully Integrated Map Search

Support for multiple MLS's in one search

Lightning fast search response times

Customizable to fit with any website design

Data checked and updated every 15 minutes for most MLS's.
Simple customization tools let you Quickly build the website of your dreams
You don't want your website's search to look like it's just slapped on your website. We help you seamlessly fit in the IDX search and engagement tools with your overall design like it was designed with it from the beginning.
Built-in onboarding wizard with video tutorials

Design Manager makes it easy and quick to change all the key colors and fonts

Shortcode-based widgets and hotsheet (saved searches) give you the flexibility to build out custom pages to your layout, not ours.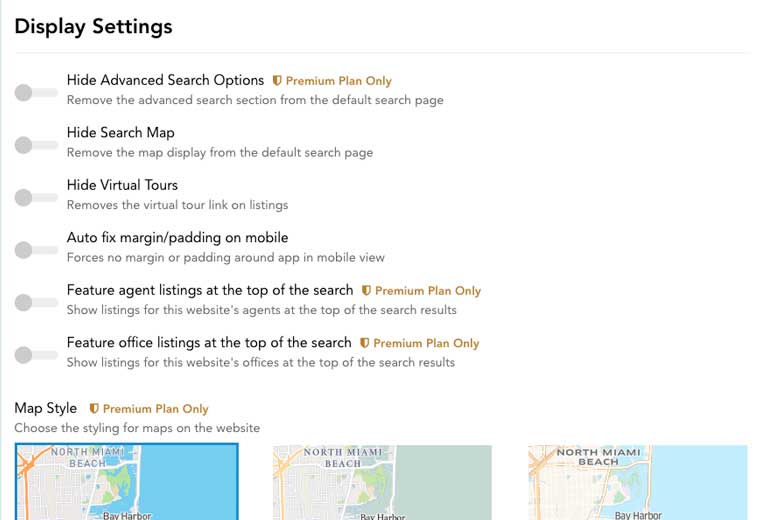 Real-time CRM integrations connect your lead data and activity with all your other tools
Your IDX needs to work with the other online tools you use to manage your business and leads. So Showcase IDX put a lot of time and effort into building the best way that you can send leads and their activities to your CRM and other services. No other IDX comes remotely close to the flexibility, reliability, and timeliness. Oh yeah, you can set them up in less than 3 minutes.
Real-time integrations with CRM's like Follow Up Boss and LionDesk, and messaging platforms like Slack

Integrations through Zapier give you access to share lead data with over 750 of the top online services from Mailchimp to Google Sheets.

The data you send is fully customizable by account, website, or individual user; and by what data points you want to send.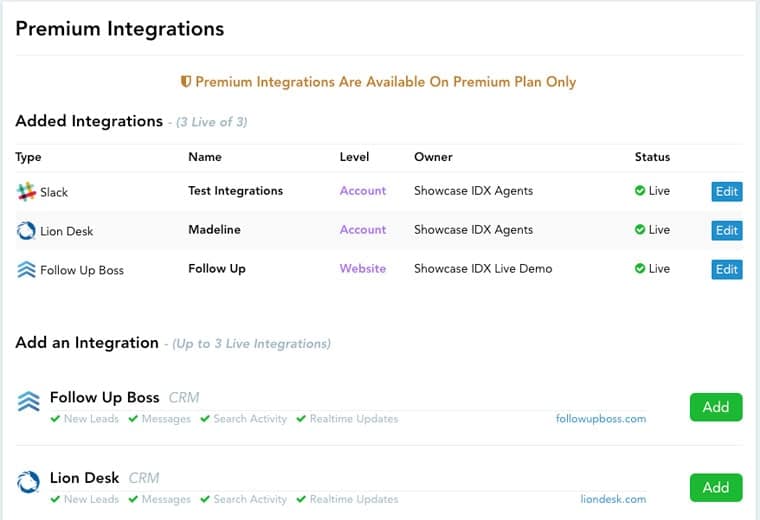 A straight-forward, best-practices approach to SEO that works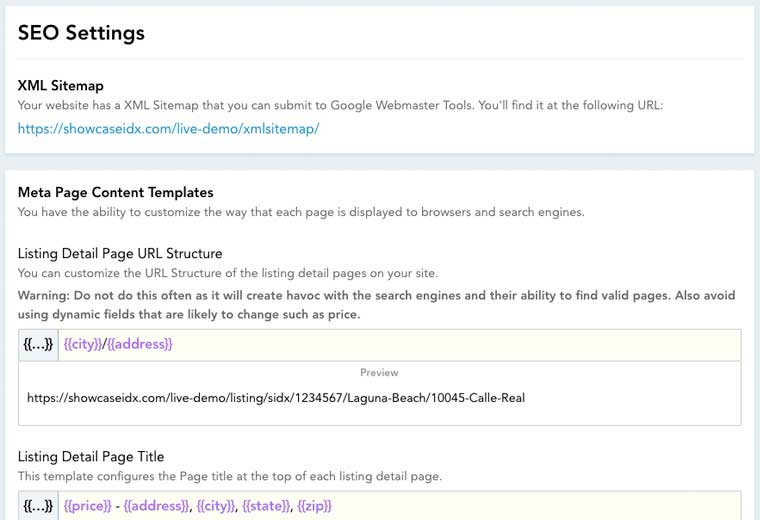 Forget how every other IDX does SEO… Showcase IDX is the only WordPress IDX that uses server prerendering. That's a technical term that means that we preload the listing and hotsheet content so it appears as native WordPress content to browsers and search engines… and it's fast.
Fully indexable IDX listing detail pages and embeddable hotsheet results

Configurable dynamic URL, meta descriptions and page title structures

H1 tags, alt tags and other SEO elements are exactly where you'd want them

Ability to customize the search areas and which listings will be submitted to Google in your XML sitemaps.

Ready-to-go XML sitemaps for submission to Google.

Fast. Pageload times are a major priority for us to keep short and snappy.
Useful tools for consumers to search, organize, and collaborate with each other …and you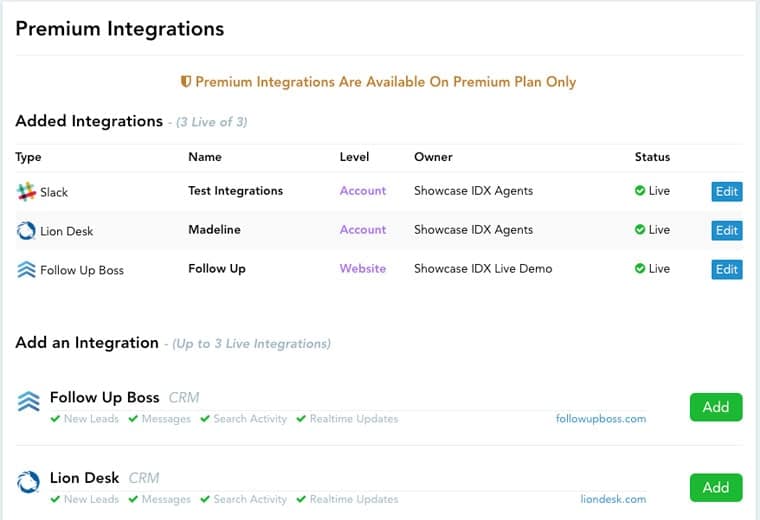 We've built a unique set of consumer tools that are designed to engage visitors to your site quickly and turn them into willing leads… because they see the value of your website enough to sign up. That's just step one, we then provide more tools that show them the value of you.
Family and Friends social search. Your leads can invite the other people involved in finding a home to their search.

Search subscriptions make it easy for leads to get search updates

Consumer dashboard tools give leads the ability to see all their activity (and the activity of their invited family and friends) in one place.

Consumer tools and sign up/sign in links can be placed in the top bar of your website with a shortcode, giving an incredibly polished and high-end, portal-like feel to your website.
IDX building blocks that let you incorporate indexable MLS listings into any page or post on your website
We give you the building blocks you can use to build beautiful, fully-customized pages for any location or type of search you can do. All the listing data that is displayed on these pages is fully-indexable by search engines, giving you on-page content that is updated whenever the listings change in the linked search. Powerful.
Shortcode-based hotsheets are responsive out-of-the-box so you don't have to fiddle with formatting to make them look awesome.

Three different hotsheet results display types to embed and show listing data on any page or post.

Slideshow gallery lets you embed a beautiful scrollable set of results into any page or post.

Customizable drop in widgets to add search forms, maps, contact forms, "how much is my home worth" forms, external IDX navigation links so the IDX and your website can come together as one.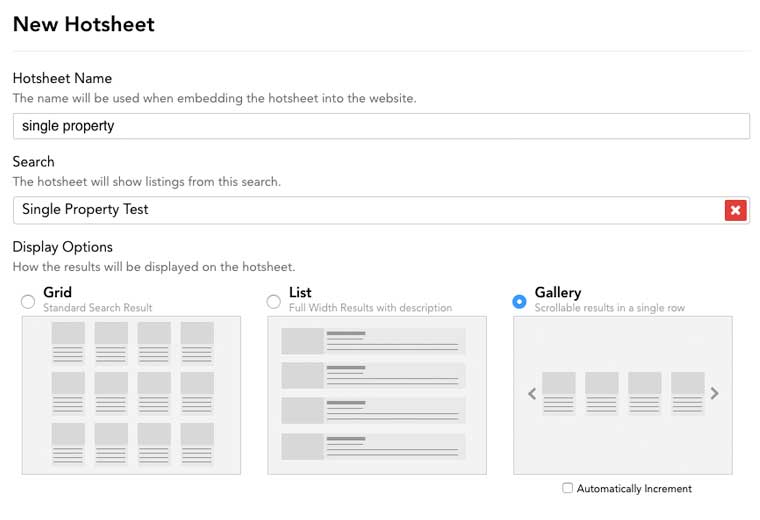 Automated Facebook and Google ad conversion tracking that helps you get the most out of your online ad spend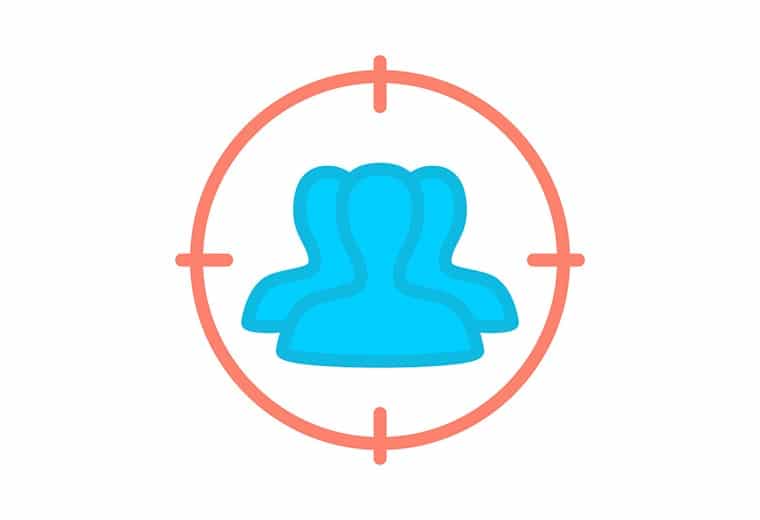 With the market for online advertising on platforms like Facebook and Google so competitive it's crucial for agents to understand exactly how well their marketing is working and that they are getting a return on their advertising budget. It's easy to waste a lot of money.

Showcase IDX knows this, so we have built right into the platform support for Facebook Pixel and Google Analytics/Adwords events and triggers. We fire them on every lead conversion, so if you have the code on your website, it will pick up any conversion activity and report it back to the source so you can track exactly the conversion rate for any campaign, ad set, or individual ad.
Ad conversion tracking works right out of the box with Facebook Pixel, Google Analytics, and Google Adwords events and triggers.

If you're not tracking your ad spend through to IDX lead conversion event you're probably wasting a lot of money on ads that aren't working or could be optimized.
Powerful, yet easy-to-use, back-end management tools that keep track of everything
We put everything in one place, to make it easy for you to manage your entire Showcase IDX experience. If you have more than one website, you manage them from the central admin website. Everything from managing users on your account, to lead distribution, to updating your billing happens in the one place.
Full user and lead distribution management for one or multiple websites.

Create recommended search emails subscriptions for your leads and clients

Manage all your billing and account details in one place.

Your non-administrator level users only see what's relevant to them (only their leads and limited settings)

See all your leads and messages quickly in our "light" CRM.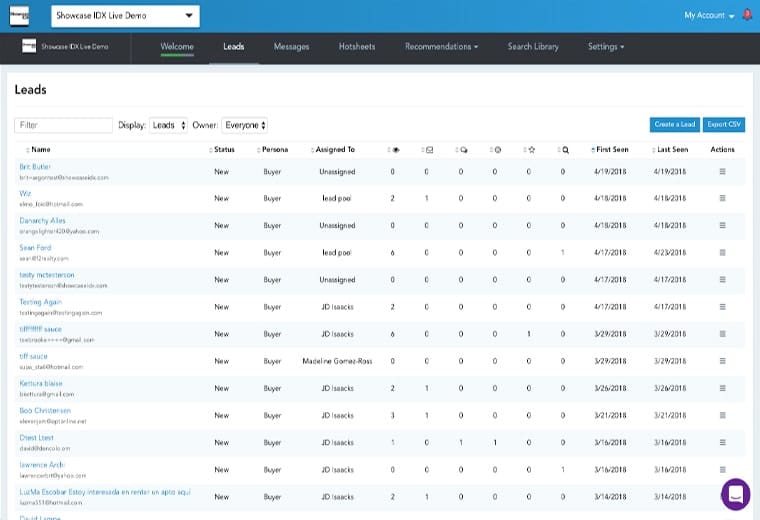 A support team that cares about helping and solving your issues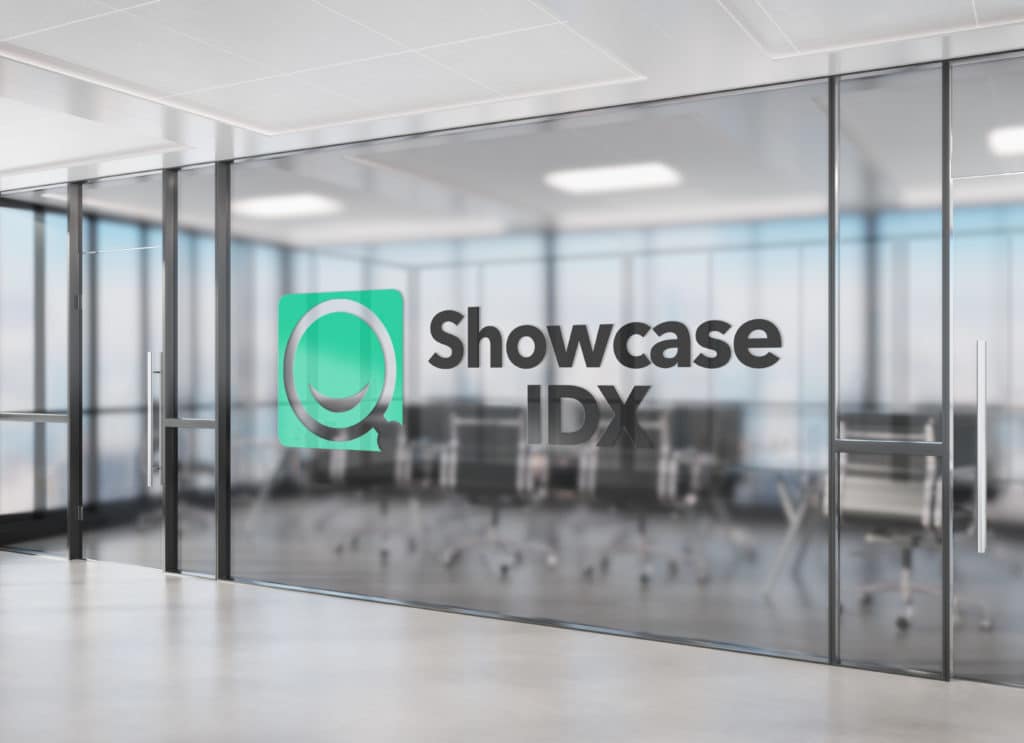 We care. A lot. We listen to our customers and we're there to help you when you need it. It's our pledge to always be honest and upfront… even when it's not what you'd like to hear or what we'd like to be saying. Our support team is the backbone of Showcase IDX and we will treat you the way we want to be treated. Want to test out our support? Give us a call at 1-800-478-0181 or email us at help@showcaseidx.com. We'd love to have a chat and answer any questions you may have.
We like using the phone! Give us a call at 1-800-478-0181 and one of our team members will be happy to answer any of your questions.

Our community of agents and developers in our Facebook User Group is very active with agents like you sharing tips and discussing everything from new Showcase IDX functionality to industry news.