As the real estate industry evolves, agents must explore new ways of reaching their customers. One of the most effective ways to do this is by creating a website.
While it can be intimidating for those, who have never done it, learning how to host a website is easy. This guide will provide the basics for creating and managing your site and help you understand how to maintain and maximize its potential.
Why You Need Hosting for Your Real Estate Website
Website hosting service is essential for any real estate website. Your site can't be seen by anyone other than you and cannot be accessed by global audiences without web hosting.
Hosting services are the backbone of the Internet, providing virtual space to store essential files, databases, and other components required to create and maintain an impressive web presence. They offer extra perks, such as heightened security and reliable backup options.
Domain names are just like street addresses, guiding users to your website. However, having just the domain name alone won't get your site seen by the world. Aside from the domain name registration, you'll need to connect your website to a web hosting service to ensure it can be accessed around the globe.
A fast-loading site provides a better user experience and is a major search engine optimization  (SEO) factor that can help you rank higher in Google. It will greatly impact local SEO, thus helping you attract more prospective clients and site visitors. A web host with poor servers can cause your website to load slower than it should.
7 Things To Look for in a Web Host
Once you search for web hosting, you'll discover hundreds to scour through. How will you know which is the best one to choose? There are seven things to look for to help you weed out the bad choices.
Reliable Performance
A good hosting company should provide a 99.9% uptime guarantee, which means your website will be available and functioning for more than 99.9% of the time.
This is incredibly important for real estate agents because potential customers need to be able to access your website quickly and easily without any technical difficulties.
You can do a few things to ensure that your website has reliable performance. Firstly, make sure that your hosting company provides a good uptime guarantee.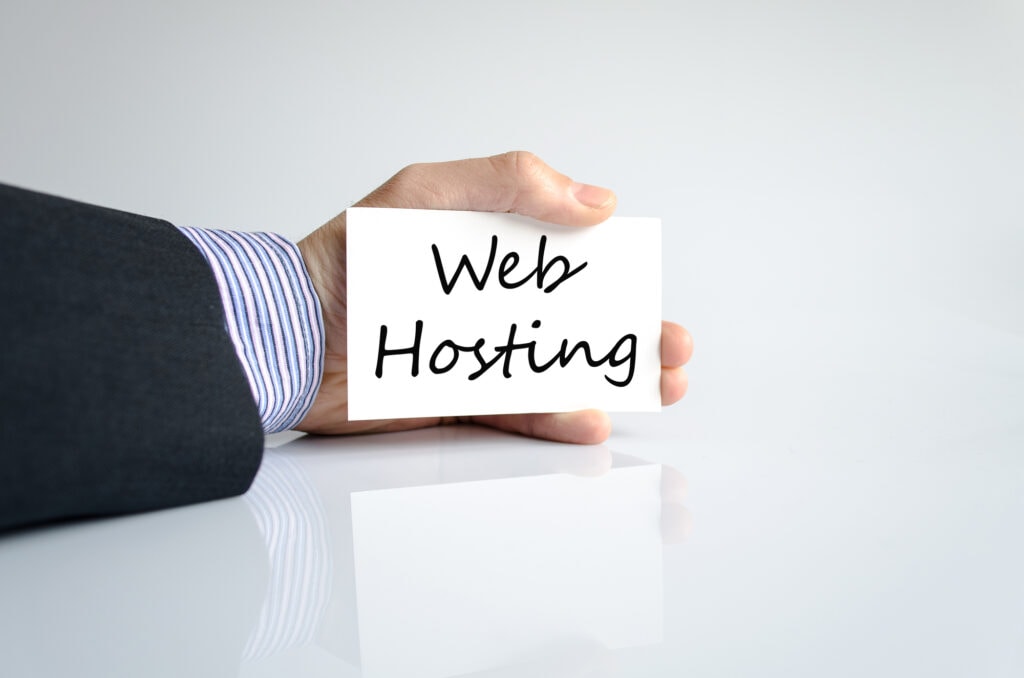 Secondly, look for hosting companies with a reliable server infrastructure, such as cloud or dedicated servers. Finally, ensure that your website is optimized for performance, with fast loading times and no lag.
Guaranteed Security
Without the right security measures, hackers can easily access sensitive data, ruin your website design, or even take it offline altogether. To protect your website and its data, you must ensure it has the appropriate security features.
The most important security feature to look for is Secure Socket Layer (SSL) encryption. This allows data to be securely transmitted between your website and the user's browser, ensuring the safety of confidential information.
Additionally, it would be best to look for daily backups and malware protection. Daily backups ensure you can easily restore your website to its original state if something goes wrong. Lastly, malware protection helps to block any malicious software from infiltrating your website.
Comprehensive Features
Domain registration and hosting are some of the most important features to look for. This will allow you to create and register a domain name for your website and provide the necessary hosting services to keep it running smoothly.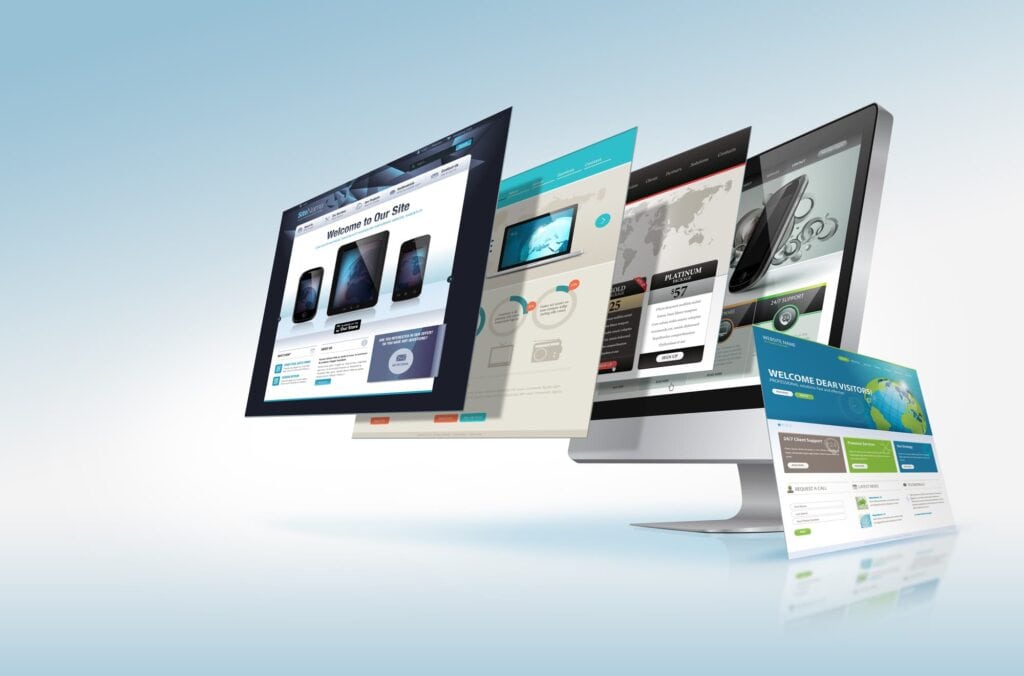 Secure storage and backups are also essential for a website, as this will ensure that all your data and content are kept safe and secure. Additionally, look for website performance monitoring, which will let you monitor the performance of your website in real-time.
Easy access to customer support through chat is also key for a web hosting provider. Access to knowledgeable customer support staff can help you troubleshoot any issues with your website quickly and efficiently.
Ensuring your hosting service has an intuitive and easy-to-use control panel is important. This will allow you to manage your website without any technical expertise, making it easier to keep it running efficiently.
User Experience
Web hosting platforms can be a challenge to navigate because web hosting has so many settings. Look for a platform that has an easy user experience. One thing to consider is how easy it is to set up your website. Some web hosting platforms have website-building tools built into their administration panel, also known as the Cpanel.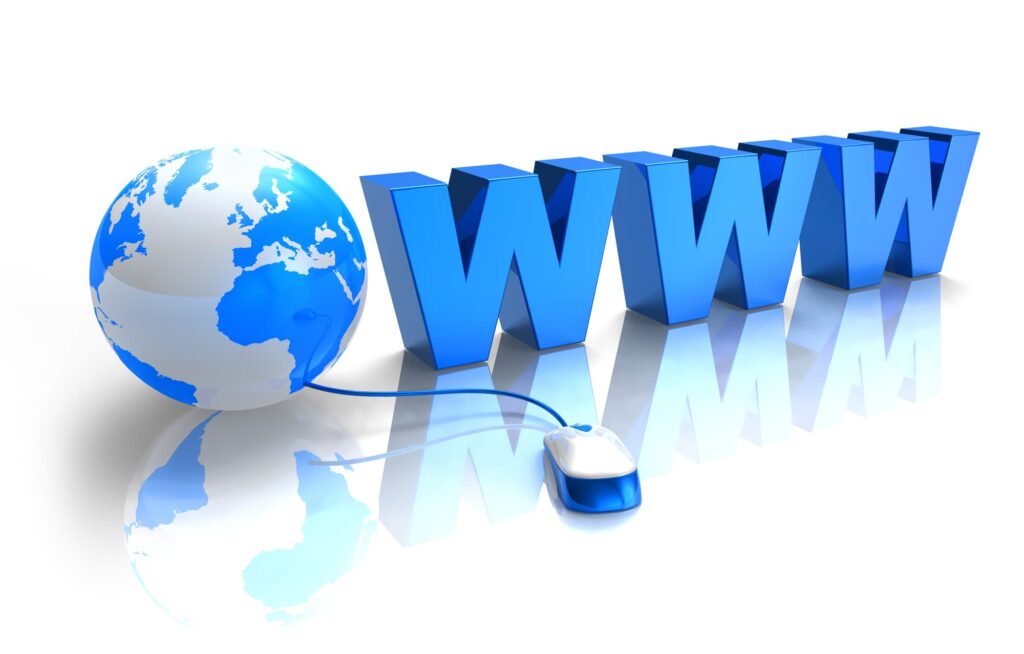 You should look for providers with easy integrations with third-party website-building platforms like Weebly and WordPress. Also, consider how difficult the web hosting providers make it to update settings like domain name servers or add subdomains and email addresses.
Value for Money
Ensure that your hosting plan is cost-effective and offers good value when hosting a website. Because there are many web hosting providers to review, research, and compare different plans to ensure you're selecting the right one.
Consider the features offered by each plan. Does it provide unlimited storage and bandwidth? If not, what is the maximum amount of storage and bandwidth provided? Consider whether the plan includes additional email hosting or SSL certification services.
24/7 Customer Support
A good hosting company will provide access to extensive documentation and training materials. This helps users understand how to host their websites and troubleshoot any problems they might face. The provider should also offer 24/7 customer support so that you can get assistance whenever you need it.
When selecting a hosting company, check if they offer 24/7 customer support. You may have to pay a bit more for this service, but it's worth knowing that you can always reach someone if you encounter any issues.
In addition to customer support, check out their technical support as well. Determine the type of technical support offered and whether there are premiums to pay for a certain type of technical support.
Some web host providers offer to set up and build your new website. Compare which providers offer this at an affordable rate.
Some key features to look for with website building are the type of web pages they will build if they will complete SEO optimization of your website, and if the provider will set up features like security certificates.
Scalability
A scalable web hosting solution is key to meeting the demands of a growing website. Scalable web hosting allows you to adjust the number of dedicated resources your website needs to get the job done without having to go through extensive re-configurations or upgrades.
To ensure you have a scalable hosting solution, look for a hosting provider that can customize your hosting plan. As your website traffic increases, you can add more resources, such as more server space, or switch to your dedicated hosting server.
4 Steps To Host a Website
You can be on your way to hosting your website in just a few simple steps. Consider these steps below to guide you on how to host a website.
Decide the Type of Website You'd Like To Build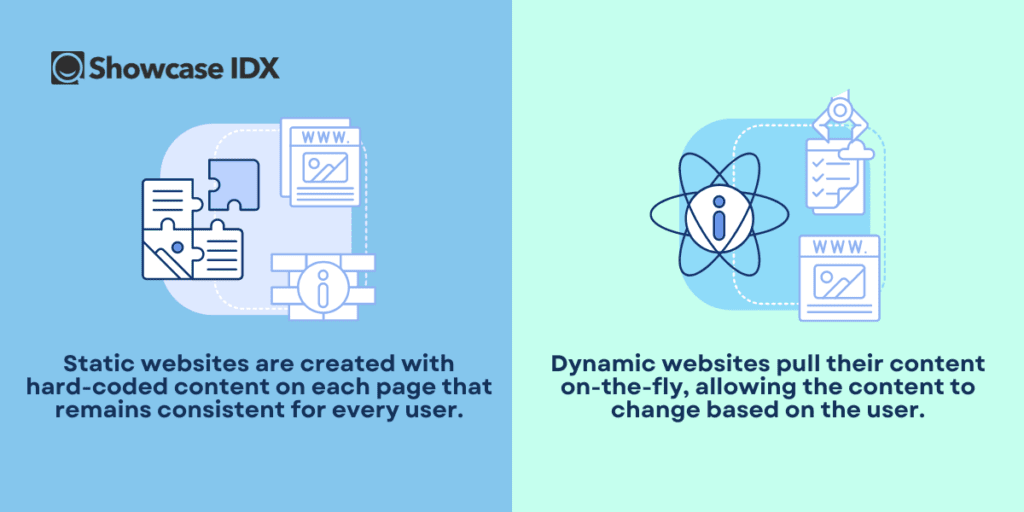 The first step to hosting a website is to decide the type of website you'd like to build. The two main options are static and dynamic websites.
Static websites are fairly straightforward, as they are created with hard-coded content on each page that remains consistent for every user. On the other hand, dynamic websites pull their content on-the-fly, allowing the content to change based on the user.
Static websites are easy to create and maintain, requiring only basic knowledge of HTML and CSS. They can be built quickly and cheaply and are faster than dynamic websites.
However, static websites lack components such as logins and real-time notifications, and user interactivity is limited, discouraging user retention.
Dynamic websites offer greater flexibility and scalability but require more technical expertise. Dynamic websites allow for personalization, showing different content based on the user. However, since they are more complex, they take time, effort, and money to create from scratch.
Choose a Hosting Provider That Meets Your Needs
Many publications offer detailed reviews of popular hosting providers, including their strengths and weaknesses. However, rather than relying solely on these reviews, it is best practice to test out customer support during the trial period for any host.
Other criteria to consider when researching web hosting services include traffic volume, customer support, and ease of setup. You may need to upgrade your hosting plan if your traffic volume is too big for a standard package.
Additionally, customer support is vital, so check out the knowledge center and use various channels to contact the support staff. Lastly, it is essential to evaluate how easy it is to set up your website.
Additionally, some hosting companies offer features that may benefit your website, like assisted site migrations, data centers worldwide, and customized server packages.
Having examined tens of thousands of real estate websites and performing SEO on hundreds of real estate websites, I warn you to stay away from the cheapest of the discount providers. We'll talk about the type of plan in a minute.
There are many great hostsing companies. A few that I personally recommend are (in no particular order – all are great):
Select a Hosting Plan That Meets Your Needs
There are four main types of hosting plans: shared hosting, cloud hosting, virtual private servers (VPS), and dedicated hosting. Shared hosting is the most cost-effective option, ideal for beginners who prioritize affordability.
Cloud hosting offers scalability and flexibility while maintaining performance and can be used for anything from a simple blog to a complex eCommerce store.
VPS hosting provides greater processing power, disk space, and memory than shared hosting. Shared hosting is more affordable than dedicated web hosting, as multiple users contribute to the costs of a single server.
It's ideal for medium-sized websites, such as those with high traffic volumes or that have custom site frameworks.
Dedicated hosting is the most powerful option, allowing you complete control over your entire server and resources. However, it is best suited for those with advanced technical skills and websites with high traffic volumes.
Register a Domain Name for Your New Website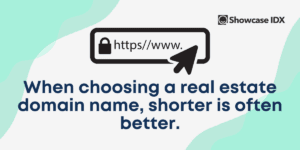 The final step to hosting a website is registering a domain name. Choosing a domain name that suits your brand is essential. A domain name can help with memorability and increase visibility.
Use a domain name checker to ensure you get the perfect domain name for your website. A domain name checker will allow you to search for the exact domain name you want or similar alternatives if the exact one is unavailable.
The most common and recognizable extension for domains is .com. The .com extension can help provide credibility for your website in customers' eyes. However, if your desired .com domain name is unavailable, there are still plenty of other options.
You can consider alternative extensions such as .io, .club, or .rocks, among hundreds of other new top-level domains (TLDs).
You can also purchase a premium domain name, which costs more than non-premium ones. If you're set on securing your first domain choice, you can use Whois Lookup to find the current registrant and see if they are willing to sell it.
Once you register your domain name, you can use domain forwarding to redirect visitors to any other webpage on the Internet. For example, you can register yourdomain.com and set it to redirect to your Facebook or Twitter page.
You can also add unlimited sub-domains, such as "blog.yourdomain.com," "sarah.yourdomain.com," or "support.yourdomain.com," which can contain their unique web page and provide unique email addresses.
Registering a domain name is also great for business or product promotion, as it adds professional credibility to your brand and increases your visibility among numerous websites on the Internet. Ultimately, registering a domain name is essential to building an online portfolio and boosting your online presence.
FAQs How To Host A Website
If you still have more to learn about how to host a website, consider these additional questions about web hosting for realtors below.
How can I host my website?
Curious about how to host a website? Good news is anyone can host a website themselves, but it is not advised. You must have the hardware and ability to cover the expenses to host your website.
For realtors, that is not feasible and can take away from your time to sell real estate. Realtors should use shared hosting or another form of web hosting provided by a hosting web service.
How do I host a website for free?
Free web hosting will limit the necessary add-ons and technology for a successful real estate website. Realtors depend on IDX technology that makes sharing their listings efficient. You won't get this with free web hosting. Even if you set up hosting servers yourself, they may not handle the bandwidth IDX requires.
How do I host my first website?
Use a shared hosting service for your first website because hosting a website requires a lot of technological support. Shared hosting often features access to purchase and apply SSL certificates, dedicated bandwidth, and website building.
Can I host my website with my computer?
Yes, you can host your website with your computer. This type of hosting is called "self-hosting," and it requires you to install web server software on your computer. It also requires you to have a static IP address and to open up a port to make the website available to the rest of the Internet.
Self-hosting can be costly because you must leave your computer on around the clock. In addition, the heat from a computer running all day can increase heating and cooling expenses.
Do you need a server for a website?
A server is essential for hosting a website, as it provides the hardware and software configuration needed to view a website online. Servers can be expensive to maintain if you do it yourself. A server is a separate computer unit often installed in a closet or closed-off room.
Web hosting providers have a network of servers that they maintain for several customers. Opt to have your website hosted with a web host provider to save you time, space, and money.
Is Dreamhost a good host for a real estate website?
DreamHost offers various hosting solutions, from basic shared hosting to dedicated servers, to suit all real estate businesses.
The Shared Starter plan is most suitable for personal sites, while the Shared Unlimited plan is ideal for professional use. DreamHost also provides great features for real estate websites, such as free SSL certificates, WordPress pre-installed, unlimited websites and email services, and fast SSD storage space.
Is WPengine a good host for a real estate website?
Yes. Its servers provide extremely fast page load times with high-speed server hardware and software, an excellent Content Delivery Network (CDN), and top-notch caching software. WPEngine offers state-of-the-art hosting services, providing customers with security, flexibility, and scalability features.
Where can I find a website developer or SEO to help me with my website?
Web developers are a dime a dozen, but those who can provide a great web design can take time to discover. You can look for web reputable web developers here.
Where can I find examples of great real estate websites?
If you're looking for a real estate website to get inspiration from, visit these great sites.