Are you looking to create a website for your real estate business? Smart move. Real estate websites are an integral part of the modern-day real estate industry and powerful marketing and selling tools, especially when we consider that, according to the National Association of Realtors, 97% of all homebuyers use the Internet in conducting their property search.
Gone are the days when agents had to rely on word of mouth and local newspapers to get their listings out there for potential homebuyers. Today, 69% of the professionals licensed to buy and sell real estate own a website, and you can do it too! In this guide, we will cover everything from hosting and domain names to popular website builders and the core features that should be included on your site. Let's get started!
Why Build a Real Estate Website?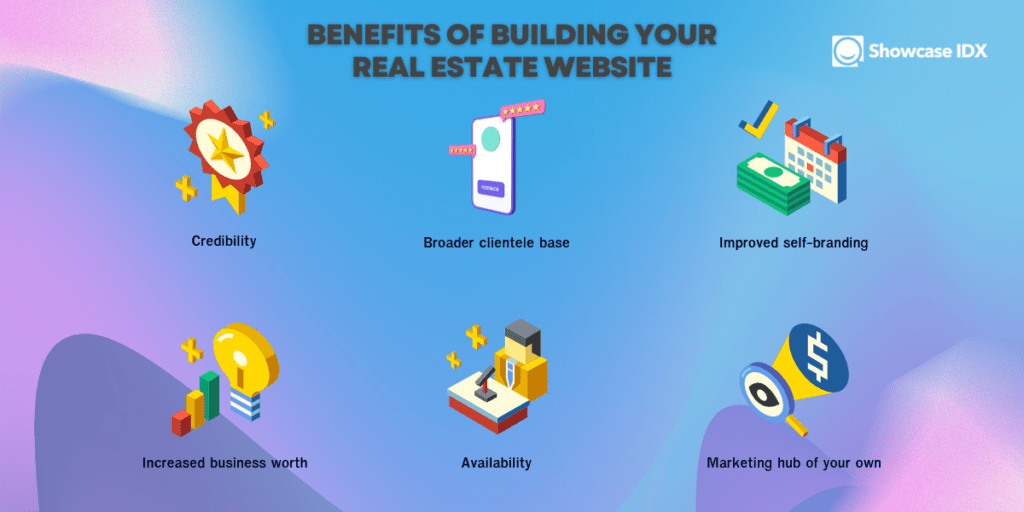 Let's get clear, you don't actually need a website to be a successful real estate agent, but you do need one if you want to take your business to the next level and get more leads. Building your real estate website can have benefits like:
Credibility: Having an online presence undoubtedly builds your trustworthiness with potential clients.
Broader clientele base: With almost 100% of homebuyers looking for homes online, the Internet is the top marketplace in the real estate sector right now.
Improved self-branding: Having your own website is an opportunity to show the world who you are. You'll be putting your values, expertise, and business philosophy out there.
Increased business worth: Aside from showing listings and getting high-quality leads, your website can be a venue for educating and providing extra value to your clients.
Availability: The Internet never closes! Your clients will be able to leave you messages 24/7, no matter their location or time zone.
A marketing hub of your own: In a website, agents can combine marketing tools galore, including social media, email marketing, analytics, and content.
Types Of Real Estate Websites
Before going deeper into the processes, tools, and features you need to put together a successful real estate web platform, let's talk about the types. There are several online business models to match virtually any marketing strategy. We will focus on the ones that are better for individual real estate agents and small companies:
Property Listing Website: This site is designed for clients to search for homes for sale and submit their information. Good home-search features and IDX integration are key here.
Personal Real Estate Website: Also called brand website, this site is literally an online business card, your own space to look professional and display your services. It can be simple or highly customized. Can have listings or not.
Niche Real Estate Website: This type of real estate website is related to the user's intention. Subclassification is: buying and selling sites, renting websites, investing sites, property management websites, etc.
Team Real Estate Website: This site is commonly developed by companies for teams of real estate agents.
Mixed Models: A combination of two or more of the previously mentioned website types.
Creating A Real Estate Website
Ready to get down to work? A step-by-step guide to building a fully functional and comprehensive real estate website.
Step 1: Domain Names For Real Estate Websites
The first part of creating any website is picking a name and eventually a domain. This is important because you'll probably use that name in ads, signs, business cards & stationery, and email addresses.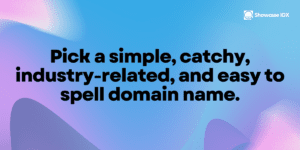 But how to develop a creative name that can compete with the billions of real estate websites out there? It would help if you came up with something simple, catchy, industry-related, and easy to spell. Here are some additional tips for finding a memorable domain name for your real estate website:
REALTOR® is a trademark, so avoid using the term in your domain name if you are not one. Try homes for sale, realty, real estate, properties, selling, or condo instead.
Is your last name frequently misspelled? Avoid using it in your domain name.
Go local. You can use the name of a popular neighborhood in your area or even slang.
SEO can help. Search for frequently used keywords related to your location or expertise.
Having a .com domain name will give your website more authority.
Step 2: Hosting For Real Estate Websites
A good hosting service is critical for a real estate website's performance. You need your site to load faster, be responsive, and rank high on Google. All of that highly depends on your hosting election, so don't take the matter lightly. There are several companies out there that provide quality hosting at affordable prices. To choose the best one for your individual needs, look at factors like downtime and tech support availability, and make sure to read as many reviews as you can.
Step 3: Builders For Real Estate Websites
A website builder is software that enables you to construct a visually appealing and functionally sound website without coding, design, or web design expertise. Most website builders offer a vast selection of templates, but only a few cater to real estate agents and firms.
Make sure that your website builder of choice has the specific requirements your line of business demands. That includes marketing features, quality contact forms, newsletters, property walk-throughs, video features, event calendars, mobile optimization, and more. WordPress is one of the top alternatives in terms of functionality and plugin availability, but GoDaddy, Site123, Squarespace, and Wix are also good choices.
Step 4: Key Features In Real Estate Websites
1. IDX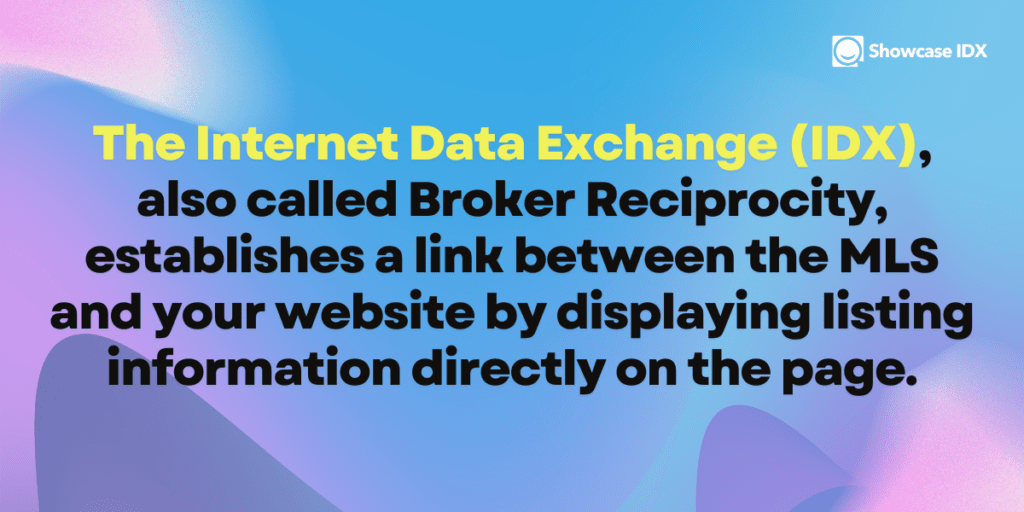 As an agent, you probably already know what IDX is in real estate. The Internet Data Exchange (IDX), also called Broker Reciprocity, is the backbone of high-quality real estate websites simply because it allows you to accurately integrate a key component of business: the real estate listings. IDX establishes a link between the MLS such as CRMLS and your website by displaying listing information directly on the page.
There are many ways to include listings on a site, but with IDX, your listings will be refreshed every few hours, ensuring that your clients and website visitors are always getting precise and up-to-date information. This maintains the trust of your customers and keeps them on your website rather than directing them elsewhere.
As an agent, integrating a real estate IDX into your website can translate into more high-quality leads. Your chosen IDX software should install and launch quickly, be fast and customizable to fit with your web design, and include SEO.
2. Property Listing Pages
A successful real estate website relies heavily on great listing pages. You need your pages to have a simplified design, URLs that stem from the default search page (no subdomains!) and SEO optimization. High-quality images, updated information, and call-to-actions that generate more leads are also desirable qualities.
3. Search
The search feature will allow your clients to go after whatever they want in a breeze. You can have a predictable results search, enable them to search properties using all kinds of filters, and even have data input diversification for the customers that want to house-hunt by address, zip code, or neighborhood.
4. Photos, Videos, And Graphics
Pictures, videos, and graphics are essential for any website but are crucial on a real estate web page. Visuals are the face of your website and the first impression your clients have of you or your company. That being said, you need them to be high-res, of the best possible quality, and copyright cleared. Also, the right photo can literally sell a home if you show it to the correct homebuyer.
5. Registration
This feature is essential because it can drive buying intentions. Make it simple! Get rid of complicated steps and even let clients register using social media accounts; you can always get additional details later. Giving homebuyers their own space (user account) within your website adds value and shows them that you care. Adding advanced features to the users' accounts, like instant tech support, mortgage calculators, and saved search results, is a great idea.
6. Call-To Actions And Lead Capture Forms
Your CTAs and subscription forms have the purpose of catching leads, so they must be clear, short, enticing, and easy to find. Avoid overusing them throughout the website, but make sure that the ones you include all have clickable buttons that lead to the correct pages.
7. SEO Optimization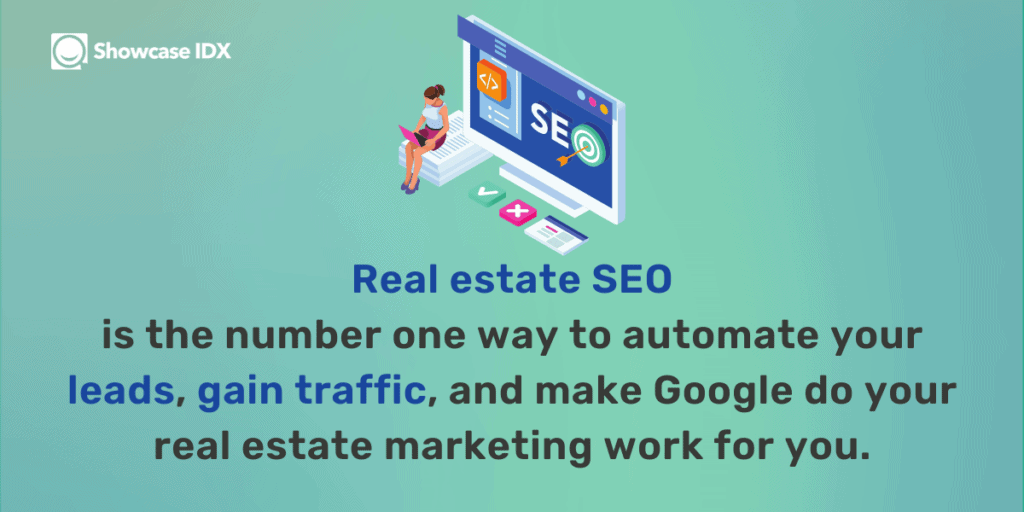 SEO is the key to boosting your website traffic. It will allow you to come up in the search engines when people are looking for an agent to assist them in buying or selling properties, and that is great for businesses in this competitive field. Content, page structure, links, usability, and site structure are key SEO areas you can focus on in your website, but you probably should start with a real estate SEO audit.
8. Contact Us / Follow Us Sections
Let buyers know where to easily reach you with clear and accessible Contact Us and Follow Us sections on your website. The Contact Us page typically is in the navigation bar menu, while many templates have the Follow Us section in the footer. You can have both sections together on a page or independently.
9. Blog
Many people consider blogs optional on real estate websites, but the truth is this feature is vital for your site to be seen. Posting quality content regularly on your site is excellent for marketing and SEO purposes, but also boosts loyalty by building trust among your visitors and potential clients.
If your content is relevant and ranks high on search engines, it will gradually increase your credibility, and you'll be regarded as an expert in your field. Customers are frequently looking for information, recommendations, and solutions from industry experts, but more than anything, they want to share experiences and discuss trending topics. Enable the comments section, and you'll have an additional space to communicate and connect with your website users. For them, that's added value, for you, an additional business opportunity.
10. Menu
A customizable and updated menu is a core feature of any real estate website. If your website is simple, keep that principle in your menu. You don't need complex multi-level drop-down menus for a personal real estate page. A handful of sections, such as Home, Sales, Lettings, Valuation, Register, About Us, Blog, and Contact Us should be more than enough.
11. Testimonials
Testimonials are not mandatory on your website but are highly recommended. They are the Internet version of the good old word of mouth. Happy client testimonials are the best way to show others that you are reliable and good at what you do.
12. Additional Features
360° photography
VR/AR
3D floor plans
CRM integrations
Design elements and effects (parallax, carousels, hover animation)
Is Custom Web Development A Better Option For Me?
If you are a real estate agent with some time to spare and some technical skills, with our step-by-step guide, you can easily pull off the task of having your real estate website up and running in no time. However, if you can't dedicate much time to embark on the mission, and you find the prospect of creating a website by yourself simply overwhelming, a custom web design seems like a convenient option for you.
Getting a custom website can be considerably more expensive than crafting a site on your own, and it takes more time to be ready and functioning. This alternative has several added values, though. A custom-built site has a unique and dynamic design, a user-centric approach, customizable real estate CRM tools, and better third-party integrations. The site will also be completely mobile-adaptive and SEO-optimized.
How To Make A Real Estate Website – Conclusion
With the real estate market growing non-stop, having a user-friendly virtual space where your clients can peruse home listings, organize, and interact with you is at the top of any real estate agent's priority list. The steps and features discussed in this blog post are some of the top ones to ensure a high-quality real estate website. It is entirely up to you to figure out which tools and functionalities your platform needs to gain you an advantage over the competition and establish your niche in the competitive real estate market.
If you don't know where to start, reach out to one of our IDX experts to help get your business on the right track with everything IDX has to offer. They can assist you in getting started with the #1 IDX WordPress plugin in the nation.
Need a completely new website? Any of our web-developing partners can assist – they've got years of experience designing custom websites to set real estate professionals apart in their local market.