Being a realtor in today's market is incredibly tough. That's because the US now has more than 1.36 million realtors. There's a lot of competition out there.
However, if you're good at what you do and willing to put in the work, being a real estate agent can be a very profitable career. The key is learning how to get leads for potential clients and how to stay engaged with your audience for the 80%+ of the time when they're not actively buying or selling. You can't sell someone's house or help someone buy a house if they don't know you exist.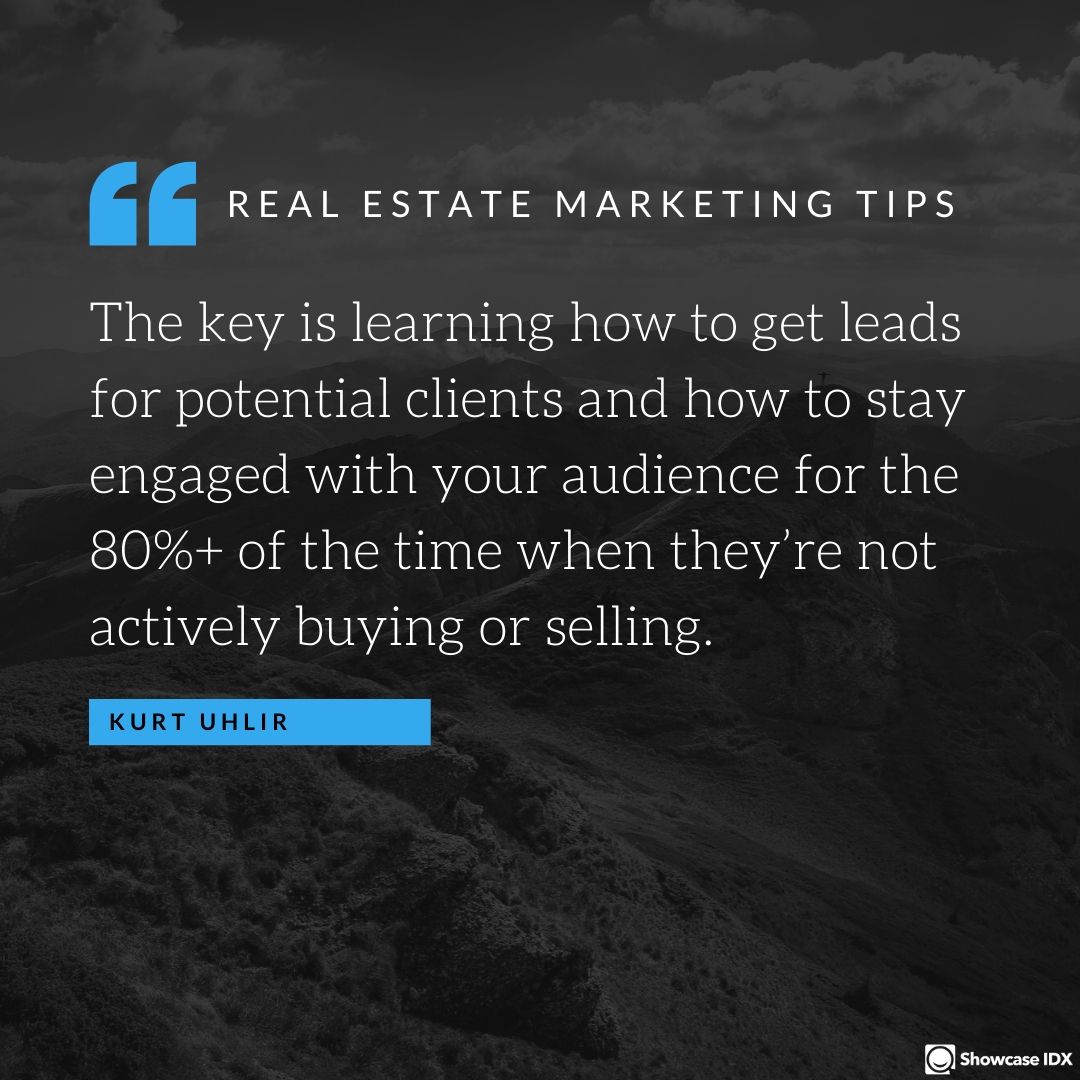 But how do you stand out in your real estate market? How do you succeed in your real estate niche? How can you ensure people in your area are choosing you, rather than any of your competitors?
Keep reading for all the latest and greatest real estate marketing ideas for 2021.
Marketing Ideas to Help You Stand Out in Your Real Estate Niche
If you run your own business or represent yourself as a Realtor, you know that clients don't magically appear in front of you. If you want to be successful as an agent or broker, you need to be willing to put in the time and effort necessary to stand out. Because there are so many agents in every real estate niche, if you're not getting noticed, you're not getting business.
And with multiple reports (e.g. 2015 Danger report commissioned by NAR) suggesting that we will see the number of licensed agents in the US decrease by up to 50%, I want to make sure you're prepared to not just survive but to thrive this year.
Here are a few ideas that are easy for you to implement.
1. Host a Social Media Raffel
First, you need to make sure you have an active and thriving account on at least one social media platform. Facebook and Instagram are the go-tos as they are the most popular.
However, having an account isn't enough on its own, you need to build a following. You can start by asking your personal followers to follow your business page, which will give you a base following. From there, you need to post engaging and compelling material to encourage people to like and follow your page.
If you need help here's my free course on Effective Social Media for Real Estate (with 200+ pieces of free content for you to post).
A great way to grow your reach in your local market and gain social media followers is by hosting raffles or competitions through the platform. You could offer a lunch to a local restaurant or admission to a local event for the person who wins the raffle. Make sure that your prize connects to your local community to help highlight you as a hyperlocal expert. The winner will should be randomly chosen from all those who share your post and follow your page.
2. Get Involved with the Community
Another way to stand out in your real estate niche is by getting involved in the community in a hands-on sort of way. Team up with a local charity and host an event focused on donating and making your community better.
For example, you could host a 5k race with all the proceeds from entry fees, t-shirts, and concessions going to the charity. You could also use this event as a way to build affiliate relationships with other businesses. Invite dozens of local businesses to the event and let them to set up a booth to advertise their own products or services in return for a donation towards the charity or to help fund the event.
Just make sure you start advertising the event long in advance to ensure you get as many people as possible involved, both racers and other businesses.
3. Build a Blog on Your Website
Another important tip for realtors trying to stand apart is to create a blog on their website. The benefits of this tactic are two-fold.
First, the more relevant content you have on your website, the higher your SEO ranking will be. The higher your SEO ranking is, the easier people can find you through search engines like DuckDuckGo, Google, Bing, and yes, even Yahoo (some people still use it).
Secondly, if you have tons of helpful and informational articles on your website, potential clients will view you as an authority in your field and grow your influence. The better your website, the better your business, and the stronger you'll be in your niche.
4. Run Paid Social Media Ads
Next, let's take another look at social media. One of the most undervalued tools on Facebook and Instagram, for example, is its Ad Center.
Facebook's paid advertising allows you to create multiple ads and run them at the same time. This allows you to simultaneously experiment with different ads to see which ones perform the best, helping you streamline your marketing.
The Ad Center will tell you how each ad performed based on likes, shares, comments, and link clicks. You'll be able to get a good feeling on how well people responded to it.
Lastly, Facebook's paid advertising allows you to fine-tune your marketing by targeting certain demographics of people. You can choose who sees your ads based on area, age, gender, hobbies, interests, etc.
Pro Tip: Don't just target your ads for lead generation. Create ads to re-engage your existing audience and past clients. This can be extremely cost-effective when done properly and spread over the year.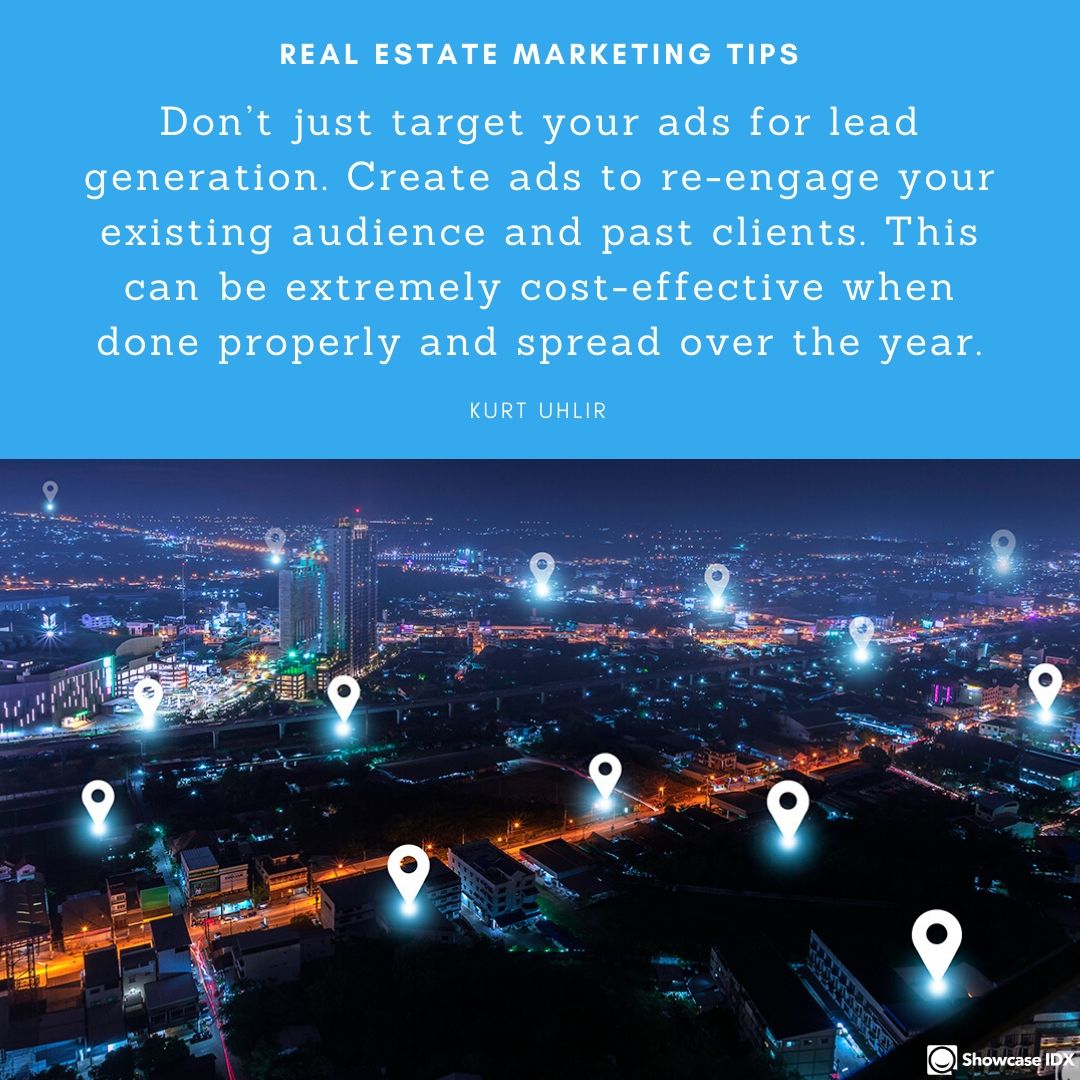 5. Collaborate with Local Businesses
Earlier, I mentioned building affiliate relationships with other businesses. This is a great tactic in getting a leg up in any real estate niche.
They can be formal partnerships or unofficial collaborations.
You can use other businesses as mutually beneficial referral partnerships to help one another gain more clients. You can offer discounts or incentives for customers who come through your affiliates and vice versa. Or, think of it as a collaboration where you and the other businesses have a vested interest in helping a similar niche in your local community.
6. Learn Photography Skills
The vast majority of consumers now do shopping online. This includes searching for homes. Therefore, a picture is worth more than a thousand words, and it could be worth a sale.
Start honing your skills with a camera. Learn how to take quality pictures with the right angles and lighting. You should also learn some basic PhotoShop or LightRoom skills. I'm not suggesting you create false images or that you stop using a professional photographer for your main listing photos, but enhancing lighting, contrast, and manipulating tones can go a long way towards making homes feel more appealing.
This skill will also make social media much easier for you and will give you a steady stream of content to share on Instagram and Facebook. One of the wonderful things about being a real estate agent is that you're out and about much more than the average people, so you have many more opportunities to stumble across something that people in your community will find super interesting.
Pro Tip: Ideas to take pictures of include: the setup for a local event/race/festival, school events, local sporting events, pictures of the changing seasons, hiking trails, church/synagogue/mosque community events, wildlife, etc.
7. Host Free Seminars for First-Time Home Buyers
Finally, a great way to appeal to your community and stand out in your real estate niche is to offer a helping hand to first-time home buyers. Buying a home for the first time can be intimidating and somewhat scary. You're essentially taking out the biggest loan of your life.
88% of home buyers financed their home purchase. (NAR Home Buyers and Sellers Generational Trends Report, 2019)
By hosting a free seminar for these home-buying newbies, you can share some knowledge, make a positive impact in the community, and likely gain some new clients.
33% of home buyers in 2018 were first-time home buyers. (NAR Home Buyers and Sellers Generational Trends Report, 2019)
Pro Tip: Host local seminars and classes. One of the local agents I know is a huge fan of Dave Ramsey and has been teaching Financial Peace University courses (for free) for over a decade at his local church. It's a great way to steward your time by helping others and build a personal brand around a topic that gives value.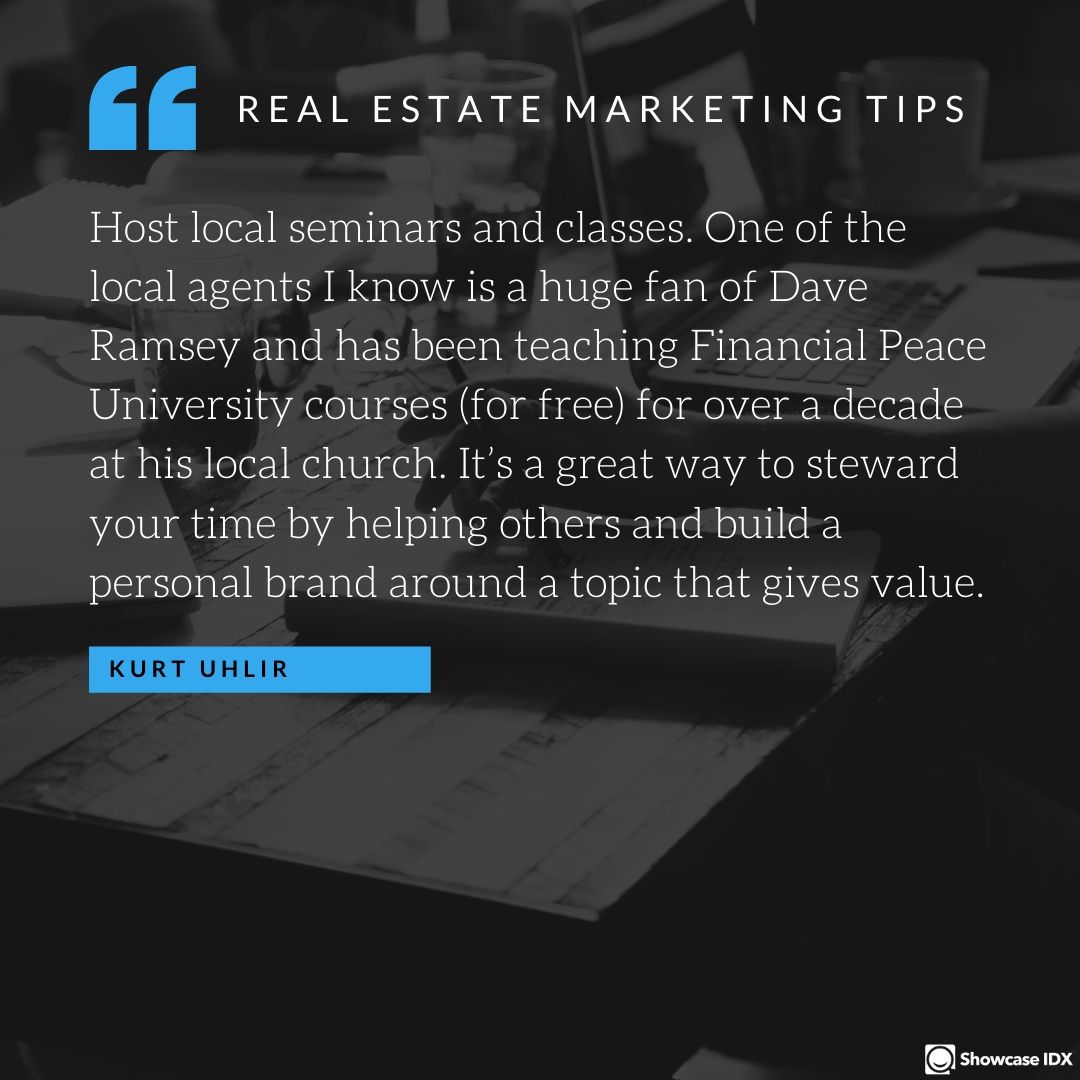 Want Some Help with Your Website?
One of the most important factors in gaining leads and converting them into clients is having an intuitive and user-friendly website. Showcase IDX helps agents looking to stand out in the real estate niche by improving and advancing their websites with our website tools designed to engage and impress consumers.
Showcase IDX powers the best real estate websites, and is the only home search consumers consistently use instead of the large real estate portals.
Take a look at our products and how they can improve your website.