When it comes to copywriting, agents often get stuck in a rut, but writing great real estate sales copy, listing copy, and community page content is not rocket science. It just takes practice and experience.
What do you as a real estate agent really need to know about writing effective real estate copy?
In this article, I'll go over nine tips (with a special bonus) that every agent must know to unlock success. These tips will help you write better content, attract more clients, and make more sales.
What Is Real Estate Copywriting?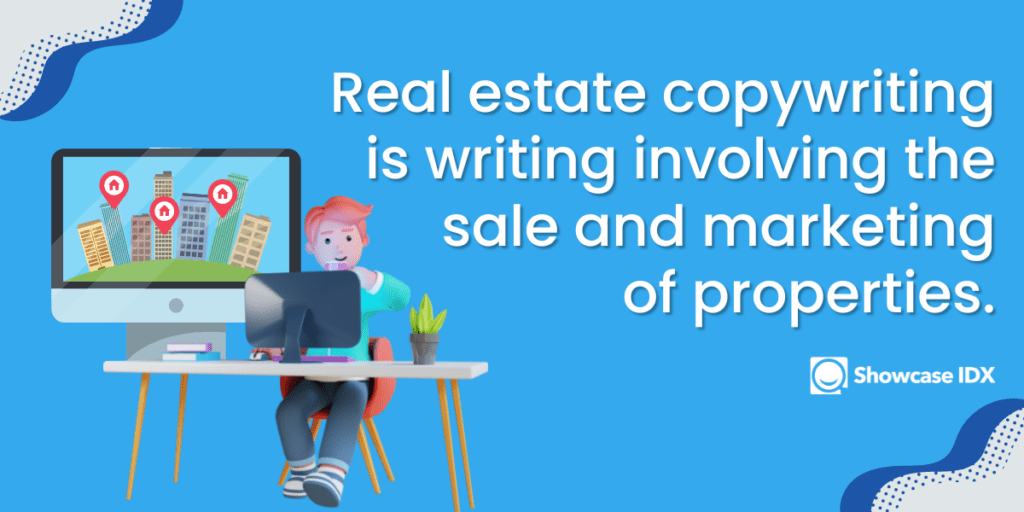 Real estate copywriting is writing involving the sale and marketing of properties. The task includes activities likely to pique the interest of your buyers—or turn them off!
As a real estate agent or Realtor, you should have a website you're using to promote your service visibility and personal brand, especially as you change brokerages. However, the website is just one facet of real estate copywriting.
You have other opportunities to use copywriting to promote your real estate services. Some marketing tools available for real estate copywriting include:
Sales letters: The perfect real estate sales letters and email newsletters are a fast way to generate referrals and leads.
Direct mail: Sending well-crafted promotions to the target audience is excellent to increase your marketplace visibility.
Brochures and fact sheets: Give your clients critical property data through well-written fact sheets and brochures, including room sizes, property taxes, and proximity to amenities.
Website pages: A real estate website is growing continuously. Adding new content to your website ensures it's up-to-date and visible through Google.
Property listing: Your professionally written property listing on Multiple Listing Service (MLS) or other online real estate listings can help attract more potential buyers.
Online and offline marketing ads: Google, Facebook, and other online resources provide excellent opportunities for placing your ads. Also, consider magazines and newspapers.
Social media content: Use your perfectly crafted content to get the word out about your properties and increase your sphere of influence on social sites such as Facebook, Twitter, TikTok, and Instagram. Sharing property photos and reviews on social media sites is a free and effective marketing option.
Why Is Great Copy Essential for Real Estate Success?
Great copy is fun to read, easy to understand, interesting for readers and creates a desire to buy your product and service. Thanks to social media and the increase in emails, the average attention span is declining, so you must be at the top of your game for online success to make sales and convert leads.
This is where real estate copywriting comes in. Copywriting makes your message and vision easy to understand and your services or products more desirable.
9 Real Estate Copywriting Tips Agents Should Keep in Mind To Be Successful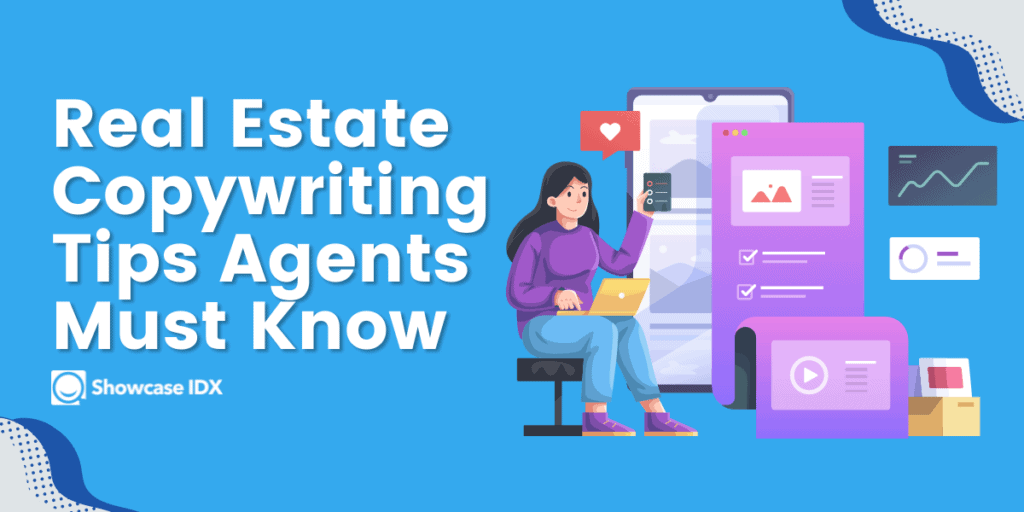 The best way to dominate the competition is to write better!
Unfortunately, few real estate agents know the words to use when selling. They, instead, meet the clients and sell immediately with the same generic pitch—most often with a script they use with all their other clients.
The strategy doesn't create room for considering your current client's needs.
If you want exceptional copy that sells your real estate business, here are the nine best tips from a professional real estate copywriter.
1. Speak to the Prospect (Write for Your Audience)
Remember your audience. It's easy to get technical and monotonous with listings on your real estate site as if you are trying to impress other agents and not your potential client.
Putting your target audience first means imagining what they want to learn about your property and the market.
It's good to highlight your success or unique client service approach. But your message may come across as marketing jargon if you cannot relate to how your business is helping clients.
Why Does This Work?
Approaching content from the client's perspective creates valuable content that drives qualified traffic.
Your content offers answers to questions your clients have.
Example
Your value proposition should be concise and explicit, such as "home purchase and selling" or "I help singles buy condos in downtown Miami".
Next, link to the direct benefits to your clients, "saving you time, money, and providing a hassle-free home-buying experience."
Your clients understand the direct value immediately and don't have to guess how exceptional your company is.
A tip is to ensure your value proposition has more "you" and "your" terms than "we" or "I."
2. Write a Compelling Headline
First impressions count while showing a property. The same applies to real estate copywriting because it allows you to attract the right readers to your business.
This means an excellent title for your newsletter, blog post, or other media to drive traffic and boost your sales.
However, make sure the headline or title is short and shows the real value of your real estate business.
Why Does This Work?
A great headline for your article or blog posts is essential for your Search Engine Optimization (SEO) strategy. Using the perfect keyword combination ensures your blog lands a top position on the Search Engine Results Page (SERP).
The headline also grabs attention to ensure potential clients click back to your website. Use the headline to promote your real estate business on social media platforms and generate web traffic.
Example
Your product description: Beautiful Lakefront Home in [Your City] – $249,900.
Your search ad headline: Top 6 Locations in [Your City] with the Highest Number of New Properties for Rent.
Your Facebook ad: How to Find the Perfect Apartment in [Your City].
Your newsletter: Easily Searchable Properties for Sale.
3. Use Active Verbs (Also, Avoid the Passive Tense)
Active voice is the better choice when creating real estate content marketing material.
Active verbs focus on what the subject in a sentence is doing. Such a sentence follows a specific order. The subject comes first, then the action verb, followed by the direct object.
Using an active voice helps create direct, strong, and easy-to-read real estate content.
Active voice conveys confidence and takes control of writing. Since the subject is easy to understand and straightforward, it lends itself to engaging with the reader and helps establish trust.
You gain and maintain momentum while writing because you don't draw out the subject and sentences. Further, words such as "find," "buy," "sell," and "purchase" allow readers to connect to your brand instead of alienating them.
Why Does This Work?
Action verbs and active voice help your reader get into a story and directly engage with them.
All content aims to call readers to action, either by sharing your content or doing business with your real estate company.
Example
Action words include sell, visit, schedule, or provide.
Passive Sentence: With [insert your brokerage], your home will be sold in no time!
Active Sentence: [Insert your brokerage] sells your home quickly and efficiently.
4. Optimize It for SEO (Include Keywords)
In a 2021 poll conducted by Statista, 95% of home buyers searched for a home online. These numbers show you should rush online to establish a solid digital presence and ensure your SEO is strong.
Real estate SEO boils down to users searching online for properties, and you show up in their search results.
Focusing your real estate copywriting on search rankings is also why your real estate business will become the most in-demand in town (as long as you have a strong search presence) or remain in oblivion (when you don't invest in SEO).
Real estate SEO means you're not searching for clients, but clients are searching for your business. These clients come to your website, leave their personal contact information, and wait for you to get in touch.
Effective SEO also helps increase your brand's visibility if you stand in the first three results.
Why Does This Work?
Real estate SEO focuses on organic traffic with customers actively looking for your services online, increasing your Return on Investment (ROI) tremendously.
Real estate businesses ranking in the first search research of Google are trusted and perceived as authorities and market leaders.
Example
A prospective client decides on a location and budget for their property. Next, they will do a Google search with the criteria in mind.
Expect traffic, leads, and sales if you're among the first three searches.
A high ranking in the organic SERP results also puts you a notch higher against competitors' paid advertisements.
5. Showcase Your Qualifications and Testimonials
If you have the credentials and qualifications to show off, bragging works.
Bragging helps when you know what you are doing, and it works as social proof, making potential clients trust you more. They know they're working with a pro!
After all, humans often believe in social proof more than words.
Social proof also includes customer testimonials that talk better about the credibility and service of your company.
Endorsements, accreditation, impressive business statistics, press attention, and real estate industry awards are all effective forms of social proof.
Why Does This Work?
Incorporate qualifications and testimonials into your real estate content to establish authority.
Social proof also helps build trust and generates more leads from your website.
Example
A profile on a website shows how the real estate company is the number one top producing agency for resale homes in their region for years.
The profile can also show why you are the number one producing realtors in successful transactions for clients.
6. Use Numbers, Stats, and Data
Numbers stand out amid descriptive words, amenities, and features. Whether you're writing an ad copy for social media or ad description, incorporate numbers where necessary.
Some numbers to show include:
The property and lot sizes
Number of levels and rooms
Possible rent yield for investors
The number of apartments in a block
Year of property construction or renovation
Distance between places
Why Does This Work?
Numerals are more scannable, delivering tangible facts that web visitors seek online.
Data and statistics strengthen your arguments and provide additional context.
Example
You can use data from a targeted audience to match your client's customer profile or prospective buyer persona. The data becomes the starting point for creating compelling content marketing campaigns.
7. Make Sure It's Easily Scannable
You've spent days creating the perfect content and finally hit "publish," but nothing is happening. Your readers don't retweet, comment, or engage with you. What is going on?
The one simple reason no one is reading your content is that it isn't scannable. Unfortunately, your target market audience is impatient and will "scan" content for relevant bits.
This is a known behavioral trait that requires adapting your editing style. So, don't make the reader swipe through your web page or article for anything of interest. Instead, make it easier for them to find the information that's relevant and valuable to them.
Some strategies to make your content scannable include:
Using headlines
Formatting essential words and sentences
Using images
Using bullet points
Highlighting important text
Keeping sentences short
Keeping each paragraph to a maximum of three to four sentences
Why Does This Work?
Scannable content can change the readers' eye-tracking patterns, so they can easily read further and find what they want.
Scannability also improves the chances of readers reading and sharing your content dramatically.
Example
Break up the copy of the buyer and seller services on your services web page. This strategy allows your content to get straight to the point, and using plenty of images can help highlight the services you're offering.
8. Use Images and Videos
Online pictures, videos, GIFs, infographics, screenshots, and slide decks are all visual content that will take your real estate marketing campaign to the next level. Adding visual content to your material helps generate 94% more views and is 50x more likely to land you on Google's first page.
With so much content on the web, it's hard to stand out—especially in the real estate niche. People scrolling through their pages, social media feeds, or even blogs are skim reading.
Visual content can make a lasting impression and help boost conversions in every stage of the sales process. The content will attract prospective buyers, generate leads, and help close sales.
Your visual content also conveys your information and message in a form that has a more substantial impact and drives your audience toward your desired action. Just think what a visual representation of properties can do for your real estate brand awareness.
Furthermore, people love great visuals. The right visual content for your services, products, or brand can help reach a vast audience percentage. Did you know that 65% of the world's population is visual learners?
Why Does This Work?
People tend to retain the information they receive via video at far greater rates than by reading text.
Visual content is easier to understand and can capture your target audience's attention in a brief time window.
Example
Blog posts with images have better visibility. So including engaging and relevant photos in posts ensures the content is more likely to be shared, expanding your reach.
9. Keep Laws and Regulations in Mind
Besides researching and finding the right keywords, you'll need to ensure your real estate copywriting campaign follows the laws. However, the laws and regulations vary based on your location and industry.
We have advertising and marketing laws, regulations, and guidelines in real estate that you should adhere to. Regulation occurs at a national level and by local governments and real estate organizations.
The guidelines vary by location and change over time, so pay attention to what you can and can't do with your real estate marketing. You don't want to risk receiving violations, warnings, and even potential license suspensions.
Some important places you should look for these rules and regulations are:
Why Does This Work?
Knowing the rules and regulations helps you avoid penalties, which may cause hundreds or thousands of dollars in fines.
Adhering to the set regulations, rules, and guidelines helps improve your professional standards.
Example
You may be a member of one or several MLSs, so it's advisable to research each membership. An MLS such as Bright MLS might have guidelines regarding your listing syndication and display on websites via real estate IDX.
Many MLSs come with lengthy documentation and an educational opportunity for compliance, so take advantage of MLS compliance training.
Bonus Tip: Include a CTA (Call-To-Action)
A critical component of any website copy is the Call to Action (CTA). The CTA tells or invites the reader to take a specific action.
You can't assume readers will automatically know what to do or how to contact you. Instead, show them and do it logically. An assertive CTA is okay, but don't be aggressive or pushy.
Why Does This Work?
A simple CTA tells prospective clients where they should go and do next, simplifying their user journey.
A clear CTA also helps reduce the risk of the target audience clicking away from your copy due to confusion or feeling overwhelmed.
Example
Possible CTAs for real estate marketing material include:
Search
Read more
Win a free consultation
Request a virtual tour
Be contacted by our representative
Best Real Estate Copywriting Examples
The best real estate websites are human and polished. The agent is center and front, but the content focuses on helping potential sellers and buyers.
Some excellent examples include:
Conclusion
When copywriting for real estate, you have to speak from both sides of the table. Your clients' needs should come first, but you also need to understand what makes buyers tick. This means helping them find a home that fits their lifestyle and budget.
So, whether you're new to the industry or have been working in it for years, the above nine tips will help you write compelling real estate copy that converts prospects into clients.