If you're a real estate agent looking to expand your reach, increase leads, and turn searches into sales, Search Engine Optimization (SEO) is an important writing technique to employ to drive traffic to your website. Keep reading to discover how to use SEO to generate new clients and sales.
What is SEO
SEO for real estate agents targets a search engine's algorithm to increase its visibility when people search for real estate related inquiries. 
There are three main types of SEO writing:
On-site SEO
One-site, or on-page, SEO is the broadest SEO strategy. It deals with everything a user interacts with while on your website like written content, title and heading tags, accessibility, images, and page structure. 
This is also where the concept of SEO keywords comes into play. By using more real estate keywords (e.g. local neighborhoods, property search terms, etc.) in your written content, the Google algorithm will reward you with increased visibility in search results.
Off-site SEO
Off-site, or off-page, SEO is the most complex and the least controllable SEO strategy. It involves external elements like your social media presence, Google Business profile, and link building (quality backlinks, over quantity). You can optimize your off-site SEO by having a robust social media presence and an updated Google business profile (formerly Google My Business).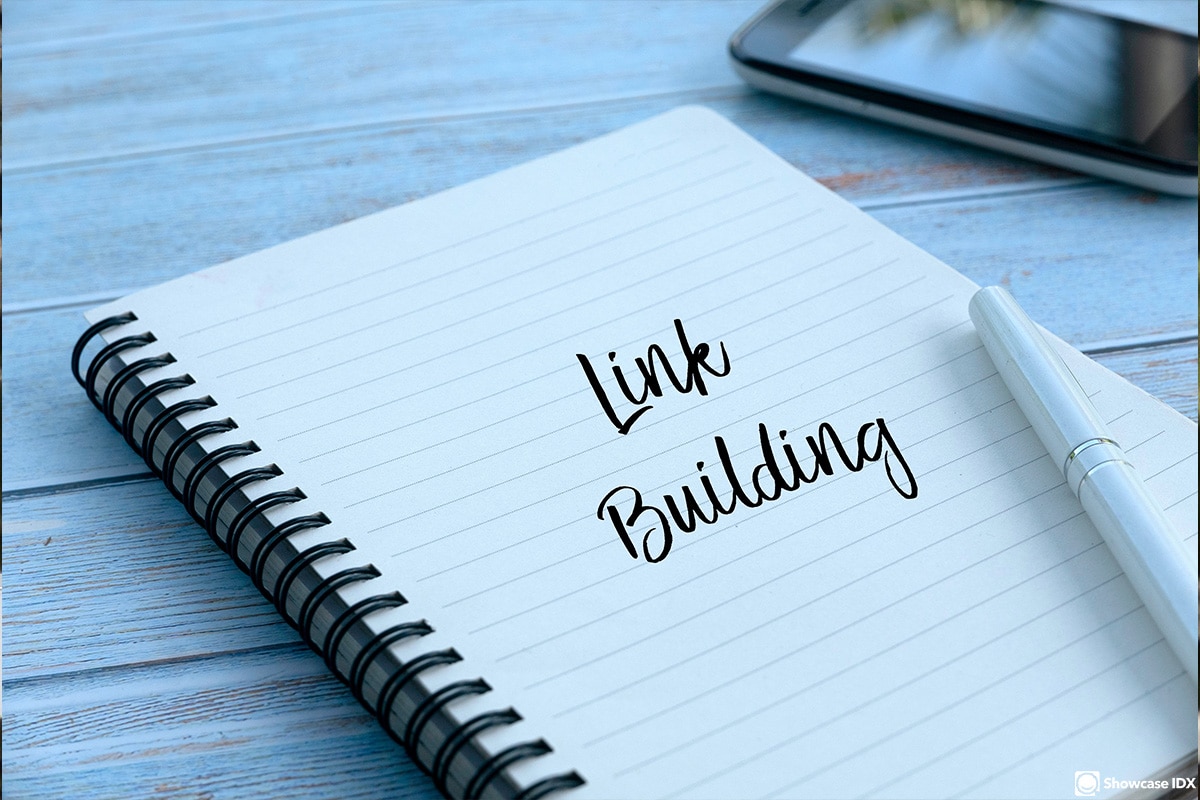 Technical SEO
Technical SEO strategy is all about the structure of your website, rather than the actual writing. You can optimize your technical SEO by having a more mobile-friendly site with high site speed. Security, clear structure, and unique content are also important to the Google algorithm. 
How does real estate SEO help agents with lead generation?
90% of home buyers use the internet in the home buying process, so real estate agents must be savvy with their online presence to secure leads and increase sales. Homebuyers tend to begin their process by doing general searches on Google for real estate agents or houses. 60% of people searching on Google end up clicking one of the top three results, so it's super important to appear at the top of the search results page. The best way to do that is by using SEO strategy when building and maintaining your website. 
SEO strategy is an inbound marketing technique (e.g. organic traffic from potential clients that match your target audience). This means that the written content you create with SEO writing will bring potential leads to you 24/7. Instead of having to pay for ad placements, walk neighborhoods scouring for leads, or create new ad content every week, a well-written, well-structured Search Engine Optimized website will do all of that work for you. 
SEO doesn't just help people find you when they're looking for real estate agents. SEO can also help you increase traffic to your listings. By writing and structuring listings with an SEO strategy and keywords, your listing will appear at the top of the search results. 
The difference between real estate agent SEO and real estate broker SEO?
Real estate agent SEO and real estate broker SEO are not very different in terms of actual content. Real estate agents, because they must work for a sponsoring broker, should appear on a brokerage firm's website. 
However, as a real estate agent, you should also have your own website, so you are in control of the content and structure. Some brokerages might not be clued into best SEO practices, so their websites might not be very helpful for lead generation. By having your own website, you can control how you're being presented on the internet and how visible your site and listing are on Google.
SEO is an investment that takes time and becomes more valuable over time, similar to equity in your home or compound interest. 
Why does that matter? According to the latest research from NAR, the average agent changes brokerages every five years on average. If you're like the vast majority of agents, you are a 1099 contractor with your broker. Your business interest over the long-term may differ from that of your current broker. Building your own website and investing in it, allows you to 
Invest in the parts of your individual business that supports your personal success
Keep the momentum of your SEO and content efforts if you change brokerages in the future.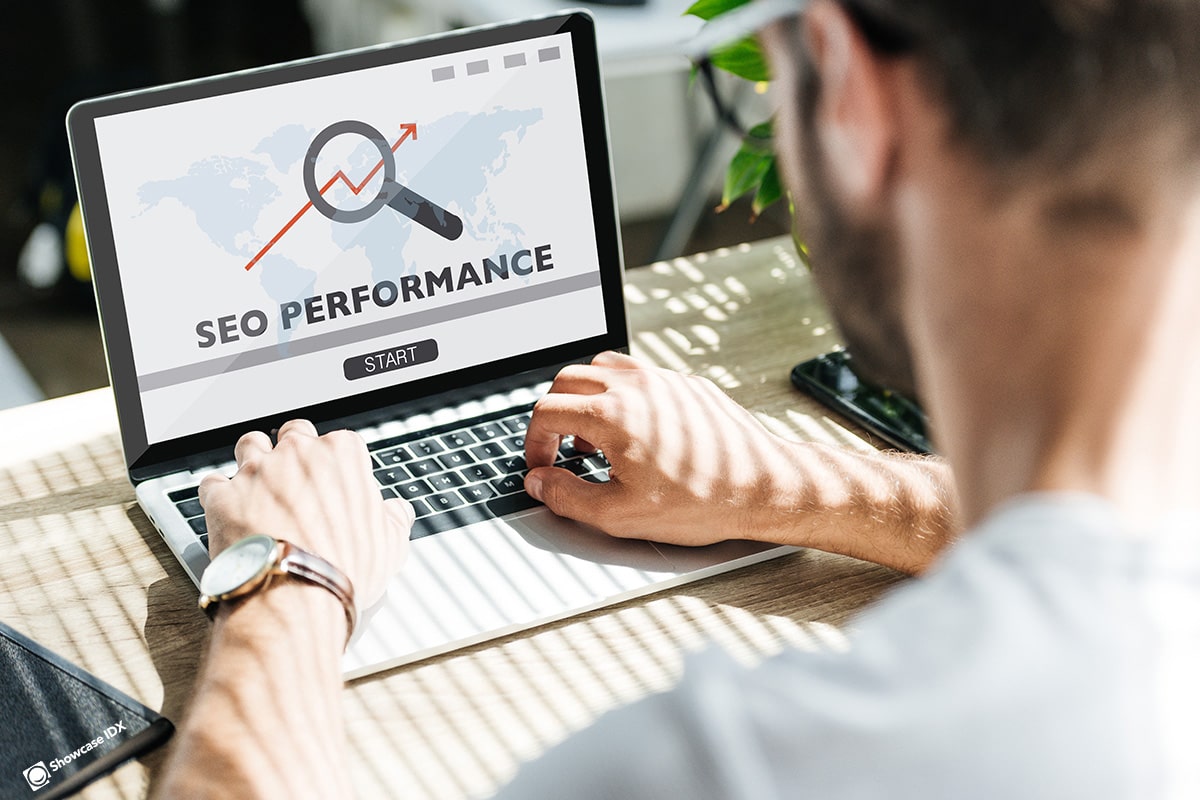 Picking the best IDX to power your website
Internet Data Exchange (IDX) is a real estate search technology that allows websites to display Multiple Listing Service (MLS) properties and real estate listings in a defined area. It's a crucial part of any real estate agent's website and yours will not be complete in search engine rankings without one. 
There are many IDX websites available to real estate agents, but they are not all created equally, and some could drastically limit the potential value you receive from your website. 
Here's what to consider when picking an IDX:
Compatibility
When looking for IDX providers, the first thing you should check is if their IDX is compatible with your website builder. Most organic IDX providers work very well with WordPress, but if you use another website builder like Wix or Weebly, make sure it's compatible. There are many reasons you want to choose WordPress as the foundation of your site regardless. Click here to understand 
Organic, Framed, or Sub-domain IDX
With organic IDX, all of the listings from the IDX will live on your website, so the property and home search information can be read by search engines. 
With framing IDX (i.e. those that use iFrames), these IDX listings do not reside on your website, which means that search engines cannot read them and therefore you will not get the SEO benefit from them. For a more in-depth look into framing and subdomains, read the section below.
With a sub-domain IDX, the majority of the IDX and home search do not live in your main website, they will live in a subdomain such as search.YOURSITE.com. 
Additional Features and Customizations
For your website to be fully maximized for user experience, your IDX provider must be able to customize the themes and features. You do not want your website to look like every other real estate agent's, so having a custom color scheme and theme is important.
One key feature to look at is the ability to build organic Community Pages (or hotsheets), which is key for generating local backlinks. See this SEO case study for a video that shows you exactly how to do that. 
You may also want to look for the ability to personalize the feel of the map. Some IDXs use Google Map while others, like Showcase IDX, use MapBox which allows you to customize the display of the maps.
With additional features like a  premium listing information on properties, SMS services, or social media links, you can build a more valuable website and better serve your clients. 
Why avoid IDXs that use iFrames or Subdomains
You should avoid IDXs that use iFrames because they are not indexed by search engines. This means that search engines are unable to read website content generated by these IDXs, so it is not SEO beneficial content. Search engines will not place your website high on Google search results because all of the keywords and SEO content within the property listings are not recognized. IDXs that use iframes (e.g. iHomefinder) may not work as well on mobile devices, so you may lose traffic 
You should also avoid IDXs that use subdomains because Google treats subdomains as completely different websites. This causes Google to rank your subdomains separate from your main website, putting them both lower down on the search engine results page. 
There is a ton of misinformation on this topic, even from reputable companies like Hubspot that claims "Some SEO experts believe that Google's crawlers could confuse a subdomain for an entirely different website from the main domain. However, Google says its crawlers can recognize subdomains as extensions of parent domains."
I've addressed this at numerous conferences and with experts when teaching them what actually works
I've tested this dozens of times and examined more than 150,000 real estate websites over the past few years. 

While I love the Hubspot platform and have worked with that team, the company's response to this may be biased as they provide part of their solution through subdomain/cname (not that most people are actually trying to rank pure landing pages). 

Google's normal Q&A is that subdomains vs subfolders are the same but you have to dig deeper than the short 90 – 180 second clips. In the longer Q&As they are clear that "it depends", and they Google clarifies.

Google can see much deeper than the pure URL. They also look at which server provides which content. This is why content delivered within iframes do not help SEO and organic results, outside of the small benefit of keeping someone on the page longer (better result if the content is from a YT/Vimeo channel for the URL/brand).

If blog.mysite.com and munchies.mysite.com and mysite.com are all served from the same server, Google may (stress may) give them similar weightings and consolidate the content for ranking the overall website. 

Now, if landing.mysite.com and search.mysite.com are both served from different servers (and IP addresses) than mysite.com, these will 100% be considered different websites. This is how subdomain IDXs work, and why the results do not help and may actually negatively impact your site's rankings. Navigation and linking can provide a cohesive experience for consumers but Google is smart enough to see that landing.mysite.com and search.mysite.com are from a different server and treat them differently. 
Even though these types of IDXs usually have lower costs of use, they are detrimental to your visibility on the search engine results page and should be avoided at all costs. 
Check out this video for even more information on iFrames and subdomains.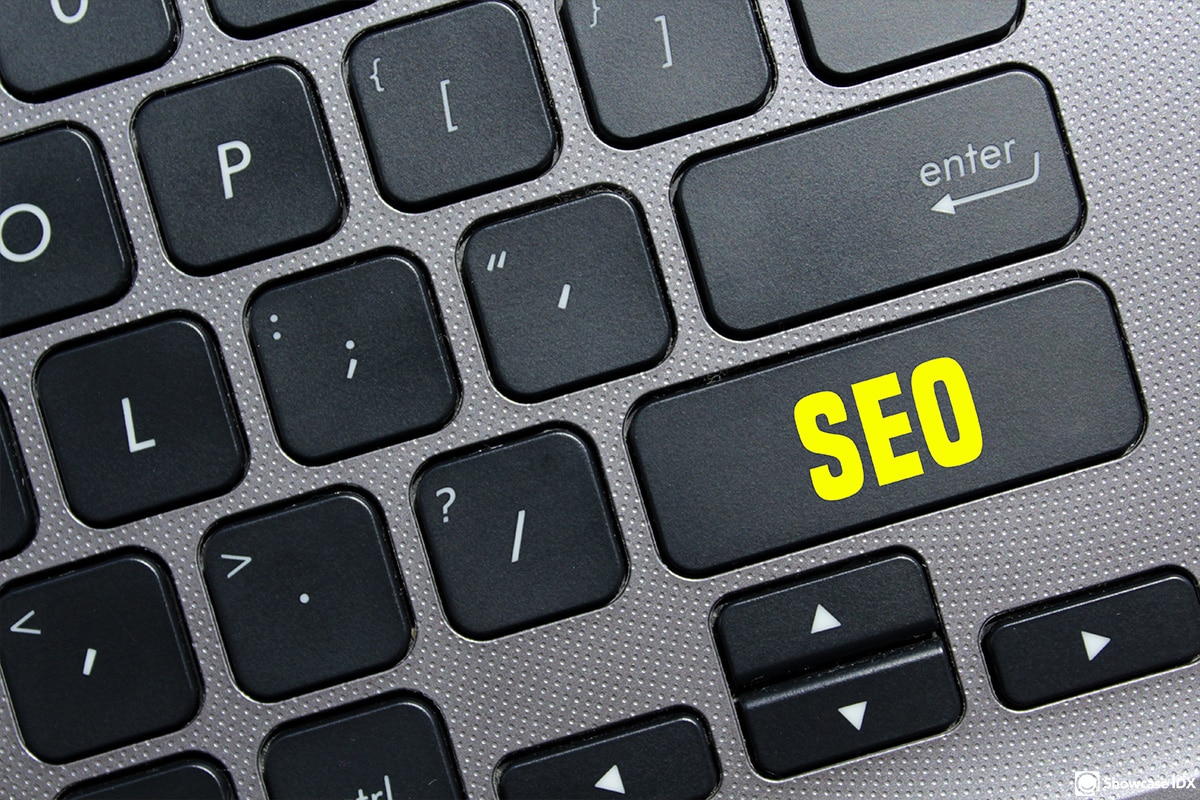 Doing real estate SEO yourself or outsourcing to an expert
Building a real estate website can be hard enough, but if you're also trying to optimize it for search engine results, it can be overwhelming. If you're a tech whiz, copywriting genius, or looking to save money, doing your own real estate SEO is viable. Keep these things in mind when deciding between DIY real estate SEO and outsourcing to an expert:
The value of your time 
Real estate SEO can be time-intensive work, especially if it's your first time. Will you better serve your real estate business by spending time crafting the perfect website copy? Or by hosting open houses? 
Expertise in modern SEO 
SEO strategy changes all of the time and can be quite complex. An expert's full-time job is to keep up to date with all changes in the Google search results algorithm. Then, they can translate those changes and complexities into actual SEO strategies. With DIY SEO, you risk just scratching the surface of SEO and not fulfilling your full potential. 
Building a good real estate marketing technology stack
Experts in real estate SEO also have the broadest knowledge of real estate marketing technology, so they're always aware of the best new tech to use on your website. New real estate technology can be confusing for non-tech people and can be difficult to differentiate from each other. Experts will be able to provide first-hand knowledge of the pros and cons of each, as well as, exactly how they can benefit your website. 
Consistently building local community pages that combine your local insights with a modern IDX
SEO strategized websites must constantly adapt to consistently be placed high on Google's search results page. It's more than just your website's home page, you also have to keep your Google Business profile updated. Your time might be better spent on other aspects of your job if this is not your area of expertise. 
Set aside time to write a new blog post 
A new blog post about local events, a milestone in your real estate business, changing trends in local real estate listings, the shifting real estate industry, or other quality content will help with your organic traffic too. 
The focus should be on quality content, over stuffing your articles with real estate keywords. This will give you more targets for quality backlinks to help drive your organic search and in the end increase organic traffic.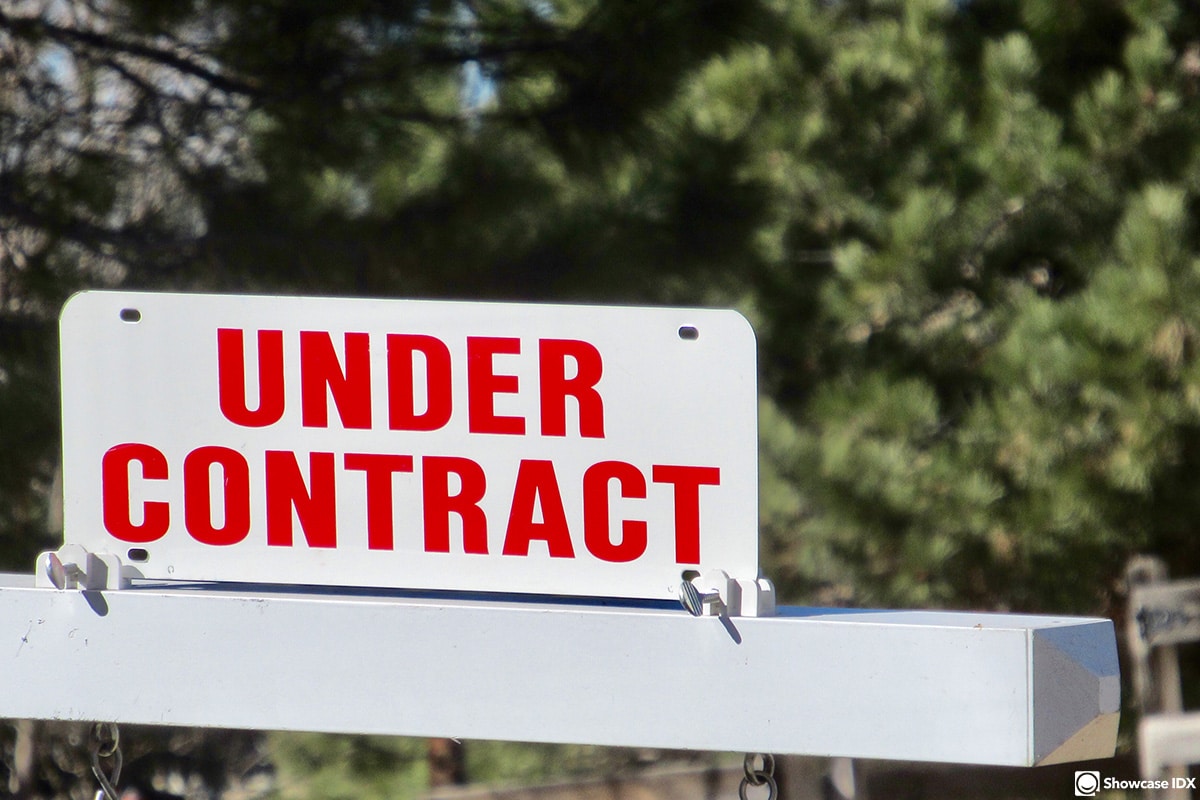 The next steps to growing your business with SEO for real estate agents
If you're excited about introducing Search Engine Optimization to your real estate website but are unsure of where to start, remember to start where you are. If you do not already have a website, the first step is building one. 
Once you have a website, do some keyword research to make sure you are writing website copy that will increase traffic to your site and generate leads. You can use Ahrefs or Google Ads for free to do an in-depth keyword search. This will help you determine what keywords people are searching when they discover your competitors' websites. By using those keywords, you can appear higher in the search results for those searches. 
Your Google Business profile is a great place to improve your search engine results placement. If it does not have the correct contact information or hours, make sure to update it with all important information like map location, link to your website, contact information like phone number and email, a brief description, relevant pictures, and category tags
Also, take a look at your social media presence and see where you can make improvements with more consistent post scheduling, the use of relevant hashtags, and location tagging. Make sure to connect your website and your social media.
Reviews are another great way to appear higher on Google search ranking. You should have reviews on your website, Google Business profile, Yelp, and Facebook, so reach out to your happy clients and see if they'll write a review for you. 
Whether you're just beginning to build your first real estate website or are updating an old one, you should be employing real estate SEO strategies to ensure your website is being seen by potential leads. If you want high-quality real estate SEO for your website, check out this list of the best real estate arresting companies to work with.