Finding the right real estate marketing agency can feel a lot like going on a blind date. You know the bare minimum of what they have to offer, but you're always left wondering whether they have exactly what you're looking for. Finding "the one" can feel time-consuming and exhausting, but we are here to help.
Our experts at Showcase IDX are taking the guesswork off your plate and filtering through these agencies so you don't have to. We analyzed 100,000+ real estate websites, thousands of agents' marketing efforts, and vetted hundreds of agencies (and consultants) to find the best picks for real estate marketing companies.
First, let's establish exactly what you're looking for so you can find the perfect marketing agency match for your business.
Why Hire a Real Estate Marketing Agency?
You know you need marketing to grow your real estate business, but if you're like most Realtors, you are, by training and experience, an expert at helping people buy and sell homes. However, you may not consider yourself to be the best marketer.
Even the largest brands and brokerages bring in outside help for their marketing because modern real estate marketing is different from even five years ago, and it's constantly evolving. It's no secret that marketing trends change rapidly and frequently, and it can feel nearly impossible to keep up with. A good marketing agency will take that burden off of your shoulders and be on top of every one of those changes for you.
Not only will a marketing agency gain traction for your website and grow your presence on social media, but with an agency doing the SEO grunt-work, you will have more time to focus on your clients and other important aspects of your business.
Marketing Agency VS. Lead-Generation Agency.
There can be a lot of similarities between real estate marketing agencies and real estate lead-generation agencies, but if you go with the wrong one, you won't get the results you're looking for.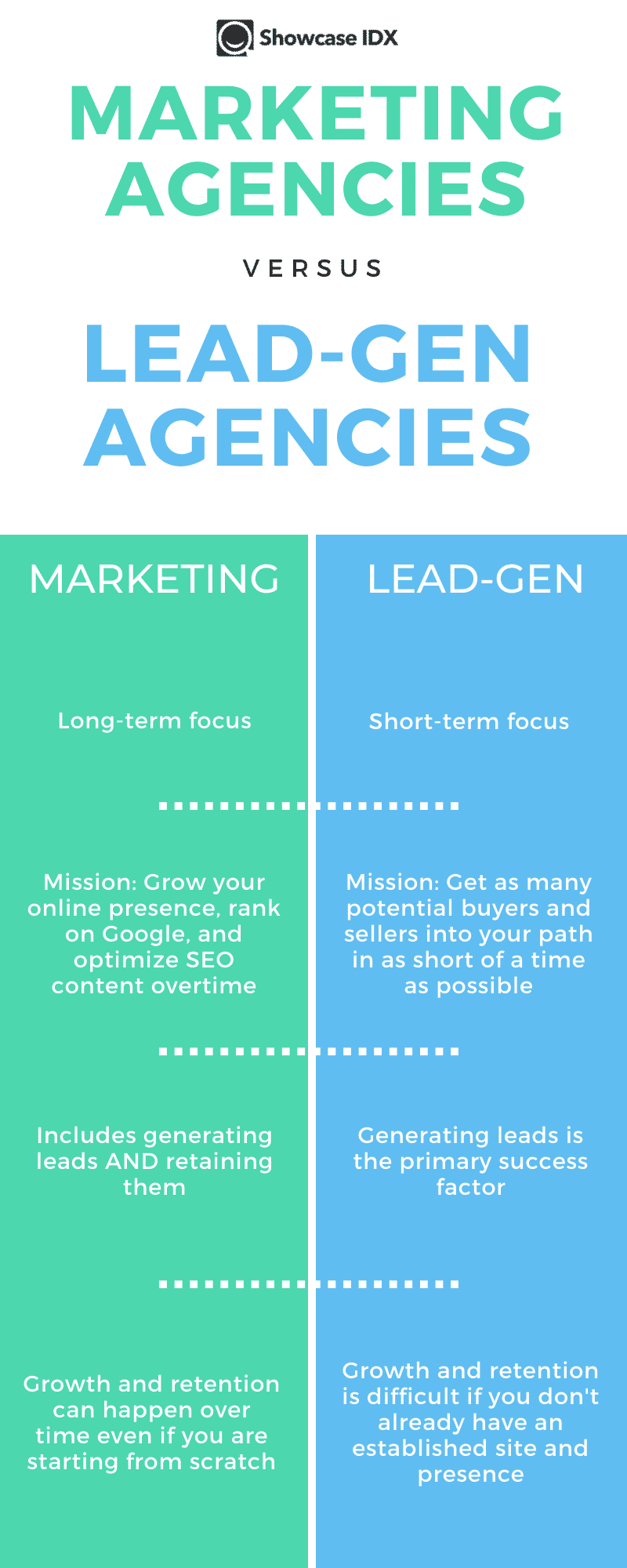 The basic difference between the two kinds of agencies is short-term vs. long-term focus:
| | |
| --- | --- |
| Marketing Agency (Long-Term) | Lead-Generation Agency (Short-Term) |
| Marketing agencies put more emphasis on the long-term process of growing your presence online, optimizing SEO content, and ranking organically on Google. The process is kind of similar to planting seeds in a garden and cultivating it over time for optimal growth. This includes both lead generation and retaining them. | Lead-Generation agencies have one main focus – get as many potential buyers and sellers into your path in as short of time as possible. This short-term goal is helpful, but if you don't already have a built-out website with optimized content, those potential clients can be hard to keep in the long-run. |
If it turns out that you are more-so looking for lead generation, check out our article with expert tips on generating leads for your business. If a real estate marketing agency is the right pick for you, keep reading to find out which kind of agency is "the one" for you.
Types of Real Estate Marketing Companies
There are generally four categories of real estate marketing companies:
A full-blown marketing agency that will provide complete campaigns and strategies tailored exactly for your individual needs.
A marketing service company or consultant that provides more specific offerings (e.g. website design, SEO, social media management, etc.) and relies more on the agent to follow through and complete other tasks.
An all-in-one marketing platform claims to offer many parts of the real estate marketing in a single price (or range). They seldom live up to their claims through in being "set it and forget it" or delivering on results.
An outsourced or freelancer option is when you hire specific freelancers to complete very specific marketing work for you.
How Do I Know Which One I Need?
Your perfect real estate marketing agency match will highly depend on the kind of work you need done and which agency you feel the most comfortable communicating with.
The best path to growth is to focus on what you know best and bring in outside experts to help in specific areas. In regard to real estate marketing agencies, "the one" will not only fit what you're looking for right now, but they will also be able to assist you with future needs as your business grows.
Consider What Your Needs Are.
Need a one-and-done blog post? It's probably best to go with a freelancer on UpWork. Need a full-blown marketing strategy? Check out one of the full-service agencies below.
Real estate marketing companies can cover a lot of ground, but certain agencies may specialize in one kind of work over the other. For example, here are some agencies that partner with Showcase IDX that specialize in specific aspects of marketing:
Video Production

Print Design

Email Marketing

SEO

Social Media

Greyroom Industry
DEV406
NicheZips

Greyroom Industry
The Creative Vue

Evergreen Growth
DEV406
The

X Concept

4rd Marketing
Radiant Hosting

ShiftWeb Solutions
Blue Lynx Marketing
DEV406
The X Concept
Brock Creative
28South
Marlin Consulting

Real Estate Web Creation
The X Concept
Marlin Consulting
Evergreen Growth
28South
Greyroom Industry
DEV406
Choose a Real Estate Marketing Company that Feels Like Home
Not only is it important that your marketing agency can do what you need them to, but it's also important that you choose a marketing agency that you feel comfortable working with.
For you, this might be an agency that is based in your area. It could also be an agency that speaks your language – literally. We have a few partner agencies that speak fluently in other languages:
The X Concept: English, Spanish, French
Blue Lynx Marketing: English, Romanian
Marlin Consulting Studios: English, Spanish
How We Chose The Top Marketing Agency Candidates
We consulted the 2021 IDX Report and Reviews and The 7 Best Real Estate Tools for Top Producing Agents in 2020 + 12 More to Consider and gathered data and input from over 20,000 real estate agents.
We evaluated agencies based on their expertise in modern marketing, the breadth of the services they offer, what tools and platforms they use (MarTech Stack), price value, and the quality of their customer support.
The following qualities of a top notch marketing agency were at the forefront of our research:
Marketing Tech Stack: While some tools like CRMs and marketing automation have many interchangeable offerings, others like a modern IDX may have only one. If you're investing in outside marketing help, they must use the right tools.
Pricing: We considered the price of services offered by marketing companies to evaluate the value provided by each.
Social media setup and management: We looked at whether the companies will set up, optimize, and manage social media accounts for their clients (e.g. posting on the agent's behalf, moderating clients, interacting with other local accounts, etc.).
IDX-enabled Website Creation: A website is the hub of any successful real estate marketing. If your clients are using Zillow/Trulia/etc, their contact and individual budgets are being given to your competitors. Owning your own website gives you your own destination to funnel all of your other efforts towards.
Search engine optimization (SEO): While each may have their own approach, these services help agents strategically rank higher on Google for search terms that will bring them qualified local leads.
Google/Bing Ads Management: We looked for advertising agencies that offer the ability to take advantage of ads targeting consumers searching without breaking your budget. Note that Bing Ads serves real estate ads on DuckDuckGo too, if that is important to you.
Custom offerings: We specifically looked for real estate marketing agencies that specialize in a variety of marketing tactics. Some are incredible at SEO, others are the best at PR, and some have the best PPC management.
Based on the criteria above, along with search traffic, Google rankings, brand recognition, and others, we identified the best real estate marketing agencies in the United States.
Showcase IDX Certified Partners We Recommend:
The X Concept is a full-service marketing agency that won't break your budget. In fact, we heard from multiple people about how budget-friendly they are, which is rare for a top-tier marketing agency. Look to them for WordPress development, email marketing, and social media marketing. They are based in San Diego but help clients across the United States.
Radiant Hosting began as a hosting provider with special offerings for both websites and game servers. Based on that success, they expanded into premium real estate website hosting in 2019 and now offer IDX websites, CRM integration, and other marketing services to help agents grow. They're also made with ❤️ in Chicago, which we like.
NicheZips is a newer real estate marketing agency that helps agents become the household name within their community. They're a cost-effective way to launch an incredible real estate website that clients will actually use.
They use the latest IDX technology to power the home search and then layer on cost-effective content to keep you in the constant flow with your community.
We've been huge fans of family-owned & operated marketing agencies for years, and Brock Creative Projects keeps that trend going.
They've created a simple way for you to manage multiple agent pages, create unlimited community pages with area-specific listings, start a blog that builds trust in your community, and add positive testimonials and reviews directly to your website. While they have a special focus on real estate websites near St. Louis and Southeast MO areas , they help top-tier real estate agents throughout the United States.
Blue Lynx takes a partnership approach that we like. They began as a Google AdWords and Hubspot shop and expanded into real estate in 2019. Because of their background in paid media, the team is known for measurable results that help Realtors attract more listings, more referrals, and more buyers – all with highly trackable internet marketing campaigns . Expect to get a website set up quickly as the hub of your campaigns and a steady flow of new leads with a solid ROI.
Another Florida based agency, Marlin Consulting is based in Palm Coast, Florida and Jacksonville, Florida but helps agents from across the country. With 16 people on their team, they've helped clients generate 100,000 leads and rank #1 on Google for 250+ keywords.
Their founder, Jason, had the benefit of having hired agencies prior to founding Marlin Consulting. They have a goal of making everything in their customers' lives as easy as possible.
The best real estate marketing is hyperlocal and the same can often be said for your best choice for website design and SEO help.
If you live in the 406 (Billings, MT) area code , DEV 406 is your standout choice. You will never question that Gerrick and his team care about your business, and the results will keep you working with them for years.
Greyroom Industry is known as a group of media (photos, videos, drone footage, etc) experts in Georgia real estate . They do incredible video/photo work and have expanded into website design and other digital marketing services for real estate professionals with the same incredible polish and experience. Need completely stunning visuals? Greyroom can help.
In Georgia and need photo or video help? They should not just be on your list, they should be your list.
28South is a small team of talented and experienced individuals dedicated to providing exceptional value and customer service while flexing their creative muscles. They have decades of collective experience in the creative industry have sharpened their skills to a fine point, which allows them to be more nimble, efficient, and affordable than many peers while providing a higher quality end-product.
Evergreen Growth Marketing focuses on two things 1) small businesses, including real estate agents, in the Carolinas and 2) SEO. Their founder Jeremy was a successful solopreneur that started the company because he missed interacting with others. Now, they're a large team and active in the Raleigh business community , although they work with clients from across the United States.
AgentFire offers a solid range of offerings from simply setting up your website with a home search your clients will actually use to consistently writing hyperlocal content for you and installing AI chat services on your site.
Get a custom website for as little as $129 per month with a $499 setup or invest more for them to manage all of your digital marketing efforts
BusyTask can build your website and help you with many other parts of your marketing. They pride themselves on getting your new site up in as little as 48 hours and charging a fraction of the price of "big website agencys". Fill out a quick questionnaire, have a quick 15-30 minute kickoff call, and they'll start building you a hub for your clients and all of your digital marketing efforts.
Real Estate Web Creation
Real Estate Web Creation strategically uses content marketing and SEO to drive sales leads and generate traffic. The Chicago-based marketing agency combines well-written content, stunning website visuals, and search engine optimization, giving you a unique website that your clients will love to use.
Founder Joe Heath has been in the real estate industry since 2007 and knows all the ins and outs. Even more impressive, Real Estate Web Creation was started and grown entirely from client referrals, which is quite the testament to the excellent quality of work they do.
Founded by Sinoun Chea in 2011 and based in Atlanta, ShiftWeb Solutions is a nationwide agency specializing in web design and SEO. Before starting the Atlanta marketing agency, Sinoun worked in the real estate business with top producing agents for many years. Shiftweb has over 13+ years of experience working with real estate agents, so they have a clear understanding of what agents want and need. Working with Shiftweb feels like family and their intention is to be an extension of your team, not just another "vendor".
Questions to Ask a Potential Marketing Agency
We have given you some top quality marketing agencies to choose from, but if you are going to find your perfect agency match, you've got to know the right questions to ask. When you are vetting through your top two or three choices, be sure to ask questions such as:
How many real estate clients have you worked with before?
Can I see some examples of your real estate work?
If I already have a website, what should I be doing on my website right now?
Do you offer an SEO audit?
Do you focus on video production? Examples?
How do you measure success?
An Agency Match Made to Last!
Feel free to check out any Showcase IDX's Certified Partner agencies that interest you to figure out which one is right for you. Our solutions directory will allow you to choose exactly what you're looking for from a drop down menu, and we will show you the top eligible companies for your needs.