According to statistics, 39,290 houses have gone on sale between September 2020 and February 2021, which is a similar number to most years. That's not counting the number of new homes that exchanged hands during that period.
With so many agents and real estate companies selling homes and attracting clients each year, it can seem tough to keep up. However, when the going gets tough, the tough uses life hacks.
What are the best real estate hacks to generate leads and grow your business in the next 6 months? The answer lies in these 5 tools.
It's safe to say that real estate professionals in 2021 have been busy helping home buyers maneuver the life changes caused by the Covid-19 pandemic. The market competitiveness keeps going up, which means your lead-generation game needs to go from good to exceptional.
The 5 Best Real Estate Lead Generation Tools
Here's a comprehensive look at five of the best real estate lead generation tools you can rely on online and offline to grow your sales pipeline.
1. Open Houses
When any real estate professionals think of open houses, they groan. It's easy to think that you can't get attractive leads from an open house, but that's not necessarily true. With enough intentionality, an open house can be an inexpensive way for you to generate leads consistently.
It all depends on how you run the open house.
For starters, you need to have a system.
Open House Signs
While advertising open houses can help generate some leads, it often runs up your costs as well. To counter this, you should use your best open house signs and wisely engage potential clients on social media.
Here's the catch, though – you need a lot of signs.
On top of that, knowing how to use them is also critical. Here are some of our best open house sign tips that will get you more traffic to your open house:
Ensure every cross street has one – This is about density and making sure you cover all major flows of traffic in the area.
Place them at significant intersections – These signs should be complemented by directional signs that drivers and walk-in clients can use to locate our open house. Don't be shocked if you end up having 15 to 25 directional signs. I've even seen some agents invest in 35 – 50 signs that they continually reuse for open houses (and to grow their personal brand). The clearer the directions, the better your results.
Don't forget the property 'For Sale' sign – For this particular sign, you need to specify the date and time of your open house. It's amazing how many agents miss this, and it can be critical for capturing neighbors as future clients which will grow your business in the next 12 – 60 months. The sign should be prominent, and it needs to go up a week before the open house for those who see it to schedule time to pop in.
2. Use an IDX Website
This is a real estate hack that most agents don't even know they need. Knowing this particular real estate hack will group you in with the top 0.5% of successful real estate agents.
Are you aware that more than 90 percent of home buyers start their experience by searching online? Think about it. When people want to move, buy or sell houses, what's their first move? They hit the internet, and everything else flows from there.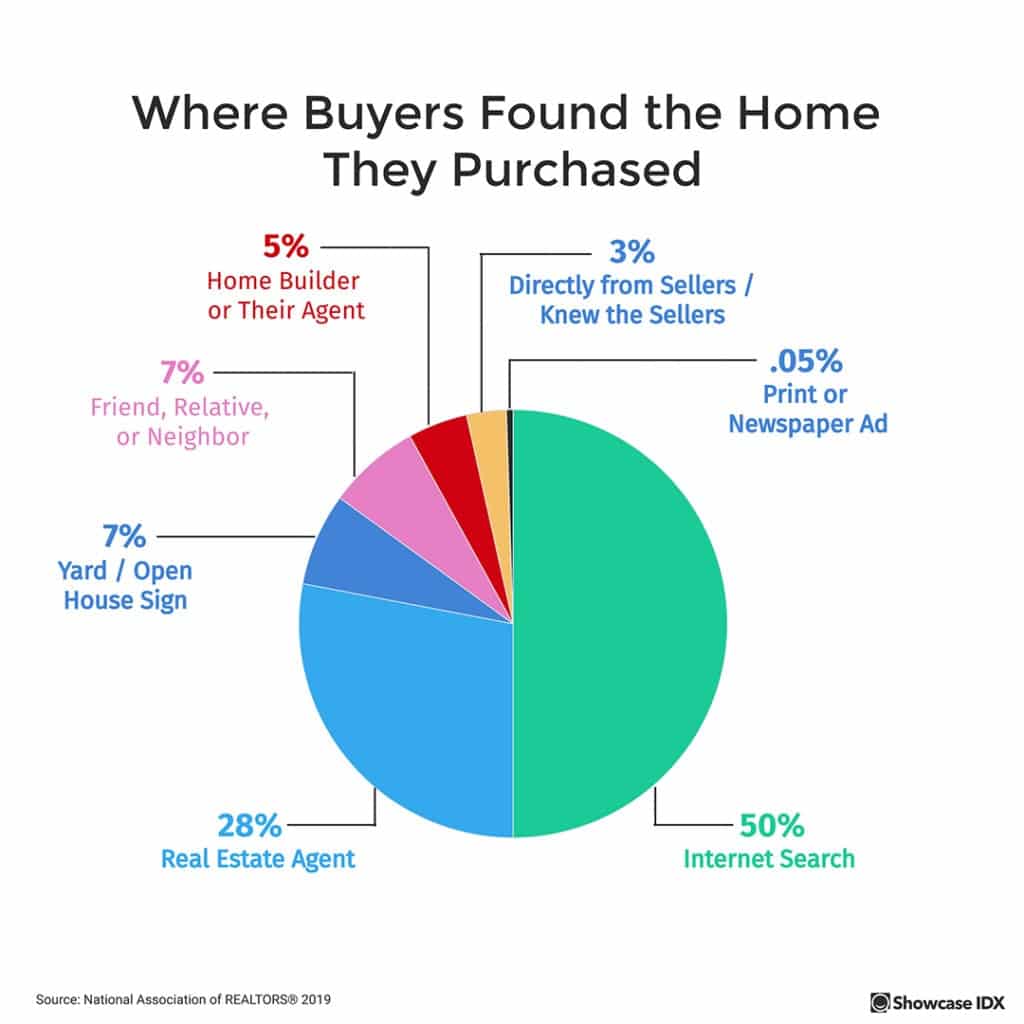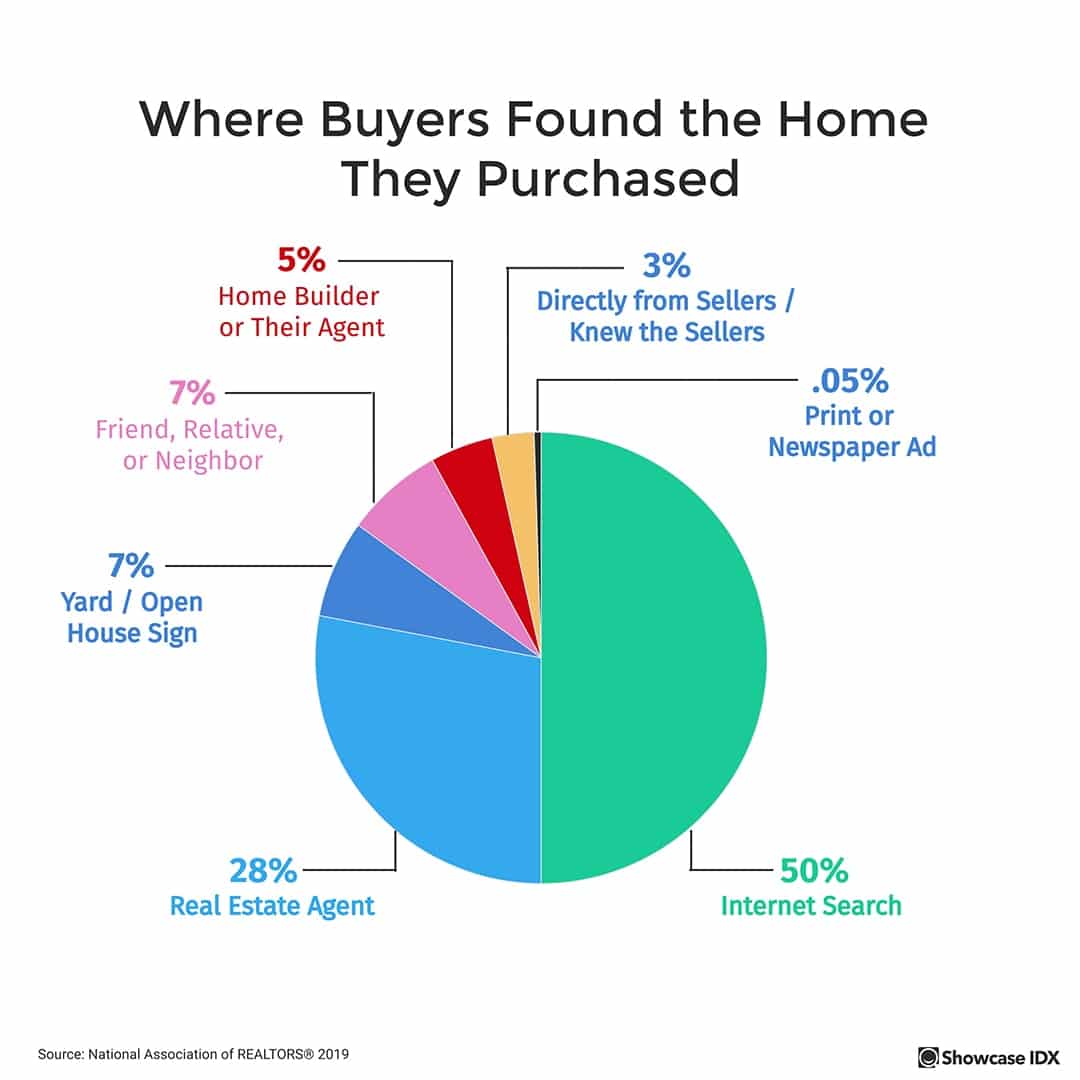 With such high stakes in play, you need to set up a website that will become your central lead generation hub. But this isn't just any website – you need an Internet Data Exchange (IDX) site that can more comprehensively serve prospects.
With an IDX site, you have beautiful pictures, relevant maps, videos, and information about the neighborhood that can help draw leads. Once they look up options online, the search engine can direct them to your IDX site.
Think you can't outrank Zillow, Trulia, or Redfin? With outdated IDXs that use subdomains or iFrames, you can't.
But, we've seen thousands of agents use Showcase IDX and follow our SEO best practices to drive thousands of potential clients every month, and sometimes every week. Plus, organic search visitors convert 8x better than leads from PPC.
From there, leads can run more detailed searches of property in their area of interest. If they find anything that catches their eye, they can save that search to come back to it. The detailed information about the neighborhood helps them visualize themselves living there, which can compel them to get in touch with you.
One way to ensure your IDX site is always in prime shape is to study what other successful real estate websites are doing to draw leads in. You will pick up tricks such as combining soft and hard locks and the various types of searches to deploy for your site to serve prospects better.
Pro Tip: If you need help building your website, talk to a few of our Certified Partners to find one that you feel most comfortable with and meets your budget.
3. Social Media
If you are an individual or agency that runs a business, you need to be on social media. Did you know that 82% of the population has a social media profile? Current and potential home buyers are included in that 82%, and if you don't have your real estate business on social media, you will be missing a large chunk of leads.
There are a lot of different ways to use social media to market your real estate business. Here are a few easy ways to gain leads through social media:
Promoting open houses and events
Showing off photos of new listings
Video tours of your properties
Celebrating families and clients when they close on a home
With so many agents and other businesses floating around on social media, you'll want to make sure that you stand out from the crowd. The best way to do this is by interacting with your clients and engaging with your following.
Real Estate Memes
A great way to invite your clients to engage with you (or your business) on social media is to post funny and relatable real estate content. This can include terrible listing photos, funny real estate memes, or industry news that will get people talking.
Real estate agents get the most out of social media when they set aside some time each day to comment on other posts, respond to comments on theirs, and connect with potential home buyers.
Hashtags
Another social media tool that will generate leads and help you stand out is the proper use of the hashtag. Hashtags allow people outside of your circle to find your business.
However, there is an efficient and an inefficient way to use hashtags. Too few, and your post won't be seen, but too many, and social platforms will mark your post as spam and ignore it.
It doesn't have to be complicated, though. Here is our expert hashtag guide that will show you the ropes of using hashtags on different social platforms.
Pro Tip: Get 100 essential social media graphics and videos to use for free on your social channels here.
4. Search Engine Optimization
Search engine optimization (SEO) might not seem like a lead generation tool, but that couldn't be further from the truth. For search engines to point prospects looking for real estate your way, they must believe your website can best meet such client needs.
SEO helps you signal to search engines that your website is relevant and that visitors who land on it will have their needs met.
Sites like Zillow simply can never provide the value that you, a hyperlocal expert that knows your area and niche, can provide to clients.
For example, given that 52.2 percent of all internet traffic in 2020 alone was from mobile devices, technical SEO can help you make your website more mobile-friendly. That way, you can better capture leads as they checkout real estate options on-the-go.
Google My Business
Google My Business is critical in getting the world's biggest online search engine to notice your site. When potential home buyers search for a real estate agent or business, they are likely to click on the first few search results they see. Google My Business, with the help of other SEO efforts, will help you to be one of those top results.
Using Google My Business allows you to not only claim your business listing with Google, but also provide accurate information that enhances your search results and ranking.
Directories and Link-Building
Since there are several business directories and listings that can make your business more visible online, investing a few hours of SEO work each month helps you take advantage of this to bring in more leads.
The links you receive from high-quality directories, listings, and other sources contribute significantly to your site ranking higher, which helps attract more high-quality leads.
With SEO's guidance, you'll also be able to structure your website's content so that it can be easily crawled and indexed by search engines. That makes these search engines better understand what your website is about so they can point the right leads to it.
Pro Tip: Make sure to add the sitemap generated by Showcase IDX to your Google Search Console.
5. Blogging
How would you like it if the leads that came to you were looking for the real estate options you offer? Blogging can help you attract leads looking for the exact portfolio you have on offer, making selling much easier.
The secret to generating more leads using blogging is to have a clear strategy.
Do this right and you'll:
Generate more leads
Increase the number of referrals you receive from past clients
Have valuable content to send to past clients to stay top of mind for when they are ready to purchase their next home.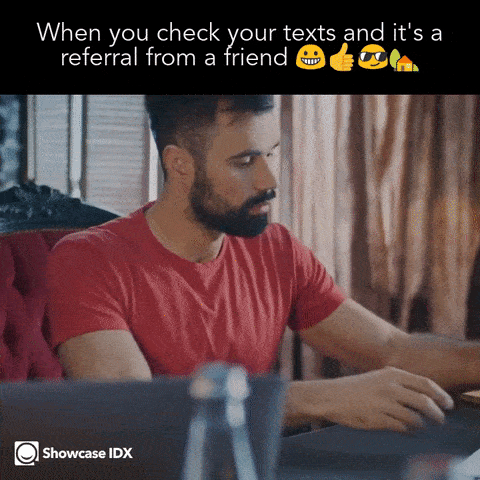 To begin with, your blogging can't depend on a spray-and-pray approach. You need to dig deep to understand who the ideal leads you want to attract are.
Ask yourself:
What do they aspire to?
What drives their decision making?
Do your leads have a pressing need that no one else is fulfilling?
Are there events happening in your local community that they would want to know about?
These kinds of questions help you understand the intent of the prospects you want to attract. From there, you can develop blog content that speaks to these needs. That will get online users who resonate with your content to reach out to you, developing a steady stream of traffic for the right kind of leads.
Get Best Real Estate Lead Generation Tools for the Job
No matter what the housing market goes through, buyers will still need a roof over their heads.
As such, you will need to put your best foot forward to grab a healthy slice of the action. To keep your sales pipeline going, identify the best real estate lead generation tools that complement your business model to ensure you keep bringing in more leads.
For real estate professionals looking to sharpen their online lead generation strategy, Showcase IDX offers an exceptional real estate search and consumer engagement platform. Try our ten-day free trial today to learn how you can develop a steady stream of leads for more robust sales performance.