In a real estate industry as competitive as this one, it can be difficult to figure out how to stand out among the rest. With so many real estate agents and brokers fighting for a buyer's attention, how can you make sure that the leads are coming to you? Is the secret a premium CRM integration for your website? A variety of word-of-mouth referrals? We are here to discuss all of these tactics and more!
Keep reading below to discover how real estate agents get leads and how to keep your business at the forefront of buyers' minds.
What Are Leads in Real Estate?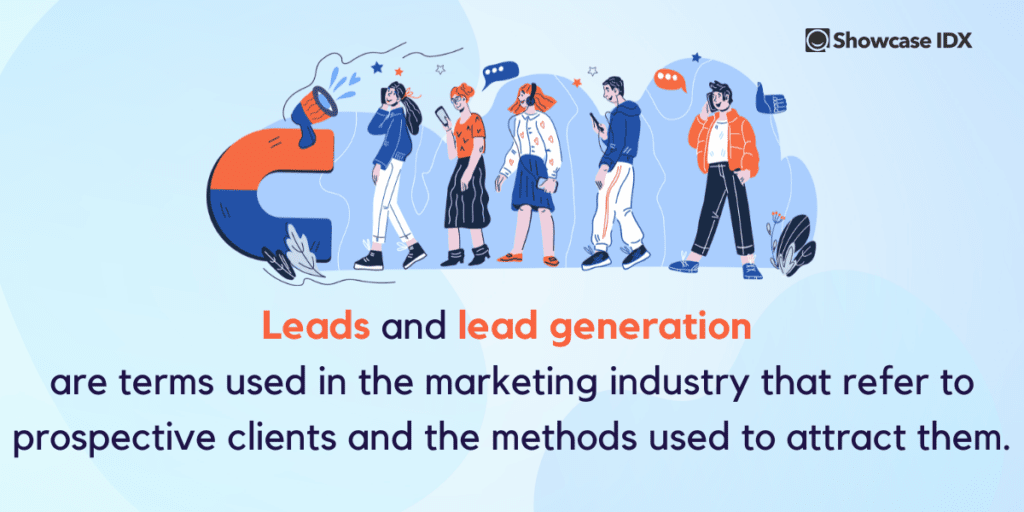 Leads and lead generation are both terms used in the marketing industry that refer to prospective clients and the methods used to attract them. In real estate specifically, lead generation includes getting potential home buyers (or sellers) to come to you and/or your website and hire you to be their trusted real estate agent.
The process for gaining real estate leads has evolved over time, and from a modern-day perspective, real estate lead generation is majorly dependent on your online presence.  It was all about making use of open houses, word-of-mouth marketing, and community events back in the day. However, in 2023, if you don't have a great real estate website and competitive online presence, you significantly decrease your chances of being seen.
So the question remains: how do real estate agents get leads? We have laid out the top lead generation tips for gaining website traffic, increasing potential buyers, and making lead generation as simple as possible for your business.
Lead Generating Real Estate Hacks
While this list doesn't include every single lead generation trick in the industry, it includes the most effective ones. Some of these tips you may have heard before and some of them you may even be doing already. Regardless of what your lead generation tactics are now, hopefully, the following tips will add some depth and further insight into making those tactics work better for you.
Invest in Your Website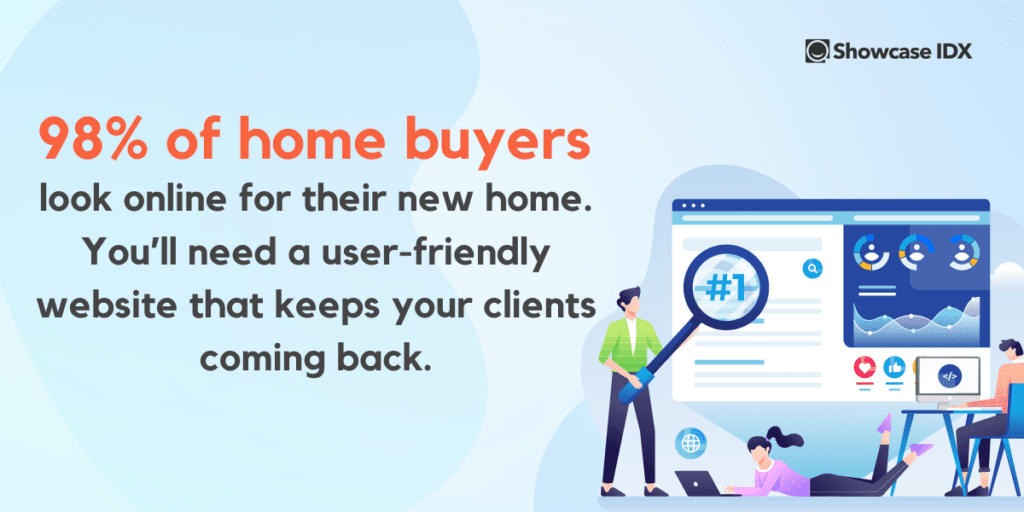 In 2022, your real estate website is one of the most crucial aspects of your business. Not only is it the hub for all your listings, information, and testimonials, but it is now the primary way potential clients will find you. Given that 98% of home buyers look online for their new home, it's no longer enough to simply have a website. You'll need one that is user-friendly that keeps your clients coming back. Here are some of the ways you can give your website a much-needed upgrade:
An IDX Solution
Chances are likely that if you are familiar with the term "IDX," you know how important it is for the credibility of your website. However, if you aren't, let's break it down.
IDX (internet data exchange) refers to the software that integrates MLS listings from multiple MLSs like ARMLS and REcolorado directly on your website. How does this help you generate leads, though? With the help of IDX, potential clients will be referred to your website when they use search engines like Google to search for homes for sale. This means that you have a significantly better chance of people finding your site with IDX integration than you have without it. In addition, IDX integration ensures your listings are up-to-date, accompanied by high-quality photos and videos, and offer a variety of search filters for users to look through. With that said, IDX integration not only brings people to your site, but also gives you credibility as an agent that people are excited about coming back to.
If you are looking for an IDX solution to upgrade your website, the folks at Showcase IDX are a great place to start. You can chat with some local experts about how an IDX plugin works to get more leads and better bounce rates on your site.
CRM Integration
Getting leads to your website is just one of the key parts of lead generation; the other is retaining leads. The best way to keep the leads you generate is to have a CRM platform connected to your website. Premium CRM integrations automate your lead activity and make staying in touch with prospects and clients easier than ever. This will put you ahead of the curve, making you known as a real estate professional who actually invests in their client base. The stronger your relationships with your current clients, the more likely they are to happily refer you.
Blog Posts
This may seem a little excessive, but it's an SEO strategy that is sure to get more eyes on your website. When you have a blog on your site, you give Google more relevant pages to find, thus sending more traffic your way.
The trick to blogging is to dig deep and really discover what people are searching for. Think of the questions you regularly get as a real estate agent and start there or check out relevant market trends and write a blog post on them. Whatever you choose to write, make sure that it is relevant and helpful to your current and potential clientele.
Social Media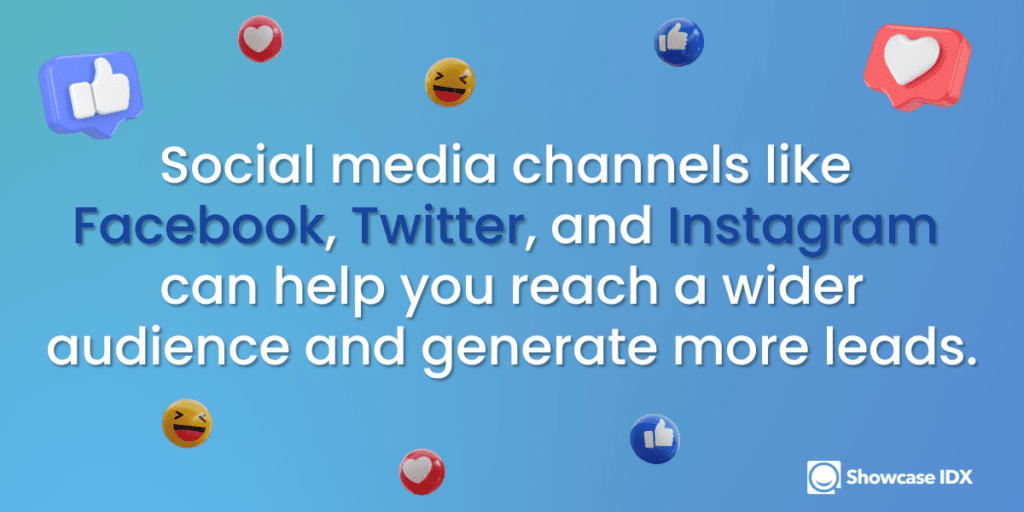 Social media is the new way of advertising. No matter what industry you are in, social media needs to be at the forefront of your marketing plan. In real estate, social media is an exceptional tool for showcasing your business. If you don't have a business page on Facebook or Instagram, now is the time to start. Here are some ideas for how you can use different platforms to elevate your real estate business:
Facebook: This is a great platform for posting listings, sharing blog posts, and connecting with clientele. Facebook can serve as a one-stop shop for everything you want your clients (current and potential) to know about. Join a few local real estate groups and connect with others in your area. Facebook is also an excellent place to advertise events like open houses, giving a wider scope of people the ability to see your properties.
Instagram: Everyone you know is on Instagram, and if they aren't, they aren't running an efficient marketing strategy. This is a great place to celebrate your clients by posting pictures of closing day, celebrations, and other aspects of their home-buying experience. Instagram can also be a great platform to showcase listings, with the ability to have 10 photos in one post. Instagram stories are a unique way to connect with your clientele, giving you the option to post polls, questionnaires, videos, and other interactive content.
LinkedIn: Think of LinkedIn as the platform you use to connect with other professionals. When you are looking to network or widen your scope of references, LinkedIn is perfect. Not only can you connect with other agents, but you can also connect with lawyers, title companies, contractors, and other crucial services that take part in the home buying process. It's always great to have these references on hand to offer your clients.
Referrals
This may be the most obvious lead generation tactic of the bunch, but it remains one of the most effective. Not only do word-of-mouth referrals hold much more weight than simply finding someone online, but they are the most likely to lead you to more referrals. Here are some basic practices you can follow to keep those referrals flooding in:
Keep in touch with past clients – Send them a card every once in a while or shoot them a text to see how things are going. This will build your relationship with your clients and keep you at the forefront of their minds if someone they know is looking for a real estate agent.
Add a unique flair to your current clients' buying process – Post them on your business social media, celebrating them closing on their homes. Host a small closing party in their honor. Find small ways to make your current buyers feel special, and they will surely remember how you made them feel and send friends or family your way.
Be as intentional as possible – Throughout the home buying process, do whatever you can to make them feel like they aren't just "one of many". When meeting with one client, don't be on your phone with another. Dedicate that time to them specifically, and you will stand out from the rest.
Host Events (Even Virtual Ones!)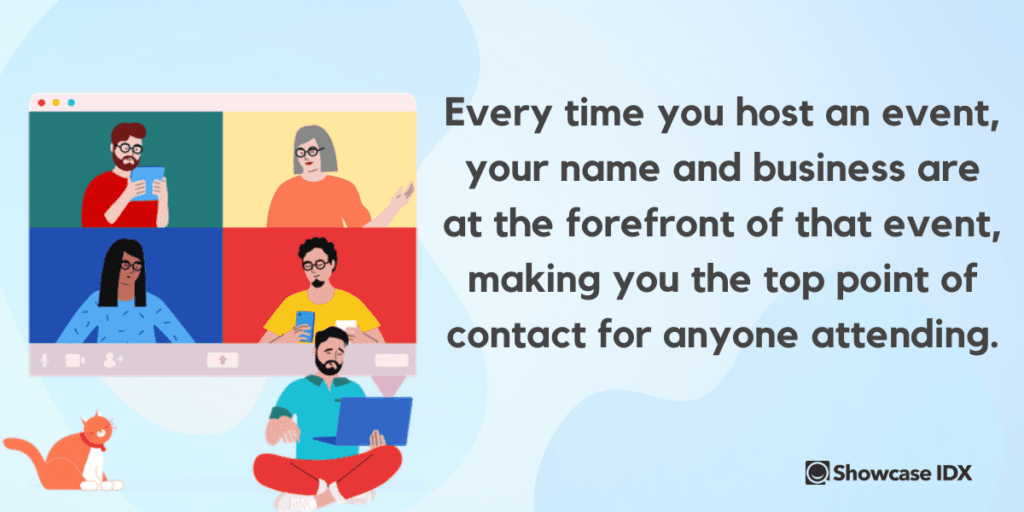 Open houses, community parties, and local industry events are effective ways to gain prospective clients. Every time you host an event, your name and business are at the forefront of that event, making you the top point of contact for anyone attending. The more people you are exposed to, the better your chances of locking down a lead.
The unique thing about the modern-day real estate industry is that technology creates a whole new world of lead generation tactics. This includes virtual events that people can attend from the comfort of their own homes or office! You can host educational seminars, give virtual tours of your properties, or live stream a closing day celebration. The opportunities are endless, and you can do it all with the simple click of a button!
How Do Real Estate Agents Get Leads?
We hope this post gave you some ideas for your real estate lead generation strategy. Between word-of-mouth referrals and an excellent online presence, you are sure to see leads flocking to you in no time!