Real estate agents and Realtors are always looking for new ways to generate leads and boost their Gross Commission Income (GCI). Organic traffic is a great way to do this, but it can be challenging to come up with content ideas that will engage your audience.
Enter TikTok – the popular short-form video platform that has recently exploded in popularity. With its unique format and creative possibilities, TikTok can be a powerful tool for real estate agents looking to reach more potential clients. In this article, we'll discuss how you can use TikTok as part of your lead generation strategy and give tips on creating engaging content that will enhance your real estate marketing strategy.
What is TikTok?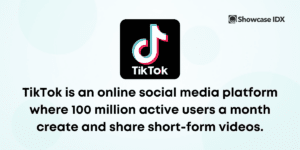 TikTok is an online social media platform where 100 million active users a month create and share short-form videos. It was initially developed by Chinese developer ByteDance in 2016.
TikTok allows users to make creative videos, including lip sync, comedy, DIY tutorials, and dance challenges. In addition, users can follow one another, like each other's videos, comment on them, or even duet with one another. They can also join various trending challenges and collaborate with others to create content that goes viral—that is, it gets shared widely across the internet.
TikTok has amassed a massive user base over the years due to its easy-to-use interface and a wide array of features. The app has become especially popular among Gen Zers, who use it as a platform for self-expression and entertainment.
In addition to allowing users to upload their videos, TikTok also offers a Discover section where users can explore and engage with content from other creators.
This discovery feature uses an algorithm that suggests tailored recommendations based on what a user has watched or interacted with in the past. Furthermore, users can create video collections in which they can add all types of video content from different creators into one compilation.
Why Use TikTok for Real Estate Marketing?
TikTok is the perfect platform for a real estate broker, agent, or other industry professionals to market their real estate business. It offers an easy way to generate leads and get content out quickly.
With its focus on creating entertaining video content, it's easier for posts to go viral on this platform compared to Facebook or Instagram. This is because most of your content on traditional social media sites will be seen by people who already like or follow you.
However, on TikTok, your real estate videos have a greater chance of being presented to users who have never interacted with you.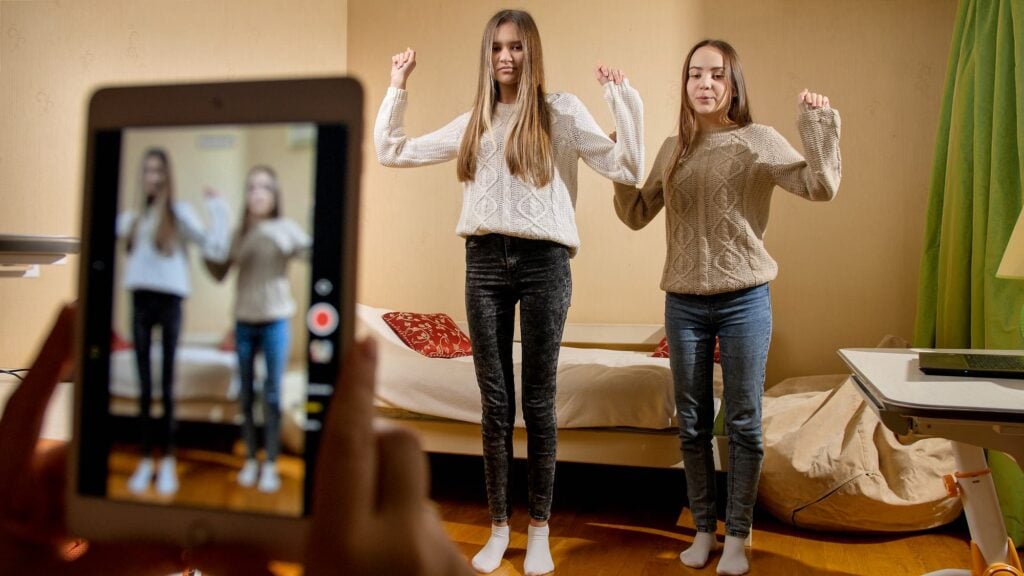 Real estate agents are realizing the potential of TikTok and seeing excellent results as they engage with their target audiences in a more interactive way than ever before. This is great because it allows agents to reach people that would not have seen their posts previously and potentially convert them into leads.
Furthermore, they can create content that offers more detailed information about their services – such as showcasing properties which would otherwise be missed when trying to advertise solely through pictures and text on other platforms.
This type of content enables real estate professionals to show off what sets them apart from competitors and increases the chances of gaining valuable customers.
13 TikTok Tips for Real Estate Agents
For real estate agents to maximize their reach on TikTok, they need to create content that people find exciting and engaging. Here are some tips for doing just that.
Create a TikTok Account for Your Business
First, choose a username that includes "real estate," "realtor," or your local area. This will help people easily identify your real estate agency or business and where they can find you. For example, if you're a realtor in San Francisco, you could use something like @SF_RealEstate or @SanFranciscoRealtor.
Next, optimize your profile to make it attractive to viewers. Add a professional headshot as your profile picture and include a link to your website or blog in the bio section. Make sure to include keywords related to real estate in your bio so that users searching for specific topics have an easier time finding you.
Get Familiar with the TikTok App
Getting familiar with TikTok is an excellent way for real estate agents and Realtors to learn about the latest trends and create content that resonates with potential homebuyers and sellers.
To get started, scroll through the videos to understand what content people are creating on the app. This will allow you to get an understanding of the format, topics, and types of videos that are successful.
Another way to explore TikTok is by using its "For You" section. Here you can find new creators who have recently uploaded content and trending topics from other users with similar interests. It's also great to discover new content ideas for your account.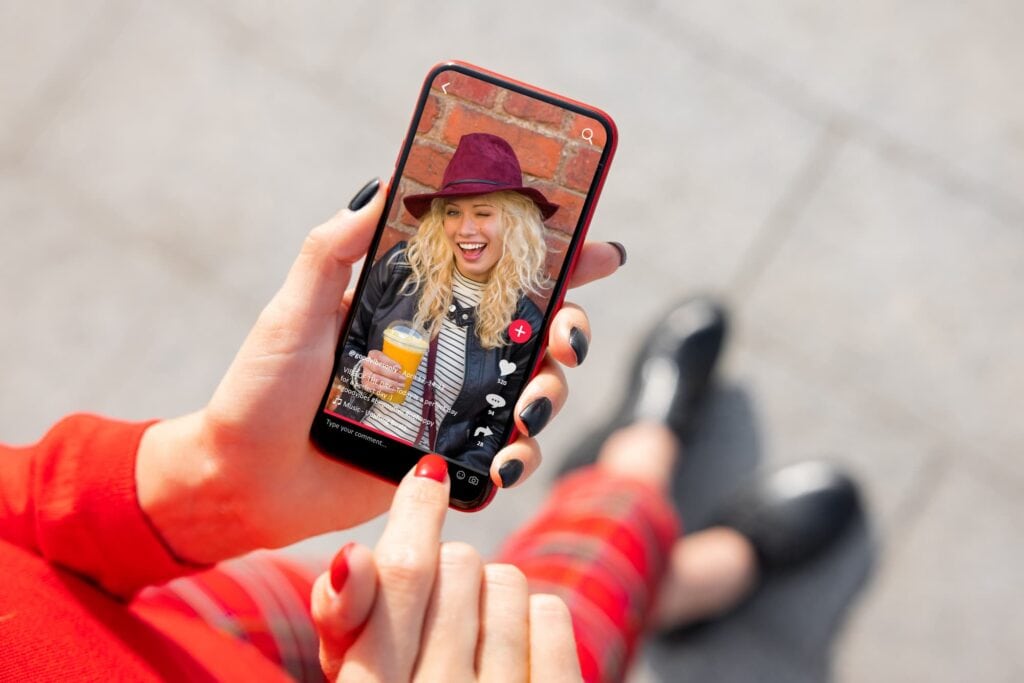 Additionally, you can use this section to study the techniques and strategies of successful users by taking note of how they structure their videos or use hashtags or captions.
In addition to exploring content, real estate agents and Realtors should also consider tapping into other features of the app, such as live streaming or duets (when two users collaborate on one video).
This can be a great way to engage with potential buyers or sellers in real time while giving valuable insights into properties or local markets. Lastly, take advantage of TikTok analytics which provides detailed information about your followers, views, likes, comments, etc., so you can track your progress over time.
Be Creative with Your Content
Real estate agents and Realtors must be creative with their content to stand out from the competition. Creativity means thinking outside the box to create interesting, engaging, and informative content that captivates your audience and draws people in.
When it comes to content, there are a few key things you should keep in mind:
Focus on providing value for your readers.
Create both entertaining and educational videos.
Ensure that it is free from any errors or typos.
Finally, use visuals such as photos, videos, infographics, or illustrations to make your content more engaging.
One way to come up with creative content is by using storytelling techniques. Stories help capture an audience's attention while imparting valuable information and insights.
For example, you can share stories about your experience as an agent or Realtor, stories about clients who have found success by working with you, stories about unique or luxury real estate properties you've listed or sold, or even stories about local events related to real estate topics.
Another great way to get creative with content is through interviews. Interviews give readers an inside look at what it's like to work with you as an agent or Realtor and provide valuable insights into the home buying/selling process. They can also be an excellent platform for promoting certain listings or giving advice on specific markets or neighborhoods.
Visuals can also be a great way to add creativity to your content on TikTok. Photos, videos, infographics, illustrations – all of these mediums can help create visually appealing pieces that impact viewers.
They can be used not only for promoting properties but also for highlighting essential topics related to real estate, such as market updates, home maintenance tips, and financing advice.
Finally, another excellent strategy for creating unique content is to look at what other real estate agents are doing around you and try something different instead. This may involve taking a popular topic within the industry but presenting it in a new light or simply taking a different angle on how it could be presented.
Make an Immediate Impression
Making an immediate impression on TikTok as a real estate agent or Realtor can be surprisingly easy. First of all, it all starts with the introduction of your video. Next, you want to hook the audience immediately and make sure they stick around to watch the rest of the video, so make sure you have something interesting and attention-grabbing that will draw them in from the beginning.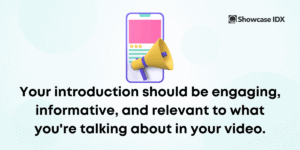 Your introduction should be engaging, informative, and relevant to what you're talking about in your video.
For example, it could include some facts about the real estate market in your area, offer viewers some insight into who you are and what makes you unique as a real estate professional, or provide tips for buying or selling a home. You should also use plenty of visuals and graphics to keep things entertaining but also informative.
Once you have your introduction down, it's essential to keep your audience engaged throughout the rest of your video by providing even more detail on whatever topic you are discussing.
Provide additional facts, case studies, or examples that further illustrate your points and help viewers take away valuable information they can use either now or in the future. Make sure to highlight why people should work with you over other agents in your area – emphasizing any specialties or advantages you may have that set you apart from other agents.
Finally, don't forget to end with a call to action! Encourage viewers to contact you if they need assistance with their real estate needs or subscribe to your channel, so they don't miss any new viral content. Doing this will ensure that viewers remember who you are and come back for more valuable content from time to time.
Make Use of Popular TikTok Audio Clips
Using popular audio clips on TikTok allows real estate agents and Realtors to stand out from the crowd with their unique content. With the right audio clip, they can also capture the attention of a younger audience that may not be as interested in traditional marketing strategies used by real estate agents. Popular audio clips allow real estate agents to appeal to a broader demographic, which can help boost your real estate business.
When it comes to how to make use of these popular sounds, there are several things to consider:
Choose sound clips appropriate for the target audience and fit within branding guidelines.
Ensure that the sound clip complements the message and resonates with viewers by encouraging them to take action or relate to the shared content.
Ensure that the sound clip fits within a budget, as some sound clips can be quite expensive depending on usage rights and royalties involved.
Add Engaging Text to Your Videos
Video content is most effective and engaging when it's paired with text. This is because text allows real estate agents and Realtors to add more information that may not be conveyed in the video itself. It also helps break up long videos and makes the content easier to digest for viewers.
When adding text, it's essential to make sure it adds value to the video by giving viewers helpful advice or additional insight into the topic being discussed.
The text should also be formatted to make it easier for viewers to read, using different font sizes or colors to break up paragraphs or highlight important points. Finally, end with a call to action that encourages people to take the desired action, such as subscribing to the channel, contacting for more information about services, or visiting a website.
Let Your Personality Shine
Showing off your personality will help you stand out in the crowded market of real estate agents. In addition, showing your enthusiasm and personality will help viewers connect with you, which can lead to more leads.
When showing off your personality, make sure you have fun with the videos by adding humorous elements or incorporating sound clips that emphasize specific points. Making jokes, telling stories, and referencing current events are great ways to make your content more engaging and entertaining.
Don't forget to highlight your expertise! Show off any certifications or awards you have received, talk about any specialized areas of knowledge you possess, and be sure to let people know why they should work with you over other agents in the area. Doing this will help assure viewers that you are the right choice for their real estate needs.
Tweak Your Content and Messaging To Align with Trends
Include humor, pop culture references, or other trending topics to keep people watching. This can easily be done using trending sounds, hashtags, and trends on TikTok. Doing this will help you tap into the collective consciousness of what's currently popular online, making your content more engaging and relatable to viewers.
It's also vital that real estate agents and Realtors tweak their content and messaging when there is a slow market. During these times, agents need to stay ahead of the competition by sharing helpful advice related to the current real estate market and tips on getting the best deal. Agents can boost their GCI and generate more leads by staying up-to-date with trends and adapting content accordingly.
Promote Your Real Estate Listings on TikTok
The most obvious way to use TikTok for lead generation is to promote real estate listings. First, promote new homes, open houses, and other opportunities in the area through creative videos that catch viewers' attention. Then, showcase the home by taking viewers on a virtual tour or providing interior design tips and tricks to help potential buyers envision themselves living there.
Additionally, by using TikTok to showcase listings, agents and Realtors can reach a wide audience than if they only used traditional marketing methods. This increased visibility can lead to more inquiries, more leads, and, ultimately, more sales.
One thing to remember when promoting listings on TikTok is that the videos should also include helpful advice or tips related to the current real estate market. This will help viewers see you as an industry expert and increase the likelihood of them contacting you for more information or setting up a meeting.
Don't Forget To Promote Your Website on TikTok!
Real estate agents and Realtors should also promote their website on TikTok. This can be done by creating short 15-second videos highlighting the website's main points or sharing links to specific pages in the comments section of a post. By promoting their website, agents can increase the visibility of their brand and attract more organic leads.
TikTok can also drive website traffic by creating contests or giveaways. Offer viewers a chance to win something, such as a free consultation or home staging services, in exchange for visiting the website. Again, this is an effective way to generate leads and boost GCI.
Finally, remember that content should always link back to the website. For example, if you create a video about interior design tips, link that video back to a blog post on your website that provides more detailed information on the topic. Doing this will help viewers find all of the additional resources they need and will increase website traffic in the process.
Use Hashtags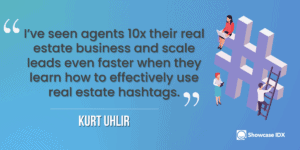 An underrated way to increase visibility on TikTok is by using real estate hashtags. Hashtags help you reach new audiences and gain more organic followers, so it's essential to use them whenever possible. Always include relevant hashtags related to the post's topic when creating content. This will make it easier for viewers to find your content and will help drive more traffic to your website.
Let's look at some examples of real estate hashtags you can use for real estate content:
#RealEstate
#HomesForSale
#OpenHouses
#BuyersGuide
#HomeStagingTips
#RealtorLife
Using these and other relevant hashtags, agents can spread their content and reach new potential customers.
Repurpose Your Content on Other Platforms
Repurposing content is an effective way to get the most out of your marketing efforts without having to create new content from scratch. It's also easy to ensure your message remains consistent across different channels. Plus, it saves time and money – two things that real estate agents and Realtors are always looking for!
On Twitter, real estate agents and Realtors can repurpose their TikTok content by creating shorter videos with fewer actions or less footage. For example, suppose you made a 15-second TikTok featuring you discussing the benefits of owning a home in a particular area.
In that case, you could generate a 3-5 second video for Twitter that focuses on the main point from the longer version – such as "Owning a home near X provides great opportunities for Y."
On Instagram, short videos could be posted in both stories and posts. You could even post snippets of your longer TikToks as part of an Instagram story series.
For example, if you created a 3-minute TikTok showcasing three different neighborhoods in one city, you could break it down into 30-second clips and post them as part of an Instagram story series highlighting each neighborhood separately over several days. This allows followers on Instagram to see more detail about each neighborhood without watching the entire 3-minute video at once.
Facebook is another excellent platform for repurposing your TikTok content. The longer videos can be posted on Facebook Pages or Groups as part of more extensive conversations, while shorter clips can be turned into ads or shared organically in newsfeeds.
Additionally, polls are highly engaging forms of content and can provide valuable insights into what types of properties people are looking for; these polls can also be posted on Facebook Pages or Groups so that people can give their opinion quickly and easily – this kind of interactive engagement is critical for real estate agents and Realtors when trying to reach potential buyers or sellers.
Don't Forget To Record Your Leads
Real estate agents and Realtors should use the same process for recording their leads on TikTok as they would for any other lead source.
This includes tracking the lead's contact information, such as their name, email address, phone number, and address. Agents should also record when they first contacted the lead, what content they shared with them (if applicable), and any follow-up conversations or emails.
When adding leads to a CRM pipeline, agents need to categorize each lead so that follow-ups are organized efficiently and accurately.
Common categories can include potential buyers or sellers who have expressed interest in a property or services, those who have engaged with an agent's content through comments or likes, and those who may be open to working with an agent in the near future. Furthermore, agents should note any milestones associated with each lead – such as when they were contacted first – to track progress and optimize the outreach process over time.
Agents should also prioritize which leads require immediate attention versus those that can wait until later stages. For example, if a buyer expresses interest in an upcoming open house event on TikTok, it may be beneficial for agents to reach out sooner rather than later.
Conversely, if someone engages with an agent's profile but doesn't express further interest yet, agents may want to take a more gradual approach by sending periodic updates and info about new listings or special promotions to build rapport over time before reaching out directly again.
Overall, taking time to correctly record & categorize leads from TikTok – just like any other platform – will help agents better manage their outreach efforts and focus on nurturing relationships with potential clients throughout the entire process, from initial contact through closing a sale.
FAQs
Here are some additional questions to consider when leveraging TikTok as a lead-generation tool.
Is TikTok good for Realtors?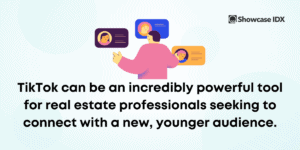 TikTok can be an incredibly powerful tool for real estate professionals seeking to connect with a new, younger audience. It is the most popular platform among teenagers, so if you want your message to reach this demographic, TikTok is a great place to be.
For Realtors who are willing to invest the effort into creating engaging content, the rewards will be huge – it's never been easier to engage with potential clients in a creative and fun manner.
That said, it will ultimately depend on how you use the platform and whether or not it fits within your overall social media marketing strategy. However, if done right, TikTok can help Realtors find their ideal client – so why not try it?
How can I use TikTok for real estate?
TikTok is an incredibly dynamic platform that can tap into a different audience of real estate buyers. It's a great place to showcase your property listings and capture people's interest, highlighting the quality of life in a particular neighborhood or using behind-the-scenes videos of the team at work.
Feature house walks, expert advice on interior design and decorating video or property tours, and creative content that captures people's attention – all things that will turn views into leads. Plus, you can use ads on TikTok to create more effective campaigns as they are cheaper than other mainstream ad platforms. And don't forget to add creative real estate hashtags to each post so potential buyers can find your posts more quickly.
Does TikTok work for real estate?
TikTok is an excellent platform for real estate agents to tap into. It not only allows them to expand their reach and potential client base, but also allows them to showcase properties uniquely with fun, engaging content.
For example, by using hashtags and collaborating with other influencers on the platform, real estate professionals can showcase why living in specific neighborhoods might be desirable – by highlighting parks nearby or trendy restaurants – or give people a virtual tour of their property without ever leaving their homes.
And with TikTok's growing user base and tendency towards trendier content, it could become an even more powerful tool for agents.
Is TikTok an excellent social media platform for real estate?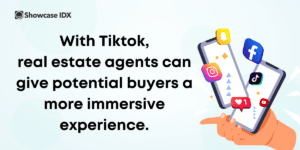 TikTok is one of the fastest-growing social platforms today, so it's no surprise that savvy real estate agents have noticed. By leveraging its unique content format, real estate agents can give potential buyers a more immersive experience.
For example, an agent can use TikTok videos to showcase properties in creative and captivating ways – perhaps shooting professionally recorded footage of neighbors and nearby attractions – inviting prospective buyers to get a 'feel' for any location.
Real estate agents may even find further use for their TikTok channels outside of simply showcasing listings, such as promoting virtual open house events and sharing helpful, relevant tips to better nurture relationships with prospective buyers.
All in all, while it may still be early days as far as exploring the possibilities on TikTok, we can clearly see tremendous potential here for real estate professionals looking to get ahead in this ultra-competitive industry.
How can TikTok be used as a real estate agent?
TikTok can provide real estate agents an effective platform to showcase their properties, develop relationships with potential buyers, and reach wider audiences. Agents can use images and video clips to give viewers a virtual tour of available properties.
With plenty of creative tools and effects, TikTok can help agents to make content that stands out, enhancing the buyer's viewership experience. Mentions, duets, and responses are great ways for the agents to keep track of the viewer's interest in a particular property and use them to further interact with the viewers.
Hashtags can also be used so that potential customers can quickly find relevant content related to real estate. In short, if done strategically, TikTok is a fantastic way for real estate agents to engage with their target audience.
Where can I find a website developer to help me with my website?
If you're looking for a website developer to help you with your website, plenty of reputable companies can provide the services you need. Look for developers with experience in developing websites for real estate agencies, and check their portfolio of completed projects. To find agencies, check out https://showcaseidx.com/agencies.
Where can I find examples of great real estate websites?
An excellent place to start is the Showcase IDX website to find examples of great real estate websites. This site has dozens of different real estate websites that highlight some of the best practices for creating successful sites in this industry. You can also look at the award-winning real estate sites and see how they have incorporated different elements to create a successful website.
Where can I find free real estate social media content?
There are plenty of great resources online for free real estate social media content. Sites like Canva offer hundreds of templates and tools to create stunning social media visuals for real estate agents. Additionally, Showcase IDX has a blog that provides tips and tricks for effectively using social media in real estate.