Business owners need to hire a website developer to create an eye-catching real estate website for their business. There are numerous considerations to make, such as whether to hire a graphic designer with visual design experience or one of many freelance web developers.
If you need to hire a freelance developer, pick one with experience building a quality real estate agent website. Do you need front-end developers, back-end developers, or full-stack developers to create the best real estate website? Do you even know what those terms mean?
In the guide below, you will learn the answers and more about how to hire a website developer. For instance, you'll need a website builder with great creative and communications skills as well as technical knowledge about producing real estate websites.
Are you ready to learn more? Let's get started!
Developer vs. Designer: Which One Is Better for Your Real Estate Business?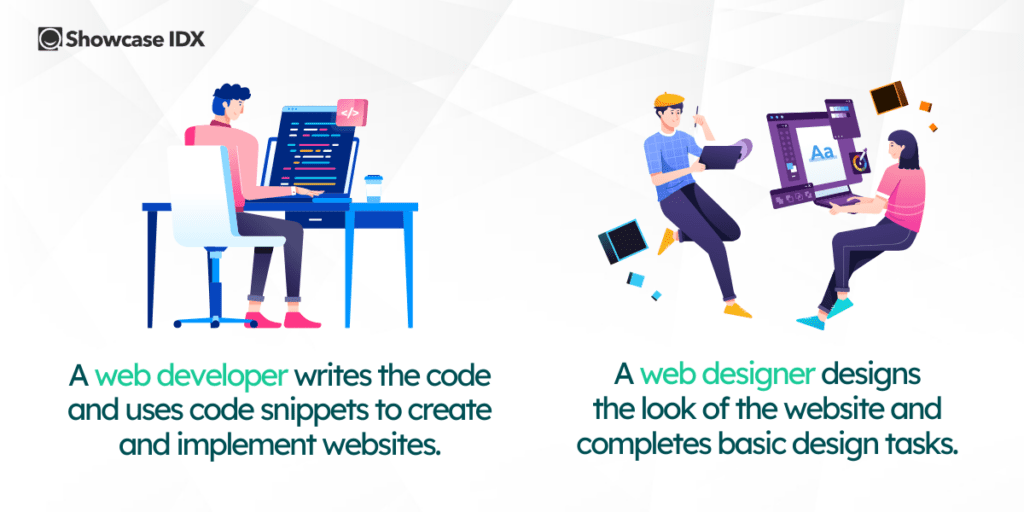 What does a web developer do? And what does a website or graphic designer do? I will answer both questions in this section.
A freelance web developer writes the code and uses code snippets to create and implement websites. A designer, on the other hand, designs the look of the website, completes basic design tasks, and only sometimes completes the implementation of the site using responsive designs.
The differences between a professional web developer and a web designer are:
Variations in technical skills
Disparities in creative and design skills
Differences between graphic skills and coding capabilities
Why Should You Hire a Web Developer?
Hiring a web developer for your online real estate business is your best option. And yes, as an agent, you are your own business. The business you should be focused on growing does not belong to your brokerage. As a 1099 contractor, the business that matters the most is your own; always remember that you are a business owner.
A web developer is the best choice for you because of their experience with programming languages, front-end and back-end development, and building different websites.
Further, a web developer will work within your budget via multiple payment options, save you time with website design, and meet your real estate website needs. Web design professionals also have expertise with the right scripting language and can improve your online presence.
It's not quite time to start searching for a "web developer near me" online yet. Keep reading to learn what you need to know to make a wise decision for your business.
They Have Relevant Training and Experience with Different Websites and Programming Languages
The best website developers will have a wide range of training to develop excellent real estate websites and knowledge of numerous programming languages. To code and build the infrastructure of a successful website, a qualified developer needs technical skills and programming language knowledge.
While a wise web developer will use WordPress to build your website, a modern IDX, and have a set of their favorite plugins, it's highly likely that they will be, at the least, customizing your website with CSS and HTML. In some cases, they will be writing custom plugins, widgets, or tools using more advanced languages, but that will cost you.
The right training and experience mean a developer can make many types of websites, including ones for real estate agents like you.
For instance, you want to make sure your developer has the ability and expertise to create things like a shopping cart, a management panel, or an image slider, which are common tasks for them.
They Are Updated with the Latest Trends
When developing a new website or renovating your old one, you will need to hire a website developer who knows the most current trends in graphic design and website development. Your business goals should focus on implementing trends like making websites effective on mobile devices.
A qualified developer should also have the ability to create an IDX website, which entails utilizing software hosted on the website to populate listings from a local MLS like NTREIS for Texas or NJMLS for New Jersey. That enables anyone to view listings and conduct property searches.
They Will Help Save You Time
The best website developers have the overall skill sets needed within their industry and design process. They understand how to use the best tools and practices within their sector.
Hiring a website developer can save you time when building a website since they have the skills that a typical graphic designer may lack. An excellent developer will build your website to have full functionality and search engine optimization to bring in more website visitors.
They also have expertise in back-end and front-end development. All of these qualities will help you save time during the design process.
They Will Work Within Your Budget
A professional website developer will work with you and your budget to develop a quality real estate website. The developer may operate based on an hourly rate or choose a payment schedule that works for you and them.
If you have a tight budget, you can still get a developer to provide you with some key services to upgrade your website. However, larger projects may need more funding if you want an extensive site, SEO improvements, social media marketing, and more.
Developers will use your budget as a framework to bring you the best end product possible and meet your expectations.
They Will Ensure That Your Website Looks and Functions as You Intend It to
Professional website developers make sure to create a website that looks and functions the way you want. You don't want to get a site that doesn't have the features or capabilities you paid for. However, a professional developer with the right training and expertise will make sure your needs and expectations are met.
For instance, if you need WordPress sites maintained, backend security checks, and intricate web design, the right developer can meet your needs. If you need assistance on the back-end with much of the coding work, you'll need a developer with back-end support expertise.
What Kind of Developer Do I Need for My Real Estate Business?
Professional website developers tend to have three different areas in which they gain experience. If you hire a website developer, they will likely either have front-end, back-end, or full-stack development expertise.
Front-end developers tend to manage the look of the website from the customers' and visitors' viewpoints. Back-end website developers manage the site's overall functionality, including security and data storage. A full-stack developer handles software development and has expertise in handling both the front end and the back end of an application.
Front-End Developers
Front-end developers are responsible for developing the user interface of a website. Essentially, front-end developers manage all the design aspects of creating a website along with the entire layout and functionality of the site.
The benefits of hiring a front-end developer include:
Reducing the time and cost needed to create an incredible user experience.
Improves the innovation needed to make the best websites.
Gaining attractive website designs with good functionality.
Improved productivity.
Building scalable designs to use in the future.
Yet, there are certain disadvantages of hiring freelance front-end developers, such as:
They may work on multiple projects simultaneously and lack time to handle your project quickly.
The end-product may lack quality if the person you hire doesn't have enough expertise.
Potentially costing more than hiring a graphic designer.
They may have difficulty keeping up with the latest trends in front-end development.
Back-End Developers
Back-end developers are also responsible for improving the user experience and meeting your needs. Essentially, these developers build and maintain the back-end services needed to power your real estate website.
Back-end developers are also essential for powering mobile apps and other applications.
The advantages of hiring back-end developers include:
Creating a successful application.
Ensuring business logic is part of the website development.
Integrating well with the front-end development process.
Meeting the goals and desired outcome of your plan.
However, there are some disadvantages of hiring a back-end developer as well, which include:
Lacking adequate feedback about the user experience from users or your real estate clients.
No understanding of how the website will display or look like.
Inconsistent schedules when hiring a remote freelance web developer.
Difficulty managing remote developers and a potential lack of communication.
Full-Stack Developers
Full-stack developers take on the back-end and front-end support along with plenty more. Essentially, full-stack developers take part in designing, developing, managing, deploying, and testing applications to the server level.
In addition, they are responsible for monitoring and supporting applications after they've been deployed.
The pros of hiring full-stack developers include:
Gaining access to comprehensive programming capabilities.
Greater flexibility and capability at handling complex projects and many software levels.
Access to the best full-stack optimization.
Achieving effective error management.
A decrease in implementation delays.
A drop in communication delays.
Nonetheless, there are some cons of working with full-stack developers, such as:
Minimal contact and management of freelance web developers.
Lacking greater expertise.
Fewer professionals are available in that realm.
Greater cost as compared to other types of web developers.
Not using the latest trends.
If you are not looking to spend millions of dollars or even tens of millions on hiring a website developer for a customized and impressive website, then hiring full-stack developers is not the best option for your real estate agency. A fully custom site entails creating a custom integration with your MLS's IDX feed, which you may not need.
Instead, you can use WordPress and an IDX integration. An IDX integration involves adding MLS listings to real estate agency websites.
How To Choose the Right Website Developer for Your Real Estate Business
When it comes to hiring the best website developer to work on your real estate agency website and mobile applications, you will need to consider the following:
Pick someone with the right skills and experience you need.
Choose someone who calls or emails you back quickly.
Find someone who has built real estate websites before and worked on similar projects.
Choose a Professional Whose Skills and Experience Will Best Suit Your Current Needs
As explained previously, there are tons of reasons why you should hire a website developer to support your real estate business. In particular, you will need one who has the skill set and experience to meet your needs.
Consider what kind of project you need to complete and the skill set that the web developer requires.
You may need to hire a front-end developer if the appearance of your website and the graphic design aspects are more important for your project. If you need the security of your site boosted, you may need a web developer with back-end experience.
Hire a Website Developer Who's Quick To Respond
Timely communication is essential if you want your real estate agency to succeed. As such, you need to hire a website developer who provides you with timely updates on the project.
Make sure to hire a professional who responds quickly to your emails and phone calls. Find someone who provides you with continual feedback and updates.
Look for a Developer with Experience in Building Real Estate Home Search Sites
You will need to hire a website developer with experience in specific WordPress themes and a background in building real estate websites.
There are many different WordPress themes perfect for real estate websites that your web developer should understand, including:
The BeTheme WordPress format
The Jupiter X platform
The Divi theme
The Astra WordPress theme
The Elementor platform
In particular, your web developer will need experience creating real estate home search websites. Some of the most important features that your real estate website will need to have include:
Responsive web design that works on mobile phones and computer monitors
Property listings with IDX integration
Integration with social media channels
Testimonials and other information to build credibility
Easy-to-navigate website pages
A contact page and a biography of real estate agents
A call-to-action on every website page
Find Someone Who Has Worked on Similar Projects Before
It is also essential for you to hire web developers who have experience working on similar projects in the past. This is key because it gives you an idea of their skill set and knowledge of website development as well as the particular job you're hiring them for.
When you look over their past projects and similar jobs, you can also figure out whether the web developers can handle your project promptly.
Where to Find a Great Real Estate Website Developer?
When you have no idea where to find an excellent real estate website developer, you can check out our list of the top real estate marketing agencies around the United States. In addition, you should check out our directory of Certified Partners.
Our List of the Top Agencies in the Country
It's not easy to find the best real estate marketing agency. That is why my team has gathered a list of the top real estate marketers around the nation, including:
The X Concept
Radiant Hosting
NicheZips
Brock Creative Projects
Blue Lynx Marketing
Marlin Consulting Solutions
DEV406
Greyroom Industry
28South Creative
Evergreen Growth Marketing
The factors you should consider when hiring a real estate website developer include social media setup and management, pricing, IDX-enabled website creation, and search engine optimization.
Our Directory of Certified Partners
Looking through our directory of certified partners is another great way to find a superior real estate website developer with the right skill set. Some of the certified partners that we recommend include:
Convos Automation
The Creative Vue
Tecflow
Real Estate Web Creation
Radiant Hosting
Idael Diaz Media Group
Mosier Information Services
Digital Eclipse
Frequently Asked Questions (FAQs)
Below, I have gathered answers to common questions about how to hire a website developer.
What questions should I ask a web developer?
Ask a web developer several questions before hiring one. Some possible questions include:
Will you use a template?
Is the website going to be responsive?
How much will the project cost?
Can I get support with mobile apps or social media integration?
What information do you need from my real estate agency?
What happens if I'm not satisfied with the design?
Have you worked with Showcase IDX before?
How much does it cost to hire a web developer?
The amount you have to pay a website developer varies greatly. The hourly pay for a web developer ranges from as little as $15 to as high as $100 per hour. On average, you can expect to pay a web developer anywhere from $40 to $75 per hour.
You will also need to figure out how many hours a particular project will take. For example, a six-page website can take about 12 hours, with two hours spent per page. If you pay a developer $50 per hour, the project will cost a total of $600.
A good ballpark is that a new real estate website could be as low as $500 – $1000, with a more reasonable range being $3000 – $6000 for a customized website with a modern IDX. Some developers will also have business models that include hosting too that may instead have a monthly price that allows you to have a lower cost of entry and ensure you have someone to keep your website up and running for years to come.
Where do I find a web developer?
As previously mentioned, you can find a great web developer in our directory of Certified Partners. You can also hire an excellent website developer through our list of the top real estate marketing agencies in the United States.
How do I find a good website developer?
When looking for a great website developer, you will need to set a budget for your project. Then, you also need to pick out the type of developer you'd like to hire. You can choose a freelancer, a marketing design agency, or a full-service agency.
You'll need to compare the prices and the portfolios of different website developers. Furthermore, you should read client testimonials to see what developer goes the extra mile.
What should I look for when hiring a web designer?
When hiring a web designer, you should find one with experience planning and developing the design of websites across many products and businesses. In particular, you'll want to hire a web designer who has experience with real estate websites.
If you need help with additional parts of your marketing, the best web designer should have expertise in content management systems like WordPress.
How To Hire a Website Designer for Your Real Estate Website
When hiring the best real estate website developer, use the advice within this guide and look through our directory of Certified Partners. Soon, you'll have a great real estate website and plenty of clients knocking on your door!