There's no doubt that building a successful real estate website is key to growing your business in today's competitive market.
Your website is the face of your business. It's where people find out who you are, what you offer, and why they should hire you. Whether you're a newbie agent or a seasoned pro, there's always room for improvement when it comes to your real estate website design.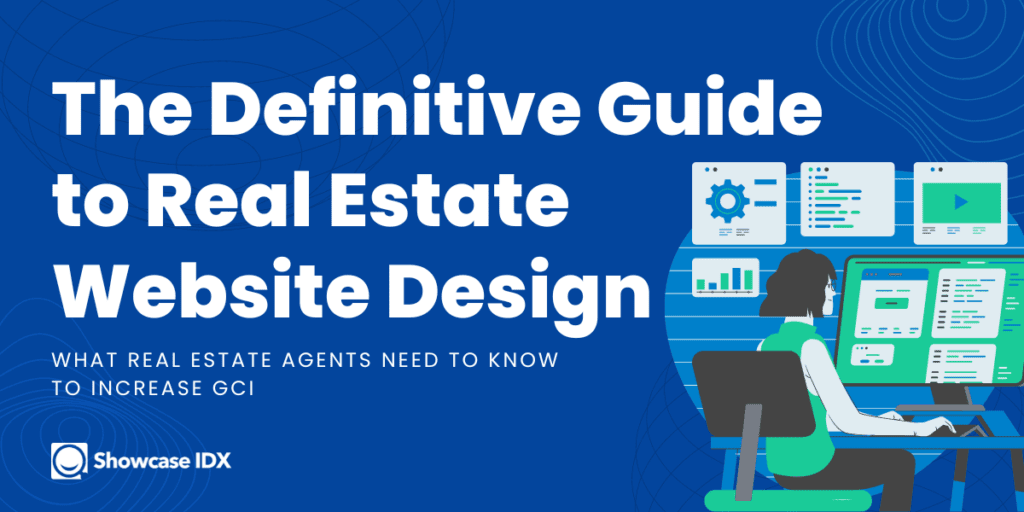 This guide will show you exactly what you need to know to create a killer real estate website design that converts visitors into leads and, ultimately, clients.
What Is Website Design?
Web design is the process of creating a website. It includes the layout, colors, text, images, and anything else that appears on a website. Additionally, web design must combine your online presence's aesthetic appearance and usability.
Why Does Website Design Matter for a Real Estate Agent?
Your Realtor website is one of the first things potential clients will see as they consider working with you. There's no second chance for the first impression, and that applies more so in the real estate industry. There are several reasons why real estate web design is essential for your business. Here are a few of the most important ones:
A well-designed website builds trust with visitors
It showcases your professionalism
It establishes you as an authority in your field
A well-designed website helps you capture more leads
It gives you a competitive edge over other agents in your area
A good real estate website designer focuses on mobile-friendly and responsive design. More than half of all web traffic comes from mobile devices.
How much homebuyer traffic comes from mobile, tablets, and desktops? I have unique insights into the data, as Showcase IDX provides the home search on thousands of agent websites across hundreds of brokerages and teams. Here's what the first two quarters of 2022 look like across all real estate agent websites:
55.1% mobile
42.4% desktop
2.5% tablets
Therefore, building a website that provides an enjoyable experience on laptops, desktops, tablets, and cell phones is critical. Without a great mobile experience, you risk losing potential clients as they leave and go to a better home search experience.
What Should Your Website Include?
There are certain elements that your agent or Realtor's website must provide for visitors.
A Modern IDX & Home Search Tools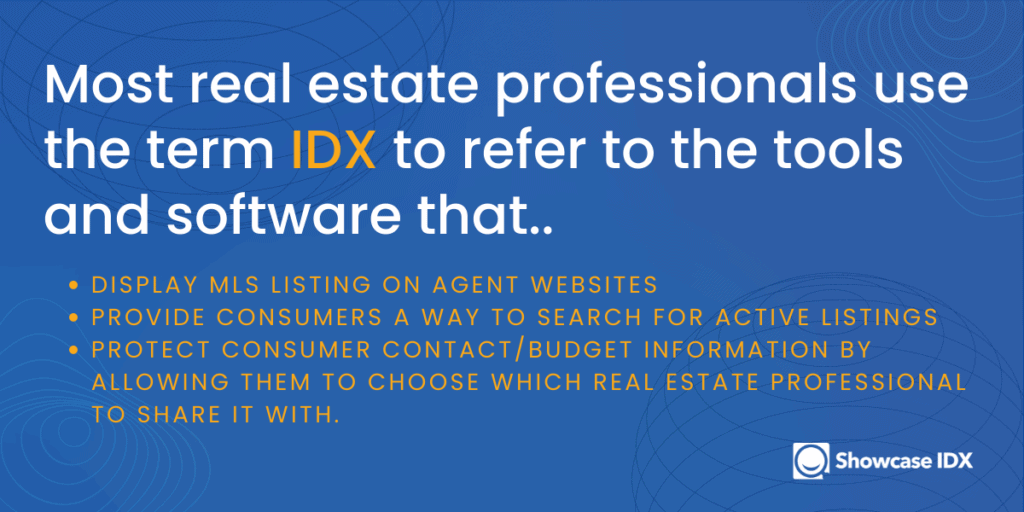 An IDX, or Internet Data Exchange as defined by the National Association of Realtors, is a system that allows real estate professionals to display real estate listings from MLSs such as Arizona Regional Multiple Listing Service (ARMLS) on their website. An IDX feed will automatically populate your website with accurate and up-to-date listing information. There are several advantages of using IDX on real estate websites.
Increased traffic: Real estate IDX will help drive more traffic to your website as people search for listings in your area.
More leads: IDX listings include lead capture forms that allow visitors to inquire about a listing. These leads are then sent directly to you.
Improved SEO: IDX can help improve your website's SEO as it will add fresh content to your site regularly. The SEO for the real estate process can help you rank higher on search engine results pages.
Increased visibility: Internet Data Exchange will make your listings more visible as they syndicate to other websites and portals.
Keeps competitive agents from contacting your clients: When your clients use Zillow/Redfin/Trulia/etc., their contact (and budget) information is shared with another agent that will contact your client. A modern home search will provide your clients with the experience and tools they need to conduct their search on your site. This also allows you to protect your clients' information.
When choosing an IDX website provider, look for the following features:
Mobile-responsive design
Lead capture forms
Variety of customization options
No iframes or subdomains
Support and training
Featured Listings
In addition to an IDX feed, your website should feature the listings from your team or office. This will attract potential buyers and sellers to conduct property searches for your real estate firm and will help you pass any vetting when buyers are deciding which real estate agent to work with. Buyers/sellers vet three agents on average before picking who they work with, so you want every advantage in your favor.
Testimonials and Reviews
Social proof is one of the most important real estate website design elements. It helps build trust with potential clients by showcasing what others say about your work. As you work with real estate website design companies, discuss how to showcase client testimonials and reviews on your website.
Video testimonials: Video is a powerful way to connect with potential clients. It allows them to see and hear from your past clients in their own words.
Written testimonials: Display the written testimonials in a slider or carousel on your homepage. Or, place them on individual pages dedicated to each testimonial.
Logos of past clients: For those designing websites for real estate agents, showcase the logos of well-known brands or companies you've worked with on your website.
Contact Details
Make it easy for potential clients to get in touch with you. You can include contact information in the header or footer or create a dedicated contact page.
Your contact details should include the following.
Your name
Your title
Your firm's name
Your phone number
Your email address
A link to your contact form
Social media accounts, if you're active on one or more channels and respond to comments/DMs on them. If not, leave this off your contact form.
Quality Photographs
High-quality photos help potential buyers and sellers visualize the properties you're representing. There are a few things to keep in mind when choosing images for your website.
The quality of the photo: Make sure the images are clear and free of blurriness or graininess.
The composition of the photo: Compose each photograph to highlight the property's best features.
The size of the photo: Your photos should appear properly on all internet devices.
Frequency of use online for any stock photos: Licensed photos from stock image sites can be great and cost-effective. Just make sure that the image you choose is not used too frequently online. I've seen great, infrequently used photos from free sources such as Unsplash, but I also often see web designers using the same 3 – 10 featured real estate photos from it, iStock, Adobe image, etc. Choose good quality photos you haven't seen used before.
Blog with Helpful Information
A blog works well to show your expertise and build trust with potential clients. It can also help improve your website's SEO. When developing your content marketing plan, focus on topics that would be of interest to your target audience.
Some ideas for blog topics include the following.
Real estate market trends in your area
Tips for buying or selling a home
The home buying/selling process
How to stage a home for sale
Design trends for remodeling a home
The benefits of working with a real estate agent
Not every piece of content on your site needs to be 2,000+ words, but things have definitely shifted from the day when you could get a freelancer or virtual assistant (VA) to write 250 – 750 words on just about any topic and rank. People and search engines want more. The length is less important than useful, concise information. If you can say in 750 words what would take someone else 2,500 words, your content will win with both humans and Google.
Pro tip: Skip Fiverr for any content. Run a quick test with three writers from HireMyMom or Upwork. Pay them all for their work on the same article. Then, pick the one you prefer and work with them on future content.
Lead Capture and Contact Forms
Your website should include lead capture forms to collect information from potential clients. You can use this information to follow up with them and nurture the relationship. These should be built into the home search experience as well. As an example, Showcase IDX has more than a dozen calls-to-action (CTAs) and lead forms to help you connect with a visitor and then send their information to your preferred CRM (e.g., Follow Up Boss, Liondesk, kvCORE, etc.).
Social Media Integration
Make it easy for visitors to connect with you on social media. Do this by adding social media icons to your website and linking to your profiles. Also, consider showcasing your social media marketing activity on your website with a feed of your latest posts.
⇒ Click here to get 300+ free real estate social media posts to use on your channels.
Customized Maps Integration
Every IDX will enable maps on your website as part of the search experience. This allows potential buyers to see the location of each property and find out more about the surrounding area.
Some IDX vendors use Google Maps and limit the customization possible by your site, while others use MapBox and/or offer the ability to customize the look and feel of the maps used on your website.
Be careful of additional fees too. For example, IDX Broker does NOT provide maps as part of their license fee and requires you to sign up for a Google Maps API account. While three Google accounts do include up to 28,500 map loads, it can be confusing how those are counted/double counted, and the price for your IDX integration will go up. Check out these IDX reviews to make sure you make a wise decision for your business.
Benefits of Website Design for a Realtor or a Real Estate Business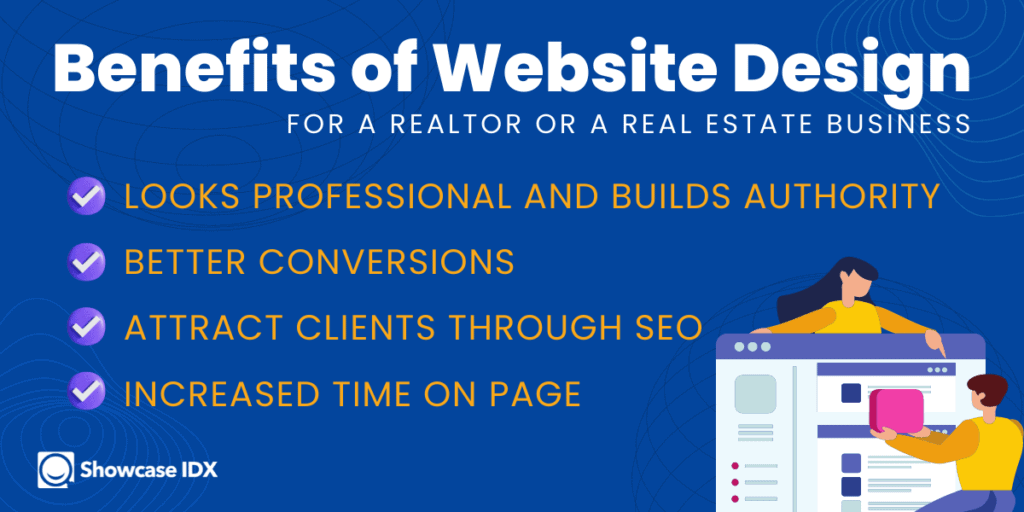 Several benefits exist when you take your real estate web design seriously.
Looks Professional and Builds Authority
When you have a well-designed website, it helps you look professional and build authority in the eyes of potential clients. You'll look like the better choice compared to local agent competitors who fail to use effective web design.
Better Conversions
A well-designed website can help increase your conversion rate. Increased conversions occur as visitors enjoy your user-friendly and easy-to-navigate website. Potential clients who have a positive experience on your website are more likely to contact you or fill out a lead capture form.
By using a clear call-to-action and making it easy for visitors to contact you, you'll notice an increase in leads and sales.
You may also want to consider "conversion" applying to the percentage of visitors to your site that leads to a closed transaction and not simply the portion that sign-up on your site. Make sure you check the research to see if homebuyers will actually use the IDX and home search provided on your site.
Attract Clients Through SEO (Search Engine Optimization)
Search engine optimization is the process of optimizing your website to rank higher in search engine results pages. When potential clients search for real estate-related terms, you want your website to appear as one of the top results.
Web design elements that can help improve your real estate SEO include the following:
The use of keywords
Title tags
Meta descriptions
Header tags
Anchor text
Internal links
Pre-rendered IDX data and content
Increased Time on Page
Real estate website visitors who enjoy your content will spend more time on your website. This process lowers your website's bounce rate and can help improve your SEO ranking.
Google monitors how long visitors stay on your website. When they visit your website and quickly leave to go to another agent's website or Zillow, Google sees that, and its algorithm interprets that pattern as confirming that your website does not meet the searchers' needs thus the search engine may decrease your site's rankings. Keep the visitor on your website with a good home search, and your rankings will increase. Note that Google considers a subdomain as a different website.
Including helpful and informative blog posts on your real estate website is one way to keep visitors engaged. Another way is to use high-quality videos throughout your website.
How Can Website Design Boost GCI?
At the end of the day, you're working hard to increase your Gross Commission Income (GCI). Throughout the entire client relationship, you need to show your expertise, provide excellent customer service, and prove your worth.
Real estate website design can help you boost your GCI by aiding you in building these vital client relationships.
A well-designed website helps you look professional and builds trust with potential clients. If your website shines head and shoulders above competitor websites that prospects look into, you'll discover these prospective clients gravitating toward working with you instead.
Examples of Successful Real Estate Agents' Website Design
It always helps to see excellent web design in action to fully understand how to create your real estate website. Here are three examples to model.
The first example is a California real estate agent named Jay Valento.  You'll first notice when visiting his website that Jay understands his target market. You're met with luxurious pictures that represent the area he sells in.
The navigation is simple and easy to use. You'll notice that only seven menu options exist:
Search
Beach Homes
Condos
Lifestyles
Hot Topics
Blog
Contact
If a visitor wants more options, they can scroll down to see items such as "Active Adult Communities 55+," "Balboa Island Homes," and "Long Beach Neighborhoods."
Clicking on any of the communities provides visitors with a clean overlay to view hyperlocal information on that area and active listings for sale. Or, they can easily search MLS listings and look at properties in Huntington Beach, Belmont Heights, Seal Beach, Spinnaker Bay, and other desirable Los Angeles areas.
Property listing pictures are clear and provide the proper context for clients looking to buy in this area.
Scrolling down the home page provides a clear agent picture and a quick bio. Finally, the home search video walks through all the ways you can search on the website and collaborate with others on your search.
Next is Sue Adler's real estate website. In stark contrast to Valento's website, you'll notice that Sue focuses on substance over style. Prospects immediately see a map of the New Jersey area where Adler sells properties. On the map, a visitor can click to see homes for sale, watch a town video, or gain an understanding of commute times.
Adler invites visitors to engage in a chat conversation using a chatbot option to get questions answered. On the left side of the website, prospects can find listings with four clicks. To start viewing potential properties, they simply need to click on the area, price ranges, and the "Search the MLS" button.
Underneath the search box is a video from Adler where she immediately teaches prospects about current economic times, how COVID-19 changed buyer priorities, and trending features. It's a great strategy to show value first, so prospects start to trust their new real estate agent.
The menu area focuses on searching homes, browsing by towns, providing home sale statistics, buyers' and sellers' needs, Adler's blog, and how to meet her team. Visitors can also use the menu to contact their agent via phone or contact form.
This example is real estate agent Ginger Martin, whose website uses a clean design with easy navigation. The menu offers a clean look, similar to the first example with Jay Valento. It includes the following.
Who we are
Our properties
Phone number
Contact
Expand menu
The video slideshow presentation that greets visitors helps new prospects immediately understand the types of properties Ginger Martin can help them move into.
Clicking on "View All Listings" in the middle of the presentation brings visitors to all of Martin's listings. Each featured listing provides the number of bedrooms, baths, and square footage to help visitors decide whether to click through or not.
The pictures are one of the best things you'll notice about this website design. Each image provides a clear representation that "pops." Clicking into a property listing gives you the address, property status, and full description. Everything is crisp, to the point, and clear.
Scrolling down the home page provides visitors with a clear agent picture. Martin provides a simple two-paragraph bio section with an option to click through to learn more about her and her team.
The "As Seen In" section builds immediate credibility. The testimonial section builds on Martin's credibility as it reveals how she helps in the words of real clients.
Finally, the property spotlight video at the bottom of the home page reveals an element of professionalism that all prospects want to see. The video shows beautiful homes and surrounding scenery to encourage visitors to turn into leads.
These three real estate agents have different target markets, but they all use excellent web design to help them succeed. Use these ideas to help create a website that helps you attract more business.
Mark's website provides social proof that makes it easy to understand why Mark is the #1 listing agent in the country and why his team has grown so quickly.
The site highlights the thousands of 5-star reviews across Zillow, Facebook, Google, and others, while the hero video at the top highlights Mark's personable nature.
There are great calls to action, including how to receive a cash offer on your home, a mortgage calculator, and options for looking at new construction.
The home search uses a modern home search that integrates multiple MLS feeds and removes duplicate listings if a property is covered in more than one MLS, including markets in:
Georgia
Tennessee
North Carolina
Florida
South Carolina
Alabama.
The dynamic website does a great job of providing a foundational digital presence, a hub for all of the team's real estate marketing, a property search buyers will actually use, and information on Mark as a real estate broker.
Top Website Design Tips To Keep In Mind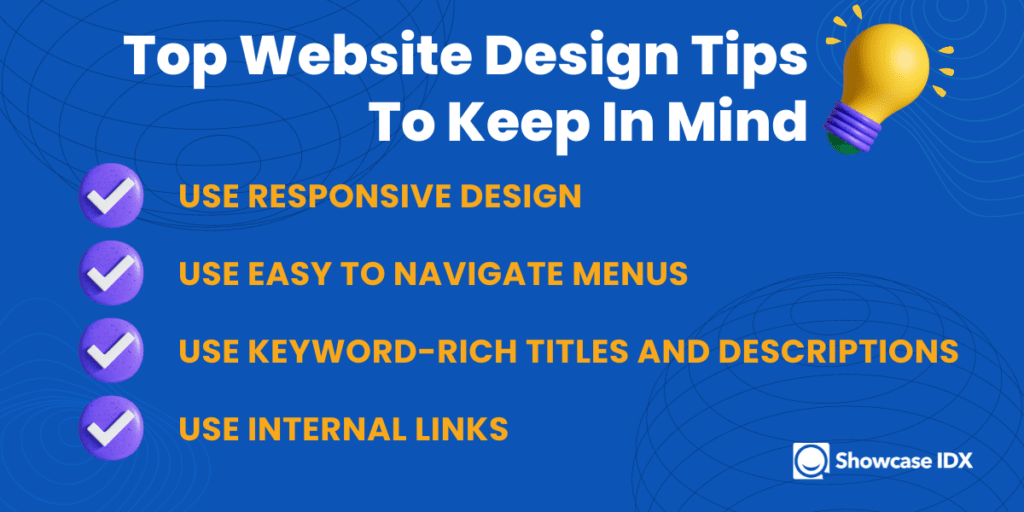 Let's review website design tips that add to the previously mentioned items like featured listings, quality photographs, blogging, and social media integration.
Use Responsive Design
Always use responsive design with your real estate website. Responsive design refers to a website that automatically adjusts its layout and content based on the device a person is viewing it on. A non-responsive website can frustrate users, leading them to leave your site and look elsewhere.
Use Easy To Navigate Menus
Make sure your website's menu remains easy for visitors to understand and use. The last thing you want is for potential clients to get lost on your website or not find the information they're looking for.
A well-designed menu uses clear and concise labels. The menu items should be easy to find and click on. If you have a lot of pages on your website, consider using drop-down menus to keep your menu tidy.
Use Keyword-Rich Titles and Descriptions
Use relevant keywords throughout your website's titles and descriptions to help improve your real estate SEO ranking. Using keywords strategically makes you more likely to appear in searches related to those terms.
Title tags and meta descriptions are two critical places to use keywords. A title tag is a headline that appears on the search engine results page (SERP) when your website comes up. A meta description summarizes a website that also appears in the SERP.
Use Internal Links
Internal links are hyperlinks that connect one page on your website to another page. They're important for several reasons, including the following.
They help search engines index all the pages on your website
They help users navigate your website
They improve the user experience
They help boost your SEO ranking
When creating internal links, use keyword-rich anchor text. Anchor text is the visible and clickable text of a hyperlink. For example, if you have a blog post about home buying tips, you might use the following as your anchor text: "For more home buying tips, check out our blog post."
Why Is a Modern IDX Essential for Your Website?
Previously, you learned that including IDX on your website helps increase traffic and lead flow. However, it's important to note that you should use a modern version of IDX.
In the past, you found IDX through MLS (Multiple Listing Service) websites only and were often limited to the poor options provided by some MLSs. However, these days you can find many different IDX providers that will integrate the system into your website. The biggest choice is between if you want an all-in-one platform or a combination of best-of-breed point solutions (e.g. pick your preferred Customer Relationship Management tool like Follow Up Boss and your preferred IDX engine like Showcase IDX).
Older IDX websites used subdomains and iframes to pull MLS information onto realtor websites. You can't use these older systems anymore. The older IDX versions block your search engine optimization efforts. There's no point in using systems that hurt your ability to rank well on Google.
Instead, make sure to use a modern IDX method that helps you include home listings in a Google-friendly manner. Modern IDX plugins help you easily incorporate the following features on your website.
Market information
Pictures
Neighborhood information
Videos
Virtual tours
Modern IDX options also let your visitors save their searches for later use, improving the user experience. As a result, visitors will stay on your website longer and visit again and again as part of their homeownership journey. These signals help Google rank your website over competitor websites.
The other consideration here is that you don't need to focus as much on generating new leads. Instead, your bigger opportunity lies in helping your current sphere of influence and past clients see your website as the solution over larger real estate portals.
Of course, you need to continue generating new leads. Don't forget about the repeat business and referrals you can generate by using modern IDX.
FAQs
You may still have questions about real estate agent website design. Let's answer two commonly asked questions.
What is the cost of real estate web design?
Real estate web design costs can range from a few hundred dollars to several thousand. The cost depends on the features you want to include, the design complexity if you require a custom design, and whether you build it yourself or hire a real estate website design company.
The cost may also be impacted based on if you're using a real estate web design company that has built hundreds of sites before or a web designer that has experience building great websites in other areas and is just now breaking into real estate and working with IDX.
What are the best real estate website templates?
The best real estate website templates are easy to use, provide a modern design, and include the features you need. Here are three top-notch templates to look into.
Resources
If you need additional resources about designing an effective agent or Realtor website, consider using the following resources.
The Ultimate Guide to IDX Real Estate: Learn more about IDX technology, its history, and how it can help you sell your listings faster.
Introduction to SEO: Basics of Search Engine Optimization: Gain an understanding of the importance of SEO as a marketing strategy for real estate professionals. Discover how to use on-page and off-page SEO techniques to help your Realtor's website rank better.
Everything You Need to Know About Real Estate Photography: Discover how to take better photos for your real estate website. You'll also learn how to choose the best tripod and camera.
Conclusion
Many people don't understand the importance of having a strong visual identity when it comes to website design. For real estate agents, this means creating a site that looks professional, clean, and easy to navigate, which is especially important when trying to attract new leads, potential customers, and long-term clients.
A modern IDX is crucial to a successful website design. And for this, you have to look no further. Try out Showcase IDX today.