Finding potential customers can pose challenges, especially as you establish yourself in a new area. Instead of trying to tackle them alone or expecting people to find your real estate business, you must consider ranking factors to succeed and stand out among others.
If you need assistance, you'll have to work on your search engine optimization (SEO) to reach more people. Since the most prominent businesses on the market will get people through SEO, you'll need to focus on local SEO to reach your ideal demographic.
However, to improve your local SEO, you must understand what it entails, why it matters, and the strategies that matter to you as a business owner. Instead of going into it without direction, you should focus on your SEO efforts to appear in a Google search.
What Is Local SEO?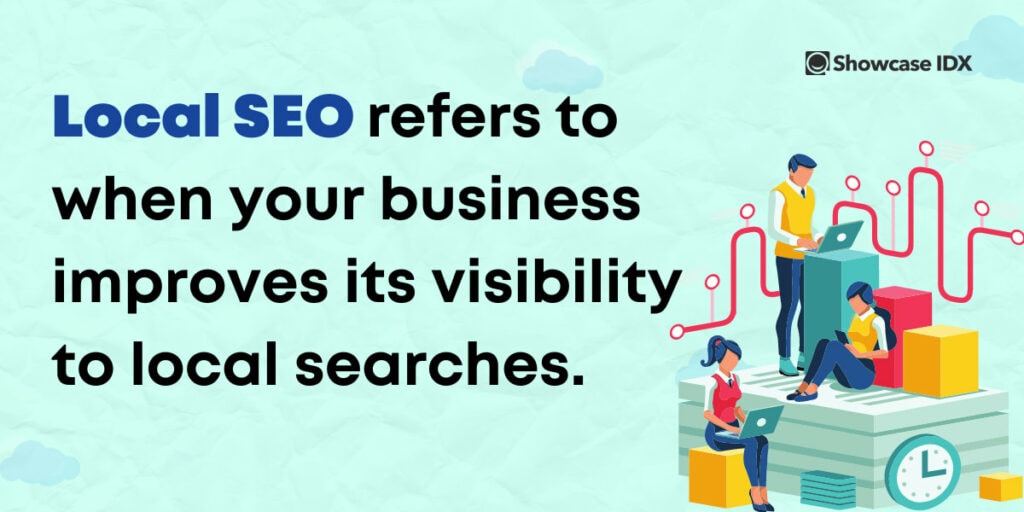 Local SEO refers to when your business improves its visibility to local searches. For example, if people perform mobile searches to look for "real estate agent near me," you'll want to appear in those searches if you work in their area and focus your SEO on that location.
Doing so means optimizing a relevant keyword through a keyword research tool so you move up in the search algorithm. Instead of expecting people to find your real estate business, you'll want to create a Google business profile to reach potential customers.
The process involves creating profiles for social media channels so people discover you. Not only do they help you with search performance, but they'll build your credibility in the local market. From there, you'll move up in the local search rankings and reach more people.
As you focus on your SEO, you'll boost your organic traffic, which means people find you through searches if you have a high organic ranking. You'll then appear in searches for people in your area as they search for a business listing.
Your local SEO efforts allow you to move up in the real estate business category. From there, local customers will see your business first while they look for help with their real estate needs.
What Does Local Search Mean?
A local search means Google understands where you perform a search, so they'll display information on Google Maps. If you search for "restaurants near me", you'll receive a list in a map pack based on the local SEO of your current area.
As you perform these searches, Google utilizes multiple points to determine which ones you should see. They include online reviews, the distance, a four- or five-star rating, and similar matters to determine which ones appear at the top of the business directory.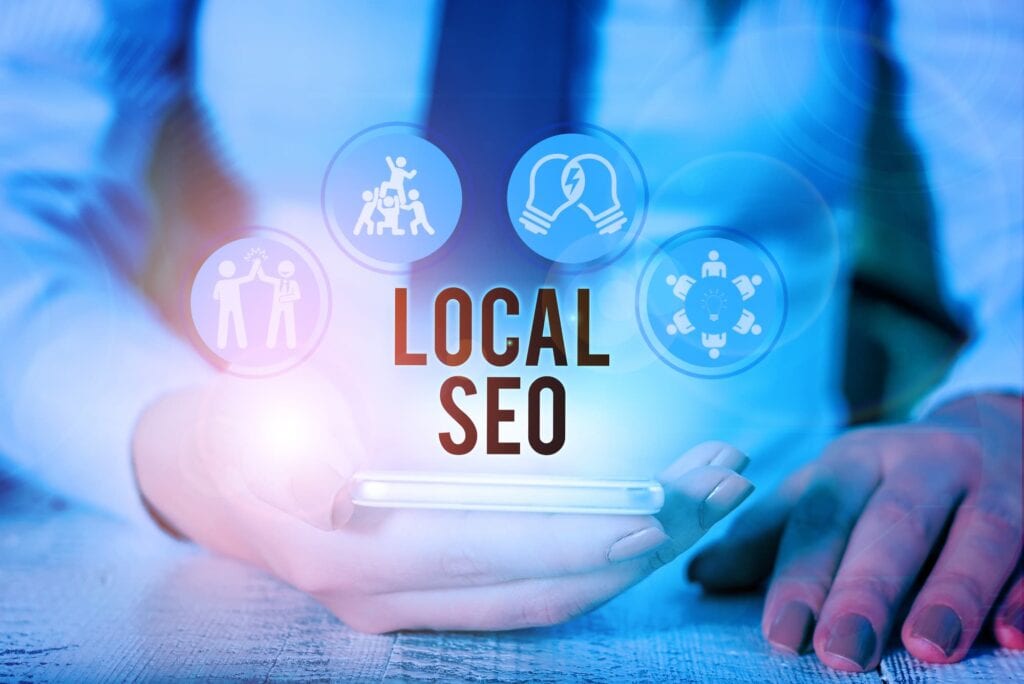 For example, if you search for a typical fast food place in New York City, you'll get results for the ones with positive reviews near the top and negative reviews at the bottom. If you search the same term in San Francisco, you'll get results for ones in that city rather than New York.
Local SEO helps find relevant searches, so you and others will find relevant businesses and information. Google even considers business hours and lets you know if they're closed, so you don't waste time stopping by rather than checking online.
Working with SEO helps more people who use a search bar for real estate assistance to appear in your area.
Why Is Local SEO Important for Realty Agents?
Since you work as a real estate agent, you may question why you should bother with a Google My Business account or SEO. If you work with people in person, does it matter? However, as you take advantage of local SEO, you'll notice various benefits that make it ideal for real estate.
Boosting online visibility and brand awareness
A cost-effective option
Finding more of your target audience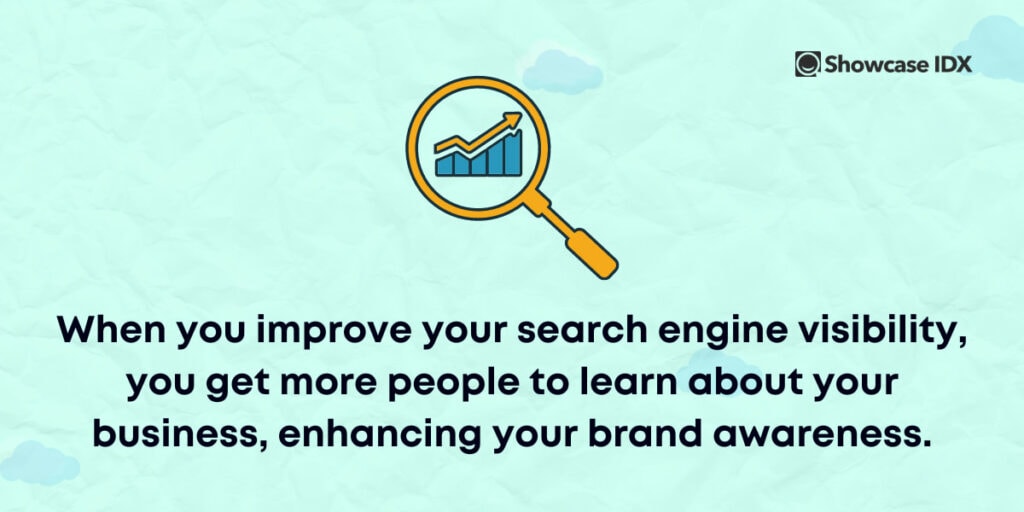 When you improve your search engine visibility, you get more people to learn about your business, enhancing your brand awareness. As more people recognize you, you will increase the SEO rankings and get more traffic you can turn into clients.
On top of that, you'll find SEO a cost-effective option as you focus on search terms and link-building strategies. Local SEO offers an excellent return on investment, meaning you'll make more money than you spend and help your business profit from those efforts.
As you optimize for local search terms, you'll move up the ranking signal for significant search engines. As a result, you'll reach more of your target audience, meaning you'll get more customers who want to buy or sell homes in your area.
Focusing on local SEO would help since it impacts your real estate business and increases your search traffic. Ensure you focus on the vital parts of SEO to expand your online marketing while developing relevant content for your target audience.
Local SEO Tips for Realtors
While working on your local SEO will help you reach more people, you'll wonder what you can do to improve it. You must work against your direct competitors and improve your rankings over time, so how do you accomplish that?
While building your SEO takes time and effort, you'll find the action worth it as more people discover your real estate business. You'll want to review the everyday tasks associated with local SEO to see happy customers, seek link opportunities, and build your online presence.
Optimize for Google Business Profiles
Even if you have limited resources, you must start by working with Google My Business. The tool allows you to create a page for your business, so you'll appear in more local searches. Once you create a page, you'll enjoy multiple features and benefits.
Adding new listings
Responding to online reviews
Updating your address and information
Such tools matter since they let you interact with your customers while keeping them informed about your business. If you verify your listing with Google, you'll see immediate results, letting you get a better SEO audit in the future.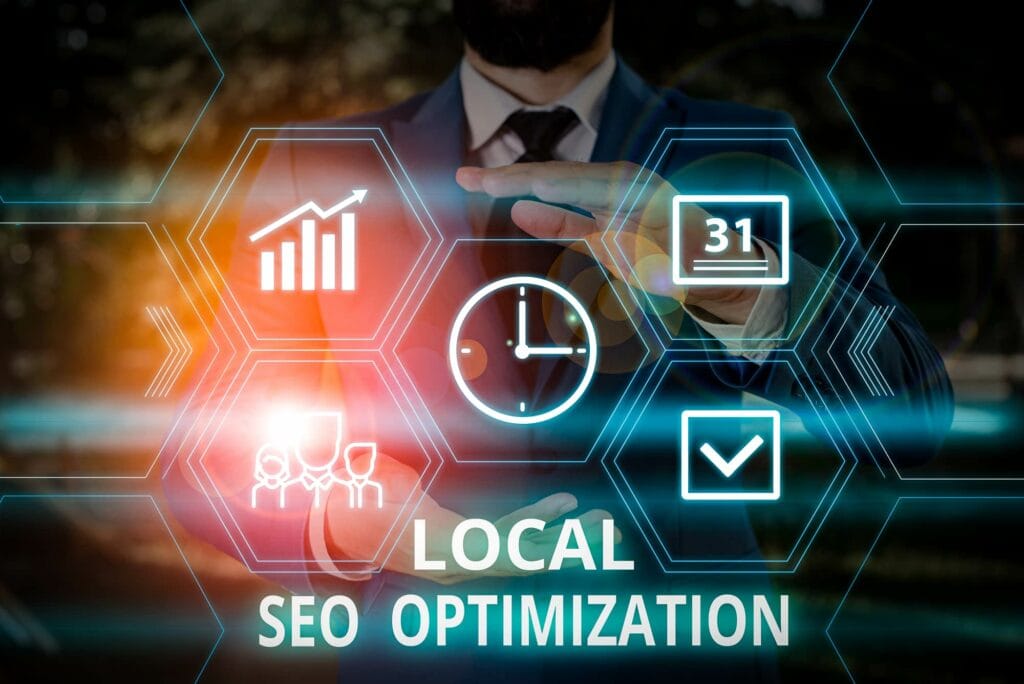 However, if you want to optimize your Google My Business page and presence, you'll need to utilize some crucial tips. So ensure you spend time reviewing them, considering search queries, and doing what you can to focus on ranking factors.
Create a Google My Business Page and Verify It
After you decide to get involved with Google My Business, you'll need to create a Google account followed by a page. Creating a page doesn't take long and is free, so you'll add the business name, its location, and other details for Google to identify it.
Once you verify it and follow more steps, such as personalizing it with photos, you'll make your business more visible on Google. After Google recognizes it as an official business, you can utilize inbound links and similar approaches to increase your search volume.
Once you establish your business profile on Google, you should look through some Google resources to improve your SEO. Doing so adds you to online business directories, so you'll get more results, responses, and real estate clients to make money.
Encourage Customers To Share Reviews Online
You'll want to encourage your customers for reviews once you establish a page. As you get more reviews and online traction, you'll improve your SEO. Doing so means adding your business to major review sites and various review platforms to reach more people.
If you allow people to post reviews on these sites, you can also direct them to Google reviews, so they'll help your ranking further. Ensure you ask for positive customer reviews after you work with someone, so they'll boost your numbers.
Not only will this help you with SEO, but with your visibility. More customers rely on good and bad reviews to understand services. They'll go to third-party sites along with Google to do their research, so you'll want to make your presence known.
You may feel tempted to exchange for reviews, such as giving people free products. However, you should avoid this and fake reviews since doing so can harm your ranking. On top of that, fake reviews and offering compensation is illegal in certain areas, so avoid this risk.
Never offer money in exchange for good reviews since doing so can lead to severe consequences and fake reviews. Focus on your marketing efforts by offering excellent service while encouraging your clients to leave positive reviews through a review link.
Respond Authentically to Customer Reviews
As people leave reviews for your business, you can leave replies to address them. Doing so on positive reviews shows your customers you care about them, so they become willing to work with you in the future if they need to sell their homes and move.
The replies also show others that you pay attention to your reviews, so they'll ensure their review counts. You'll also establish your business as trustworthy, honest, and grateful to its customers since you recognize their value and appreciate their replies.
Don't panic if you get a few poor ratings. You can respond to them to address any concerns and ask them to reach out if you can fix it. For example, if they felt they didn't have a good initial interaction with your services, see if they'll meet again to make amends.
Even if they never turn the review around, people appreciate the effort. Others will see how you handle negativity, so they'll know whether you take a positive or negative approach. Either way, you can benefit from responding to customer reviews on these sites.
Do your best to respond authentically rather than generating a generic response. Avoid copying and pasting responses since people will notice them and view them as a business practice rather than a desire to make your customers happy.
Keep Up-to-Date Information Current
Nothing frustrates customers more than looking up a business, trying to visit or call it, and finding out the information no longer works. Because of that, you should immediately update all your information whenever you make changes to your business.
If you get a new address, immediately update your Google Business page and anywhere else you list the information. The same applies to your social media pages and website, so you'll cover all the necessary contact options.
You'll want to do the same with any phone number associated with your business. Ensure you also update any business names if you change them. For example, you may partner with another realtor and combine your names to create a new business name.
It will help you keep people informed, and new customers can easily reach you. If you don't update the information, they may assume your real estate business no longer exists, so they'll turn to a competitor rather than reach out for your services.
Do your best to consider these changes as needed. You should also secure consistent information, such as having the same email address, to minimize mistakes. As you keep track of these details and update them, you'll allow more customers to reach you.
Mark Up Your NAP
Going to the next tip, you'll want to work on your name, address, and phone number (NAP). You don't need to change them frequently; NAP listings matter since you want to keep them consistent between different pages and websites.
If you keep your NAP listings consistent, Google will check the information and correctly display it to visitors. You should use Schema to verify your data with Google, so they'll share it and know how to present it to people.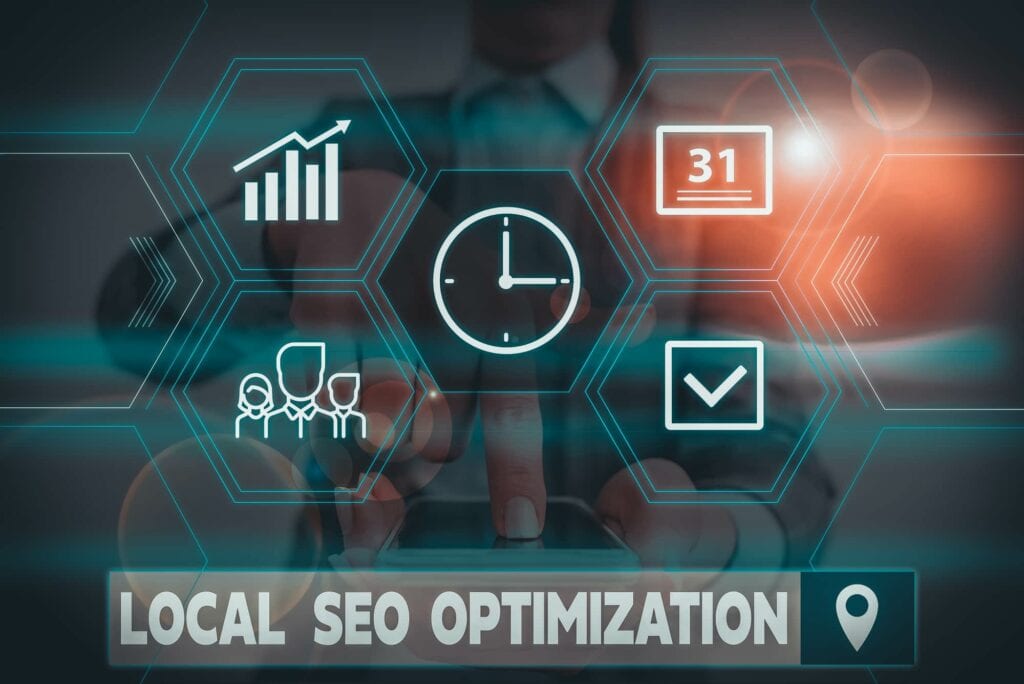 Making your NAP consistent applies to every part of your website. For example, if you have small text or other details with the previous information, you'll need to tackle them if you want to update your NAP and make it Google-friendly.
If you want to make the process easier, hold the control button and press f on your keyboard. You can search your old address to see if it appears anywhere on your website. Repeat this step for other websites and each page to ensure you have covered everything.
You can also hire someone to update the information and save time. As long as you address all the details and do what you can to make everything consistent, Google will know what to share with people to get them in contact with you.
Online Directories and Citations Optimization
You'll come across two business types: those in online directories and those that aren't. You'll enjoy benefits when you get on a directory, such as increasing your visibility and exposure. However, you could face lower traffic if you have an inaccurate listing, so check them regularly.
Instead of expecting yourself to end up in one magically, you should put forth the effort and get yourself in directories to reach a wider audience. As you put it in the guide, check it along with the citation information to ensure you have accurate details.
If you notice any inaccuracies, address them immediately and consider a NAP citation to assist when possible. You should also ensure they're accurate between different sources while looking for duplicate listings, so you can remove and update them as needed.
Online directories can help customers find you. However, if you don't optimize the listing, you won't get many results in search engines. Because of that, you must focus on accuracy and consistency between the various listings to avoid problems and lower rankings.
Optimize Title Tags, URLs, Meta Descriptions, Headers, and Content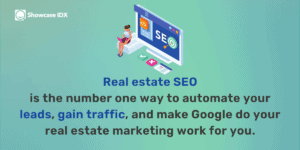 People focusing on updating their websites and Google may overlook another crucial part of SEO. To improve your local SEO, you should work on tags and create different content to make your real estate business appear to more customers.
To work up the SEO ladder, you must consider a blog to create more content. When you create a blog, you add a new page to help you target a geographic search term, so the people near you see your website when they look up information about real estate.
Doing so helps you get found through the search engine result pages (SERPs). As you work on different blog posts and pages, you'll want to optimize various parts, including the URL, titles, headers, meta descriptions, and the content in the body.
If you find it challenging to find content that relates to your geographic location, you should focus on customer success stories and case studies. Doing so will help you optimize your pages for "near me" searches on various search engines.
As you maximize your local SEO, do your best to include information throughout your various tags. Get into the habit of adding local aspects to your business, so you'll build your near-me SEO with time and get more people to come across your real estate business.
Don't Forget To Add Location Pages
While focusing on content and websites, you must consider location pages. Location pages matter even more for real estate since people must know crucial details about your business, such as the address, available hours, promotions, and client testimonials.
Create duplicate content to make the process easier. However, you should only duplicate information for location pages if you have more than one physical address for your business. Otherwise, your traffic will drop, and you could confuse your target audience.
If you want to make it simpler and easier to manage, you should make a location page for each address while adding more locations to each page. For example, if you have locations in Virginia and Maryland, you can create separate location pages for each state.
Ensure you take advantage of an About Us page to offer more information to your customers. Feel free to add any useful information while incorporating a Google Map to show people where they can find your business.
Don't duplicate the content if you decide to make location and About Us pages. As you focus on these pages, make them unique, and focus on organization, you can create multiple pages to help with your SEO while providing information to your customers.
Focus On Building Local Content
Since real estate agents focus on work near them, local SEO continues to play a major role in their success. Since Google continues to develop and create regular SEO updates, you don't need only to prioritize SEO but can utilize it while creating high-quality content.
You should focus on establishing yourself as a credible source for local content. People want to turn to you, read your content, and trust you to do your research. With that in mind, you should mention gatherings and community events.
You can also discuss news and education regarding real estate to keep your readers interested. You may want to focus on popular or top-of-the-funnel content, but such information won't help you with local SEO, so you'll want to create specialized content related to your area.
For example, you can create a map of your local area or go over different events happening near your city and related to real estate. Doing so will help you get more traction from local customers as they search for that information.
Such content helps you to make customers more comfortable with the area. As you focus your attention on what people in your area could use regarding your content, you'll build the right local content to help you gain more traffic and traction.
Provide A Mobile-Friendly Experience to Your Visitors
Even though you'll want to make content people can enjoy on the computer, you must consider the easy access of phones. Since 95 percent of Americans have smartphones, you should make your sites look good on phones, tablets, and various devices.
You should focus on a fast-loading website while minimizing the total scrolling needed to go through your pages. If people have to keep scrolling while on the phone, they'll probably leave and access a different website.
To minimize loading times, you must avoid graphics and flashy elements. They cause the load times to increase drastically, while some won't work with phones. Ensure you remove those parts to make your site load quickly while making it easy to navigate.
Ensure you perform tests to see if your site will load fast enough for a prospect or customer. If your website takes more than three seconds to load, people will leave it, meaning you'll lose that potential customer and potential sales with your real estate business.
Do your best to test your site on multiple devices, browsers, and operating systems. Doing so will help you identify issues with specific ones while looking for common issues. Ensure you work hard, focus on optimization, and make it mobile-friendly to boost your local SEO.
Get Authentic Customer Reviews
Improving your SEO means getting more customer reviews so your website gains traction and attention. If you plan to move up the local SEO rankings, you must get a good number of authentic reviews while having people consistently post them to maintain your standing.
Since negative reviews sometimes happen, you should focus on maintaining a good balance. Don't worry about a few bad reviews as long as you get positive ones. You could hire a professional review collection service to manage bad reviews while encouraging good ones.
While you'll come across common locations where people leave reviews, you must consider less-common areas. For example, you could see reviews and feedback on Facebook, Yelp, Foursquare, and various places, so watch them and see what others say.
You should talk with your current and previous customers to see if they'll leave a review. If they had a positive experience with your real estate work, they'd likely post a review to support your business on third-party websites, so talk with them and invite them to leave one.
You'll see your business improve and get more attention as you get authentic customer reviews. Since people regularly go through reviews to see which realtors they should work with, you can get more prospects by maintaining over four stars on review websites.
Link Building Is Important
As you work on your local SEO, you must consider two types of links: those from authoritative sites and those from local businesses. If you can strategically add them to your website without overloading it, you'll help your website rank and appear on Google.
You should start by focusing on links from authoritative sources. You'll want to focus on directories, educational websites, government agencies, and similar options. If you want a general guide, aim for .edu and .gov websites and any others you feel will help.
Doing so requires you to add those links and focus on ones related to real estate. Ensure you look into your area with these links, so you'll build your local SEO. Once you tackle those tasks, you can shift your focus to links from local businesses.
See if you can work on building links with partnerships, scholarships, and similar sources. You can even offer to make guest posts on other blogs to get more traction to your website while helping them get more attention through your efforts.
It all comes down to working on local sites before you shift your attention to local businesses. As you do so, you'll build a better reputation with different businesses and expand your real estate network, so you'll both receive benefits, making it a mutually rewarding business relationship.
Getting Started with Your Local SEO
As you consider your local SEO and identify the best approaches for improving it, you'll reach more people as a real estate agent. You'll get to improve your website and get more people to see it, so you'll boost your sales and work effectively while helping people with their homes.
If you need help with your real estate SEO, you should sign up for a 10-day free trial to see what SEO tools offer. As you try them out and see how they can help, you'll build a community and opportunities to reach people and help them find homes in the area.
FAQs What Realtors Need to Know About Local SEO
As you consider marketing and utilizing your SEO, you'll naturally have questions about how to go through them. Ensure you review frequently asked questions (FAQs) to see what people ask, so you'll receive quick answers through a valuable resource.
Who needs local SEO?
If you run a business or need to work with a potential customer, you must work on your local SEO, especially if you rely on helping others buy and sell homes. When you work on your local SEO, you take advantage of the search ecosystem and get more people to find your real estate business.
What does NAP mean in local SEO?
NAP means sharing your name, address, and phone number. However, it doesn't mean your personal details but your business information. That way, people know where to find your office and how to contact you for help when they have questions about your business.
How can I improve my local SEO?
Improving your local SEO means consistent optimization and keeping your business NAP up-to-date. If you need additional help with your SEO, find an SEO tool to help you focus on your website and spread your online presence.
Why is local SEO important for small businesses?
Small businesses must use local SEO to spread their presence and appear in an organic search. Since large companies prioritize the most searched terms, you'll need to focus on local SEO to get more clients and hits while drawing attention to your website.
What are local SEO strategies?
Local SEO strategies refer to actions you can apply to get search engines to prioritize your business. Local SEO strategies include publishing content, utilizing keywords, and updating your websites regularly, so see which ones you can apply.
Where can I find a website developer or SEO to help me with my website?
You'll want to work with a certified agency if you need help developing a website or working on your SEO. They can guide you through the details while helping you with search visibility, building your authority, and giving you additional tools to reach more clients.
Where can I find great examples of great real estate websites?
Instead of trying to develop a website on your own and hoping for the best, you should find excellent examples to see what you should do. Doing so will help you understand what approaches to take and the pages you must include to make it appealing.