If you're a realtor with a website, then you know how important it is to have a good IDX. With so many homes for sale online, having a website that showcases your listings in the best possible way is critical for your business. However, with the variety of IDX providers out there, it can be tough to decide which one is right for you. This blog post will compare three of the most popular real estate IDX solutions on the market right now: Showcase IDX, IDX Broker, and iHomefinder. Our goal is to help you decide which one is best for your specific needs. Let's go!

Company Overview
Showcase IDX
Founded in 2003, Showcase IDX started building real estate websites for agents that already had an IDX of their own. At some point, the company changed paths and decided to make a difference in the IDX and home search world. Today, Showcase IDX is the leading IDX software provider on the market across both plugins and all-in-one solutions. The Real Estate Standards Organization (RESO) spotlighted their efforts in 2019 in a case study on the current real estate technologies, including IDXs, property searches, and MLSs.
IDX Broker
Located in Eugene, Oregon, IDX Broker provides agents with a group of plugins and expansive MLS coverage. This IDX provider is a default choice for many brokers and web developers due to its strong ties with many marketing firms. This company has invested quite a bit in product updates and marketing in recent years.
iHomefinder
iHomefinder was established in 1997, making it the oldest of the three IDX providers. For over 20 years, the firm has collaborated with top producing brokers to provide real estate website solutions that help agents operate more effectively and expand faster. iHomefinder is popular with agencies because of its MLS coverage and API access to developers who want to build custom software. The company is headquartered in Berkeley, California.
Strategy
Showcase IDX
Showcase IDX's strategy is pretty straightforward: focusing on one thing and doing it incredibly well. For several years now, the company has dedicated all its energy and resources to nurturing its IDX and home search, all while its competitors expanded into different product categories and sometimes competed with their developer/agency partners. The firm has achieved several objectives from its foundation, including raising a private equity round, expanding its team, and making house hunting even better.
Showcase IDX was acquired by eXp World Holdings in August 2020, yet remains a standalone, independent company. For its customers, the new arrangement means still having access to the platform but with new resources, more improvements, and innovations to the home search experience. Showcase IDX has a proven track record of using agents' data right and never sharing lead information with any other company.
IDX Broker
IDX Broker's main objective is to assist real estate professionals in developing their Internet presence and converting inquiries into leads. The company stands out for its multiple plugin options and marketing solutions. For agents in need of a real estate website, IDX Broker can help design one using their IMPress IDX plugin. That way, there's no need to work with a developer.
In 2020, IDX Broker was acquired by Elm Street Technology, a marketing and technology company that provides services to the residential real estate sector through a simplified platform called Elevate. The company integration expanded the range of services in a mission to create an end-to-end solution for real estate agents.
iHomefinder
Like IDX Broker, iHomefinder has a diversified strategy that centers on providing real estate agents with everything they need to succeed in a single IDX website solution. iHomefinder search engine and market intelligence platform offers a suite of products to help agents connect with buyers and sellers.
The company's flagship product, Optima IDX, provides users with accurate MLS Data access, property listings and marketing resources. In addition, iHomefinder provides customers with services like lead generation through their CRM, email marketing, and website development.
IDX Plugin
Showcase IDX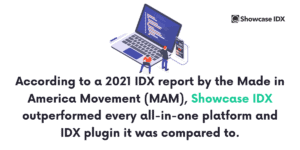 The IDX software provided by Showcase IDX differentiates itself from others for its functionality, flexibility, and modern feel. This company's home search is highly visually appealing, intuitive, and user-friendly. It is also fully optimized for mobile display and, according to users' reviews, faster than any other. According to a 2021 IDX report by the Made in America Movement (MAM) that tested over 25,000 major platforms and real estate websites and involved more than 135,000 qualified purchasers and sellers, Showcase IDX outperformed every all-in-one platform and IDX plugin it was compared to. Many consumers even choose websites powered by Showcase IDX over Zillow due to the possibility of doing private searches with friends and family, as well as knowing that sensitive information, like budget and contact, will remain private, in contrast to Zillow.
IDX Broker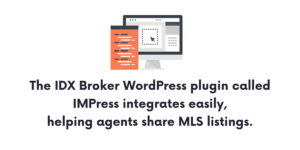 IDX Broker offers a user-friendly, seamless home search experience. Their WordPress plugin called IMPress integrates easily, helping agents share MLS listings. IMPress includes a search solution called Omnibar that allows customers to navigate through the agent's website and easily search for homes while also utilizing filters (like city, county, postal code, address, MLS number and more) to narrow down precisely what they are looking for. The design is compatible with mobile and desktop views.
iHomefinder
Though iHomefinder services include way more than just IDX (they integrate marketing tools and CRM), its IDX looks great and provides all the functionality an agent may need to do business in their market successfully. The IDX plugin has comprehensive MLS integration and custom property search through their Universal Search Bar, where searches can be performed by address, area, listing ID, and other criteria. According to the subscription level, customers can filter search results by location, price, features, number of bedrooms, state of the property, and more.
MLS Coverage
Showcase IDX
Showcase IDX is available to over 950K agents in 71 MLS markets and includes 19 of the 20 largest MLSs in the country like the CRMLS and Bright MLS. The company is actively working on expanding its MLS coverage nationwide. In 2021, Showcase IDX added MLS coverage for 14 markets and five states, a 20% increase in their coverage in just one year. That's around 70% of the current active listings within the U.S. In the Canadian market, Showcase IDX provides coverage for nine provinces.
IDXBroker
IDX Broker offers industry-leading MLS coverage for its clients. Managing more than 550 individual MLS data sets in the US and abroad, the firm is recognized for having the most extensive MLS coverage of any IDX.
iHomefinder
iHomefinder provides best-in-class MLS coverage in all of the United States & some of its territories (Puerto Rico and Guam), six Canadian provinces, and other countries like Mexico and Panama.
Client Retention
Showcase IDX
Client retention is key to success in the real estate industry, and Showcase IDX has a proven much higher client retention rate. The 2021 MAM IDX Report found that agents' websites with the Showcase IDX became stickier, retaining 9.8 times more clients than IDX Broker and four times more clients than a standard iHomefinder site. Showcase IDX had a consumer leakage of only 4.3%, attributable to the brand recognition of major portals like realtor.com and Zillow.
IDX Broker
Compared to other IDX solutions available on the market, IDX Broker has a high consumer leakage percentage (90.3%), meaning that of the qualified leads sent to an IDX Broker-powered site, only 9.7% remained there, according to the 2021 MAM IDX Report. The results for this company were even lower than those of the previous year, as shown in the 2020 study.
iHomefinder
Of all the qualified leads directed to agents' websites powered up by iHomefinder, only 22.7% stayed on the sites. That is more than twice the number of leads that remained in pages using IDX Broker and around four times less than Showcase IDX's visitor retention rate. iHomefinder consumer leakage was 77.3% according to the 2021 MAM IDX Report.
Customization
Showcase IDX
Showcase IDX is designed to work with shortcodes, making the plugin highly adaptable and capable of being embedded within the site. Agents can customize their websites by adding widgets to provide their customers with their required information. Several customization options are available on the Showcase IDX plugin so the agents can style to their desired specifications.
IDX Broker
This company uses shortcodes and widgets, but their IDX and listings are primarily based on subdomains rather than fully integrated into the website, making it simpler to get up and running. This might sound positive, but there might be branding, technical, and even SEO implications when a real estate website is built on subdomains.
iHomefinder
iHomefinder uses shortcodes and widgets, but their Optima Express plugin is largely based on iFrames (or similar technologies). IDX framing is a popular mechanism for MLS listing display. The IDX provider uses it to generate a portal on an agent's real estate website for listing viewing, but those listings are stored somewhere else. iFrames are considered negative for search engine ranking.
Mapping
Showcase IDX
Showcase IDX provides advanced polygon search with lightning-fast response times. They have the only IDX that permits the creation of multiple polygon boundaries within a single search. Users can also invite family members and close friends to the search, and it works much better than others on mobile with their Finger-Touch Mobile Polygon Map Search. This search feature is included in both the Essentials and the Premium plan.
IDX Broker
IDX Broker's IDX recently implemented front-end polygon searches that let website visitors draw a radius on the map or outline around a certain geographic location where they would want to look for properties. Be aware that this feature is considered a search refinement when displayed on a result page and will be disabled if that option is turned off in the account.
iHomefinder
iHomefinder's Eureka Search successfully combines search tools with mapped results. They labeled their consumer polygon search option "draw on map" because it allows site visitors to draw a search area on the map and see all the houses that fall within it.
CRM + Integrations
Showcase IDX
Showcase IDX's plugin integrates free real estate CRM tools that adapt to every individual process. Their CRM is customizable and tracks visitors' website interactions to turn them into leads. There are also premium CRM integrations through Zapier, LionDesk, Follow Up Boss, Prospect Converter, Salesforce, BoomTown, and Slack.
IDX Broker
The IDX Broker plugin has direct integration with various CRMs, including Follow Up Boss, Top Producer, Infusionsoft, Wise Agent, Contactually, and LionDesk. Additional integrations with several other apps are available through Zapier.
iHomefinder
They offer integrated CRM that meets the particular requirements of either individual agents or brokerages and teams. The tool efficiently manages leads using automation and organization to bring the real estate business to a new level. iHomefinder CRM for agents includes email marketing, property search insights, and personal task management. Integrations include: Chime, FiveStreet, Follow Up Boss, iMaxCRM, LionDesk, Mailchimp, RealtyJuggler, Top Producer, IXACT Contact, Wise Agent, and Zapier.
SEO
Showcase IDX
Showcase IDX knows that Google hates subdomains and iFrames, so they don't use them. Ever. Their IDX plugin was built with what Google prioritizes in terms of traffic in mind. That way, agents show Google that their website has relevance, authority, and cohesion. This is the only IDX plugin for WordPress that uses server prerendering, making Google "see" listings and hot sheets as the agents. They can also customize elements in the listing detail pages, like URL templates, page titles, and meta descriptions. As a result, SIDX clients' websites receive 79% more organic traffic.
IDX Broker
IDX Broker has certain SEO-friendly features, like IDX page personalization through custom subheaders, search-friendly city links, customizable URLs, and the addition of keywords and title tags to the property details pages. However, at some level, their plugin works with subdomains, which makes it harder for real estate websites to rank on Google and other search engines.
iHomefinder
IHomefinder provides SEO benefits to their agents' websites depending on their platform. Clients with WordPress websites using Optima Express (the company's IDX), get permalinks, metatags, and titles for the IDX pages directly on their domain. For non-WordPress users, the company recommends using iframing or their HTML wrapper integration (subdomains), which are not the best options for real estate websites to rank on Google.
Pricing
Showcase IDX
Showcase IDX has the more straightforward and transparent pricing of the IDXs compared. They offer two different plans, a convenient 10-day free trial with premium features, and no setup fees. See details in the following table: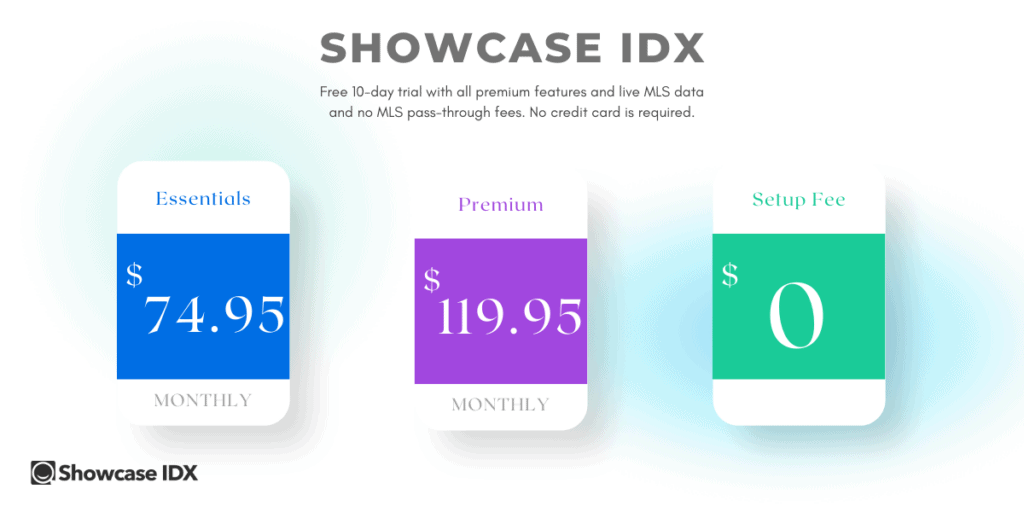 MLS Pass-Through Fees: More and more MLSs are demanding that IDX providers pay data access fees, which are then passed on to their customers. Several options range from $0 to $33 per month. Showcase IDX is not going to charge a pass-through fee if they are not charged by the MLS. All details will be displayed for the selected MLS on the sign-up form before the sign-up process is completed.
IDX Broker
IDX Broker has a number of different pricing options to choose from, depending on each agent or group's individual needs. They have two different plans: Lite and Platinum, with options for agents, teams, and offices. See below: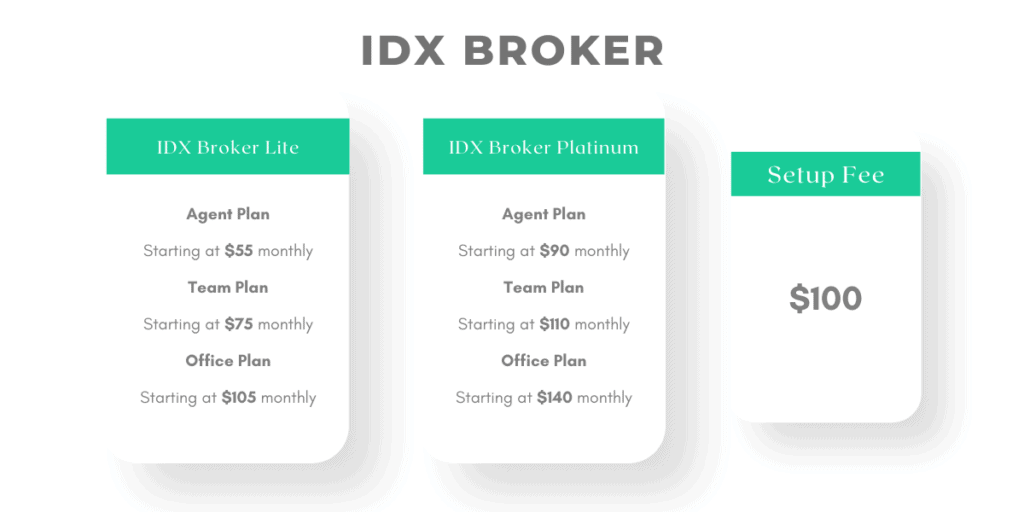 MLS Pass-Through Fees: IDX Broker will charge clients whatever data access fees the MLSs charge (from $0 to $33 per month), plus an additional monthly amount of $30 for each additional MLS the client wants to add.
iHomefinder
iHomefinder provides three types of pricing plans, depending on the agent's budget and needs. Their standard plan is the more affordable out of the three IDXs compared, only $49.99 a month. More details are in the graphic below: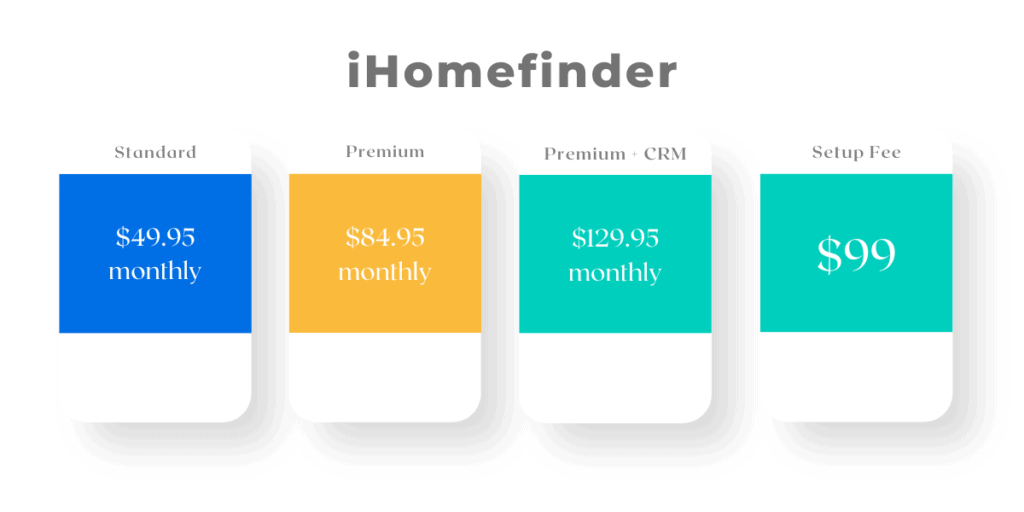 MLS Pass-Through Fees: Similar to IDX Broker, iHomefinder will charge clients additional feed for accessing their selected MLS data (between $0 to $33 per month), plus a payment of $25 a month for each additional MLS system requested by the client.
Unique Features
Showcase IDX
Showcase IDX has a few unique features, including their state-of-the-art mapping IDX, but the friends & family search definitely stands out. With this collaborative search tool, homebuyers can share their favorite properties with their loved ones, and they can post comments and reactions about them. As a result, the agent gets more visitors and generates more quality leads.
IDX Broker
IDX Broker has the most extensive MLS coverage.
iHomefinder
Aside from providing IDX, website building, integrated CRM, and marketing solutions for agents, iHomefinder has its own app so they can manage their leads on the go.
Showcase IDX vs. IDX Broker vs. iHomefinder  – Conclusion
It is difficult to make a real estate website but it can also be hard to decide which IDX plugin is best for your business. After all, they all offer different features and benefits. We hope this comparison between three of the most popular IDX providers on the market today has given you an idea of which one might be the best fit for your business. Good luck!