When was the last time you got a call from a potential client who found you on LinkedIn?
As a real estate agent, you should be using every tool available to find new clients. In fact, you should be using multiple tools. But most agents aren't using LinkedIn as effectively as they could be or even at all.
In this blog, I'll go over 17 simple ways to use LinkedIn for real estate agents that will increase their client acquisition rates and GCI. These tips will help you get more calls from potential clients, close more deals, and make more money.
Why Use LinkedIn as a Real Estate Agent?
There are many reasons to use LinkedIn for real estate agents.
Business-Focused – Contrary to some other social media platforms, the people you connect with on LinkedIn are there because they have a professional and business mindset and/or want to do business. They want to find a new job, make new connections, or learn about other businesses and services.
Client Exposure – Another advantage of using LinkedIn for real estate agents is that it exposes you to potential clients actively searching for a real estate agent.  Potential clients are comparing you and other agents before they decide which agent they will actually work with. The data shows that the average buyer vets at least 3 agents before picking the one they work with. I want to make sure you win those comparisons.
Wider Scope of Connections – As a professional network, LinkedIn is a powerful tool for building relationships in a different way than the more social networks. You can connect with current clients, referral partners, other agents in your market, or even those you met at an Inman conference. These relationships will lead to more business opportunities down the road.
Generate More Leads – Many agents don't realize how well LinkedIn can generate leads. It's one of the best social platforms to uncover qualified leads who genuinely want to know about your real estate services.
Establish Your Brand – You can use LinkedIn to build your brand and establish yourself as an expert in the real estate industry. Be sure to share content both for the 95% of your sphere of influence that is not actively buying/selling and for the 5% that are active buyers/sellers.
Low Competition – LinkedIn isn't saturated like other social media channels. It provides a great opportunity to get your real estate listings in front of your target audience without a lot of competition.
17 Simple Ways To Use LinkedIn To Increase GCI as a Real Estate Agent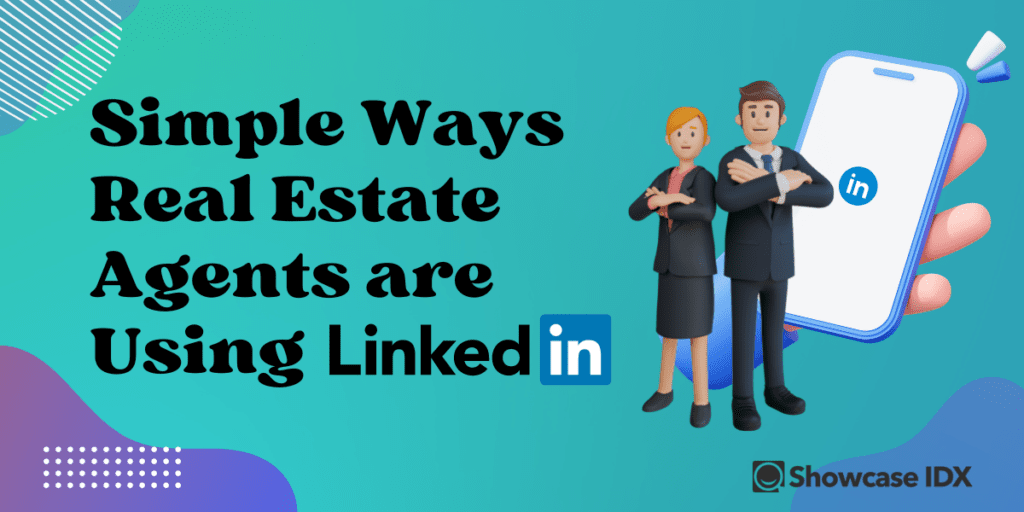 Now that you know why you should use LinkedIn, let's dive into 17 simple ways to do so effectively.
1. Optimize Your Profile
Your profile is the first thing prospects see about you. It's important to take the time to optimize your real estate LinkedIn profile so that you can make a good impression on potential clients.
Best Practices
Fill out the summary section and include what you do.
Use keywords that prospects would use to search for a real estate agent.
Include your contact information so leads can get in touch.
Why Is This Important?
When you optimize your profile, people can see what you do and how you can help them. It also helps people easily find you when they're looking for real estate properties.
2. Have a Professional Profile Photo
People will typically focus on your profile picture first. Make sure it's a professional photo that represents you and your brand well.
Best Practices
Here are LinkedIn's recommendations for creating a headshot.
Use a professional close-up headshot.
Make sure the background is plain and simple.
Smile and make eye contact with the camera.
You should think about how your profile photo will look on different devices. Crop the picture so that it is a 400 pixels wide, square-shaped image.
Why Is This Important?
A quality profile photo will make you look more credible and trustworthy to potential clients. It will also help you to stand out from the competition.
3. Use the Cover Image (Background Image) As a Call-to-Action
The banner image is a great place to include a call-to-action for potential clients. Use your background photo to encourage prospects to take meaningful action.
Best Practices
Include a CTA such as "Looking to buy or sell a home? Contact me today!"
Make sure the text is easy to read.
Use colors that compliment your profile picture.
Here are the three best CTAs to use.
Encourage contacts to visit your website.
Ask them to opt-in for a lead magnet.
Get them to call your phone number.
Why Is This Important?
An effective CTA on your cover image turns your LinkedIn profile into a quality lead generation strategy.  You'll also see a higher conversion of profile visits to your real estate landing page.
4. Craft a Compelling Headline
Your headline is valuable real estate (pardon the pun) on LinkedIn, so you want to make sure you're using it to its fullest potential.
Best Practices
Write a clear and concise headline. Make sure people understand what you do within a few seconds of reading your headline. Use relevant keywords. Include your geographic location in your headline.
Why Is This Important?
Your headline is one of the first things people see when they visit your profile. You want to make sure it's an effective lead generator for your real estate business. Creating a powerful headline also makes you stand out professionally from your competitors.
5. Keep Your Target Audience in Mind When Crafting Your 'About' Section (Also, Include a CTA)
The 'about' section on LinkedIn is the place to give visitors more information about who you are and what you do. If you want to know how to find real estate leads, a call-to-action in this section will help this area of your marketing efforts.
Best Practices
Think about your best-fit client avatar when writing the 'about' section:
 Use a conversational tone.
Keep it short and sweet.
Use valuable content that will attract prospects.
Include a CTA such as "Contact me today to learn more about how I can help you buy or sell a home."
Why Is This Important?
Using the 'about' section effectively helps you to connect with potential clients. It gives them a glimpse into your professional background and what you're passionate about. Additionally, it makes sure that your profile appears prominently when LinkedIn users search for a real estate agent. You'll attract more leads as a result.
For a live example, see my profile here.
6. Highlight Relevant Industry Experience Through Your Profile
In your profile's 'Work Experience' section, take time to showcase your professional experience. Include relevant information about your real estate business in this section.
Worked in a different role or industry before getting into real estate? List that information and write about your experience highlighting aspects relevant to the value you add in real estate (e.g., sales, attention to detail, negotiation skills, relationship building, digital marketing, etc.)
Best Practices
Include the name of your real estate company.
Add a detailed job description.
Include your National Association of Realtors affiliation.
Why Is This Important?
When you share your work experience on your public profile, potential clients gain trust in your professional background. You'll make it easier for people to find you on LinkedIn if you share job titles, duties, and responsibilities.
7. Don't Forget To Highlight Licenses, Certifications, Awards, and Skills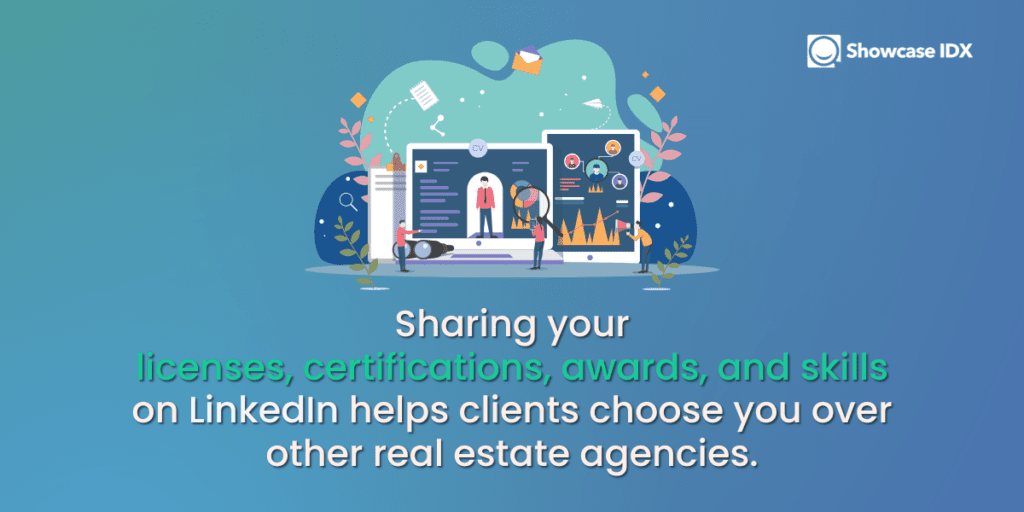 The 'Licenses and Certifications' section is the place to share your credentials. In addition, your connections can endorse specific skills on your profile, so clients can see first-hand that you're the best agent for them.
Best Practices
Use visual content to highlight your skills (photos, videos, infographics).
Provide details about your skills and experience.
Highlight any awards or recognition you've received.
Why Is This Important?
Sharing your licenses, certifications, awards, and skills on LinkedIn helps clients choose you over other real estate agencies. Qualified leads will find you on LinkedIn if you include this information.
8. Build Your Network Purposefully
Your LinkedIn network can be a valuable resource for finding new clients. You want to make sure you're connecting with the right people on this business-oriented platform.
Best Practices
Start adding other people as LinkedIn contacts.
Join relevant groups and participate in discussions.
Connect with other professionals in your field (lenders, real estate lawyers, etc.).
Why Is This Important?
The process expands your overall network. Joining relevant groups will also help you to find new clients. Participating in discussions and networking with shoulder industries will help you to create referral networks.
9. Send a Personal Connection Request When Reaching Out
When you reach out to potential clients from your personal profile, make sure you're remaining personable with each individual.
Best Practices
Include a personalized message with your connection request.
Let them know how you found their profile.
Tell every single person why you'd like to connect with them.
Do not use automation software and tools.
Networking on LinkedIn for real estate agents works the same way it would when networking offline. Craft each personal message in a way that builds real relationships. Don't rush the process. Inside the initial private message, focus on your prospect's needs first before asking for anything.
Why Is This Important?
Personalized connection requests attract better responses. As a marketing strategy, this method can build the relationships that equate to meaningful business connections.
10. Post Consistently
Posting content regularly is one of the best real estate lead generation ideas for LinkedIn. You'll build authority on the platform, increase engagement with well-qualified leads, and keep you top of mind with prospects.
Best Practices
Post real estate content that provides true value.
Share your listings.
Engage with other users' content.
Why Is This Important?
Having a consistent posting schedule on your LinkedIn will increase your visibility and keep your content at top of mind. The more consistently you post, the more potential clients will see that familiar name/face, and the more likely they are to come to you when they have a home to buy or sell.
11. Like, Comment, and Share Content Meaningfully
When you're interacting with content on LinkedIn, make sure you're doing it in a way that will add value to the conversation. Share your thoughts on comments in a way that strengthens relationships with prospects.
Best Practices
Don't like or comment on every single post.
Only share useful articles and posts.
Engage in conversations with thoughtful answers.
Use questions on LinkedIn the same way you do when interacting offline with others. It's always more effective to ask questions and let them talk. Questions spark answers that help you understand the needs of prospects.
Why Is This Important?
You can increase your visibility by liking, commenting, and sharing content on LinkedIn. If you add value to the conversation, you're more likely to generate leads. Make sure you're not viewed as spammy with your interactions. Quality over quantity is key.
12. Share Photos and Videos of Properties You're Selling
Include photos and videos when you share listings on LinkedIn. People are visual learners. Quality listing images and videos help your content stand out.
Best Practices
Include high-quality photos in every property post.
Use video to give prospects a virtual tour of the property.
When possible, use aerial footage of properties.
Why Is This Important?
You need to give potential clients as much information as possible about the listing. Photos and videos will help them to get a better sense of the property. In turn, they'll reach out to you.
13. Use Hashtags To Boost Reach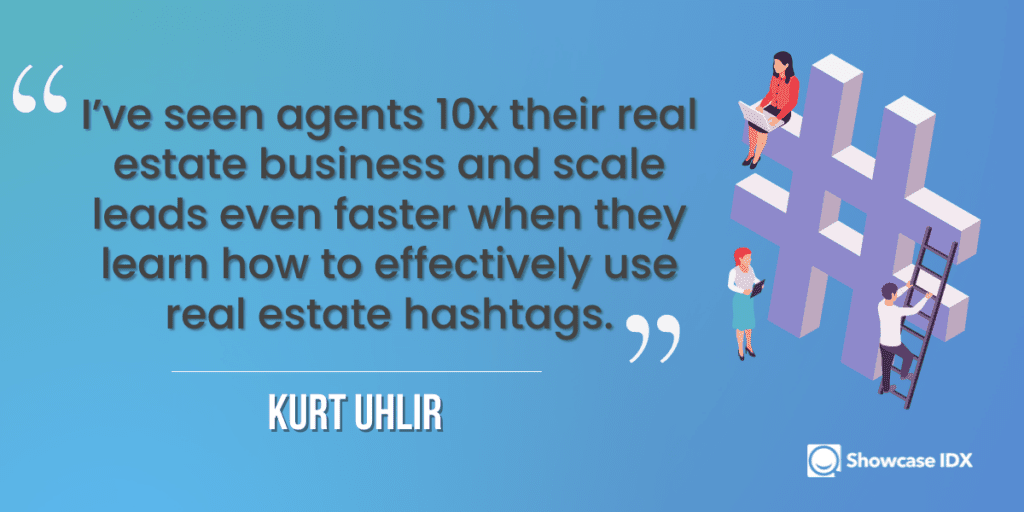 Use real estate hashtags as a helpful tool to increase the reach of your content and connect with new prospects.
Best Practices
Do some research to find the best hashtags for your industry.
Include hashtags in your posts, articles, and comments.
Use a maximum of three hashtags per post.
Use a mix of popular and niche hashtags.
Why Is This Important?
You'll gain two main benefits when using hashtags on LinkedIn:
Increase the reach of your content.
Connect with new prospects.
By using hashtags, you're maximizing the platform as a real estate lead generator.
14. Ask and Give Recommendations
Recommendations add value to your LinkedIn profile. When you give recommendations, it also helps to build relationships with others in your network. It shows appreciation and maintains relationships.
Best Practices
Ask for recommendations from past clients.
Give recommendations to anyone providing quality services.
Make sure your recommendations are specific and detailed.
Why Is This Important?
Using the recommendations feature on LinkedIn helps your credibility. It also furthers the important relationships that can turn into quality referrals down the road.
15. Utilize the 'Featured' Section on Your Profile To Highlight Important Posts
The featured section on your LinkedIn profile is a great way to highlight content that you want others to see.
Best Practices
Use the feature sparingly, so your content stands out.
Choose valuable articles, videos, or posts to share.
Update your featured section regularly.
Why Is This Important?
Using the 'featured' section of your LinkedIn profile allows you to give your best content and listings a boost. Showing off your latest blog post, video, or article will increase your authority inside the real estate industry. Showcasing your best listings will generate new prospects to talk to.
16. Run Targeted Ads
LinkedIn Ads is a powerful tool that allows you to target your ideal client. Ads will help you generate leads, improve traffic on real estate websites, or build brand awareness. This can work incredibly well for real estate investors and potential partners.
Best Practices
Create a profile of your ideal customer.
Use LinkedIn demographics to target best-fit leads.
Test different ad strategies to see what works best.
The key to any type of paid advertising is giving each ad and campaign a chance to mature. Too many agents try an ad for a short period and give up before gathering enough data. Commit to a monthly ad budget. Run your ads long enough to understand what's working and what requires an adjustment.
If you're willing to spend money on ads without an immediate tangible result, you'll learn how to get them to work over the long term.
Why Is This Important?
LinkedIn ads are a great way to specifically target your ideal client. As well, you can use the LinkedIn ad platform to grow your business faster than focusing on manual outreach only.
17. Join Real Estate Groups
There are a plethora of groups on LinkedIn for real estate agents. These groups are great places to network, learn about new technology, and develop business relationships.
You can use the search function on LinkedIn to find relevant groups in your area. If you're looking for something more specific, try searching for keywords like "real estate investing" or "commercial real estate."
Here are a few of the best real estate groups on LinkedIn to get you started.
Best Practices
Once you find a group that looks promising, take some time to read through the posts and get a feel for the culture. If it seems like a good fit, introduce yourself and start participating in discussions.
Don't be afraid to promote your business in these groups, but make sure you're providing value first and foremost. You'll get banned quickly if you're caught self-promoting without contributing to the community. No one likes a spammer.
Why Is This Important?
LinkedIn groups will benefit you in several ways. A group is a great place to network and build relationships with other real estate professionals. You'll gain insights into the latest industry trends. Lastly, you can use real estate groups to promote your business to a targeted audience.
What Other Social Media Channels Are Effective for Realtors?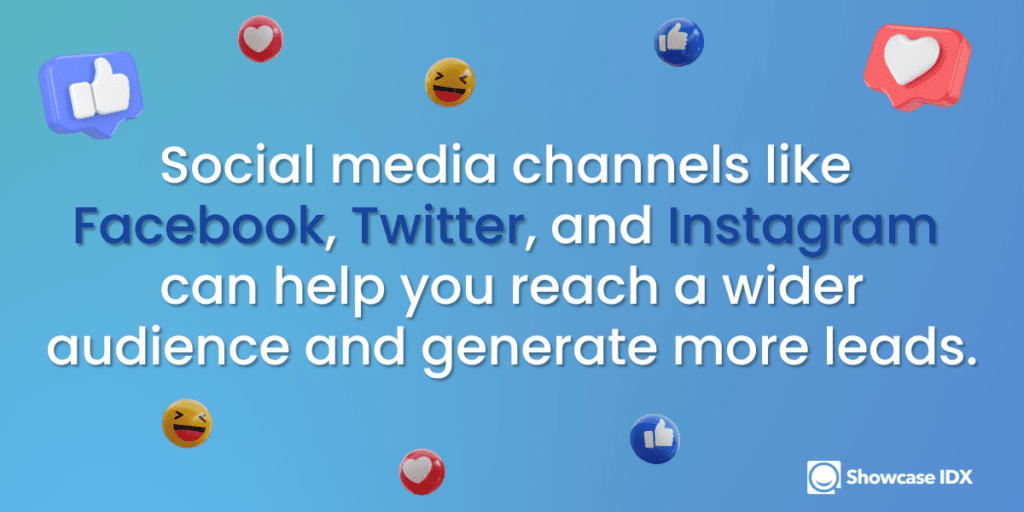 In addition to LinkedIn, real estate agents should also focus on other social media channels like Facebook, Twitter, and Instagram. These platforms can help you reach a wider audience and generate more leads. Each platform has a different user base. Understanding how each one works is important before investing time or money into them.
Facebook is the largest social media platform with over two billion users. The Facebook algorithm favors content from friends and family. It can make it harder to reach your target audience organically. That's why agents should focus on using Facebook Ads to reach their ideal clients.
Twitter works well for sharing industry news, articles, and blog posts. You can also use Twitter to connect with other real estate professionals and build relationships.
Instagram is a visual platform perfect for sharing photos and videos of your listings, open houses, and happy clients. Instagram Stories work well to give your followers a behind-the-scenes look at your business. Focus on getting your fans to click your profile link.
You can also start using TikTok. It's one of the newest social media platforms that's taken the world by storm. TikTok is a short-form video app where users can share creative content. As a real estate agent, you can use TikTok to show off your listings, highlight happy clients, and give viewers a behind-the-scenes look at your business.
If you're not already active on social media, it's time to start. Real estate social media marketing is essential for lead generation in the digital age. By creating quality content and engaging with your target audience on these platforms, you can generate more leads and close more deals.
Click here to get access to my on-demand webinars on how to easily get started on social and quickly become effective in using social media to grow your business.
FAQs
You may still have a few questions about using LinkedIn for your real estate business.
Is LinkedIn good for real estate agents?
Yes, a LinkedIn for real estate agents strategy is vital. It helps you connect with other professionals, share industry news, and promote your business. Use it to build relationships and generate leads.
How do I sell a property on LinkedIn?
You can use LinkedIn to generate leads for your properties. You won't typically sell a property on the platform itself. You'll need to drive traffic to your website or another listing service like Zillow or Realtor.com. The key is getting good at connecting with prospects and creating best-fit leads on LinkedIn.
What should a Realtor or agent post on LinkedIn?
As a real estate agent, you should focus on sharing quality content to help you build relationships and find prospects. You can share blog posts that teach tips on selling a home, staging the house, or getting qualified for a mortgage. You should also share listings in photo and video formats with your audience. Doing this will help you gain more visibility and reach your target audience.
Should I post my listings on LinkedIn?
Yes, posting your listings equals a solid LinkedIn for Realtors strategy. As you build LinkedIn relationships, you must eventually show potential clients how you can help them buy their dream homes. Quality listings equate to your most direct path to revenue on LinkedIn. Just be sure to also post content for the 95%+ of your connections that are not actively buying/selling right now.
Conclusion
If you're looking for ways to increase your client acquisition rate, look no further than LinkedIn. This social media platform has become the go-to place for professionals to connect, share ideas, and find new opportunities.
For a Realtor or agent, it's a great place to network with other real estate agents, find new clients, and build relationships with potential and past buyers and sellers. By using LinkedIn effectively, you can easily attract leads and grow your business.
Want more real estate tips to boost your GCI? Check out our blog.